18.09.2011 » Levante 1-0 Real Madrid. Half Ronaldo wasn't enough to avoid the loss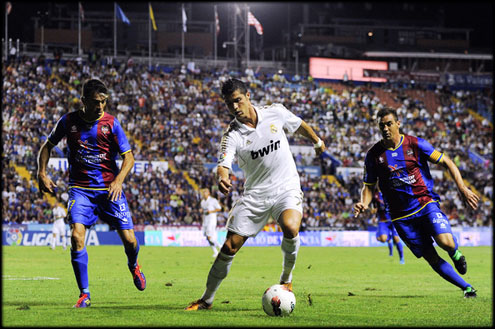 Real Madrid got defeated for the first time this season, after losing by 1-0 against Levante, this Sunday night. Cristiano Ronaldo wasn't completely recovered from his ankle injury, so Mourinho decided to only put CR7 playing in the 2nd half.

Levante managed to impose Real Madrid their first loss in the 2011-12 season, after beating the Merengues by 1-0. The game's turning point, took place still in the 1st half, when the referee decided to show the red card to Khedira, sending off the German and leaving Real Madrid forced to play with 10 men until the end of the match. Cristiano Ronaldo got stiched on his ankle on last Wednesday and is still far from his best condition, but nonetheless, Mourinho allowed CR7 to step up in the 2nd half.
Watch Cristiano Ronaldo photos from Levante vs Real Madrid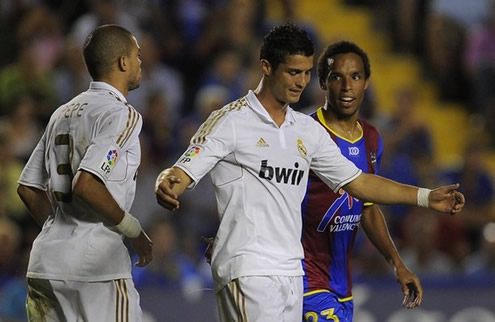 Levante players had left several warnings during this week, that they were not going to be soft in this game. Those who who might have been skeptical about those words, early realised they were being serious about it, as Levante showed very high aggressiveness levels during the entire game. The match started with a very controversial play, when Benzema managed to score for Real Madrid, but immediatly saw his goal being disallowed for a pretense foul in Levante's goalkeeper. Real Madrid was not playing brilliantly, but was still managing to create several good goalscoring chances. Benzema, Kaká and Di María were very close to score in several occasions, but the Merengues were lacking that "killer instinct" they usually have, when Cristiano Ronaldo is on the pitch, and they've failed a lot of good opportunities to take the lead.
Watch Levante vs Real Madrid highlights:
The turning point in this game happened near the 41th minute, just after a big confusion started by Levante players, on which several players started pushing each other. As usual, those who are more artful and tricky try to provoke a yellow card in opponent players who already have a yellow card and that's exactly what Levante managed to do in this situation. The slightest pushing and a Levante player started rolling on the floor, as if he got hit by a sniper. The referee rushed to the spot to show Khedira his second yellow card in the game, sending him off and leaving Real Madrid with the task to play with 10 men for the rest of the match. The game would never be the same from that point further.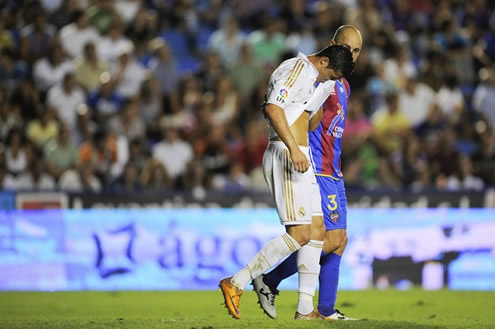 Cristiano Ronaldo jumped from the bench at halftime and got to the line-up in the 2nd half. However, it was obvious that the Portuguese player was playing very limited due the recent ankle injury he picked earlier this week. We all know how competitive Ronaldo can be, so he probably insisted in giving his contribution on this match, even if he wasn't close to his best condition. Real Madrid had a very hard task, playing with 10 men, against a side who was disputing every play as if it was the most important of their careers.
Real Madrid tried to push forward replacing Benzema for Cristiano Ronaldo right from the start of the 2nd half, and later on Kaká for Higuaín and Marcelo for Ozil, but it was Levante who turned out to take advantage of the spaces the Merengues were leaving empty on their defense. Around the 68th minute, Koné easily finished a fast counter-attack play, leaving no chances for Casillas to react to his strong shot. What appeared to be a hard task, had just become almost an impossible one. Real Madrid battled but they were never finding enough spaces to threaten Levante's goal, as they managed to do in the first half when it was still 11 against 11.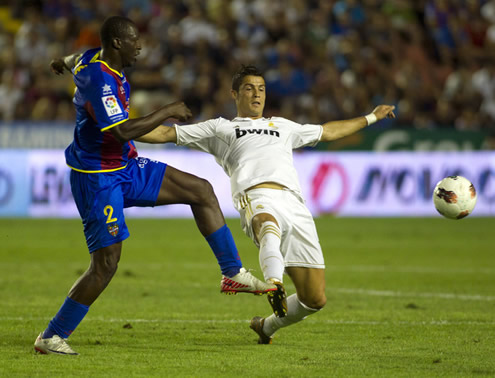 Despite knowing that Cristiano Ronaldo was playing limited, Levante players didn't hesitate on tackling hard the Portuguese player. Around the 81th minute, we could have witnessed a very serious injury, when Levante's player, Suárez, decided to tackle Cristiano Ronaldo from behind. Aiming at his left ankle, Suárez seriously risked to broke Ronaldo's ankle, but thankfully, nothing serious appearently came up from that tackle. Once again, referees showed how inadequate their discipline criteria can be, by showing Levante's player a simple yellow card. It seems like being theatrical keeps paying off, not only for Barcelona, but also for the smaller teams. Here's a picture from the tackle Cristiano Ronaldo was victim of, against Levante: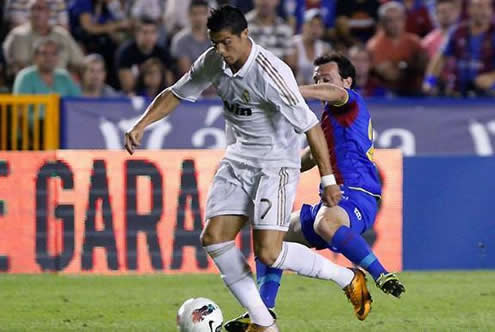 The game would finish a few minutes later and Real Madrid dropped their first points this season, losing La Liga lead to Valencia and Barcelona. On a side note, we would like to invite to check out one of the new site sections, Cristiano Ronaldo cars, where you may take a look at good variety of top class vehicles that CR7 has in his garages.
Real Madrid line-up vs Levante:
Iker Casillas, Sergio Ramos, Pepe, Carvalho, Marcelo, Xabi Alonso, Khedira, Di Maria, Kaka, Fábio Coentrão and Karim Benzema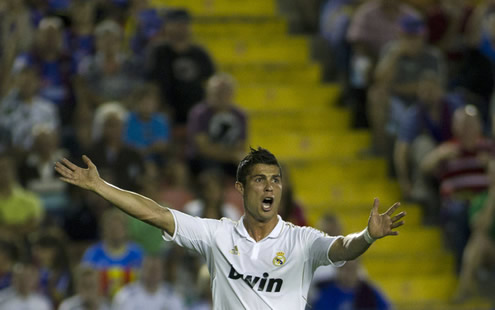 After the first loss in La Liga against Levante, Real Madrid will now play against Racing Santander, next Wednesday (21-09-2011). You can watch Racing Santander vs Real Madrid live stream, inside our Live Games Streams section. Cristiano Ronaldo is still not fully recovered from his right ankle injury, so there are still no reliable information towards the possibility of him playing as a starter against Racing Santander. The countdown clock timer, displaying the time left for the next Ronaldo game, is shown on the top right corner of all pages.
Racing Santander vs Real Madrid kickoff information:
21th of September, 2011:
19:00 (GMT+1) - London (U.K.), Lisbon (Portugal)
20:00 (GMT+2) - Madrid (Spain)
02:00 (GMT+8) - Beijing (China) [Thursday]
10:00 (GMT-8) - Los Angeles (USA)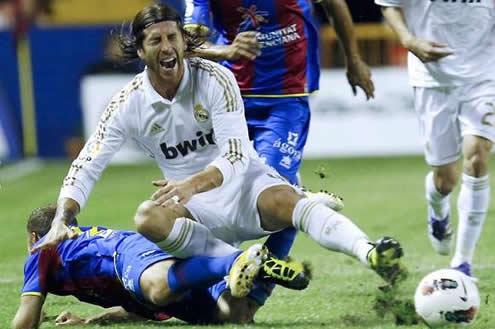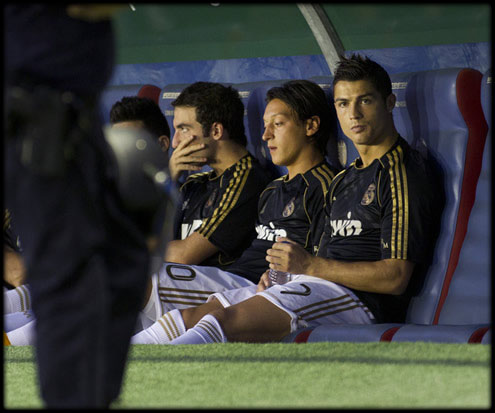 Sources: ronaldo7.net

comments powered by