15.09.2011 » CR7: "They don't like me because I'm cute, rich and a great player"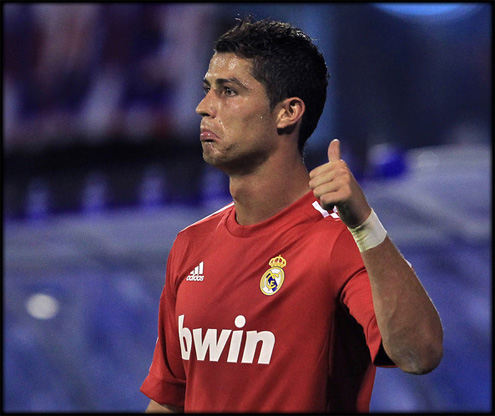 Cristiano Ronaldo finished the match against Dinamo Zagreb disgusted with several things that happened during the game. Ronaldo got brutally fouled in a tackle that aimed at his right ankle and got constantly booed and whistled by the fans and supporters from Dinamo Zagreb. The Portuguese player ankle ended up with a big stain of blood.

Video of the tackle Cristiano Ronaldo suffered on his ankle
Even though Real Madrid brought home the win from last night match against Dinamo Zagreb for the UEFA Champions League, Cristiano Ronaldo was very angry at the end of the match and blamed the referee Oddvar Moen, for having double standards all over the game. Marcelo got sent off after seeing a second yellow card, as a result of falling inside the penalty area, while Dinamo Zagreb player, who "assaulted" Cristiano Ronaldo in a brutal tackle, got away with, as the referee waved to play on. The result of this tackle was a big blood stain in Ronaldo sock, that was covering his ankle and a lot of doubts regarding if CR7 will be back in time for Real Madrid next game. Ronaldo got upset with all the incidents combined last night and said that there's no explanation for the fans booing and whistling him anymore, except for him being cute, rich and a great player. Here's the video interview: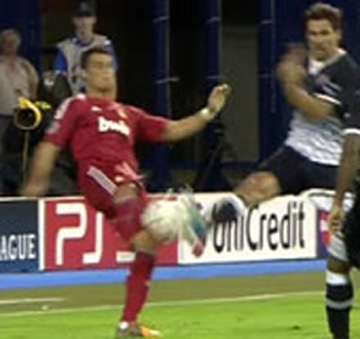 One of the immediate consequences after the game, coming from the tackle Cristiano Ronaldo suffered, was taking 3 stiches in the ankle, to close the cut made by his opponent boots. Ronaldo was outraged at the way the Norwegian referee, Oddvar Moen, was conducting the game: "This is a shame and a disgrace. I really don't get it. People like to talk about fair-play and to protect the talented players, but I never feel like I'm receiving that kind of treatment", complained CR7, in a clear reference to UEFA President, Michel Platini, who admitted in last August, that players such as Lionel Messi are protected by the referees and that's the way it should be. Platini: "Messi is very protected by the referees and it's good that it keeps being that way" (August 2011).

Cristiano Ronaldo wrath continued, as the Portuguese player insisted: "I don't get what's happening. I feel sad because the referees say they were going to protect the talented players and those which have more technique skills. But the truth is, we can't even touch some players, but everyone can tackle me the way they want." said Ronaldo in a clear allusion to the double standards the referees keep having with players such as Lionel Messi for example, and himself.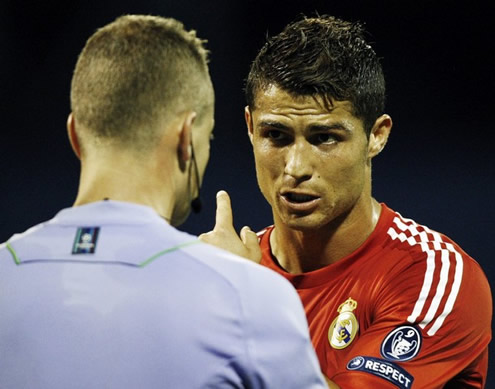 When asked about the reasons why some fans keep whistling and booing him, Cristiano Ronaldo confessed he's tired of this kind of receptions and fired back: "I don't have any explanation left. It must be because I'm cute, rich and a great player and they enview me." Before finishing this post-match flash interview, Cristiano Ronaldo said he hopes not to get this referee in the next Real Madrid games and that he still doesn't know if he'll be fit for playing against Levante on Sunday.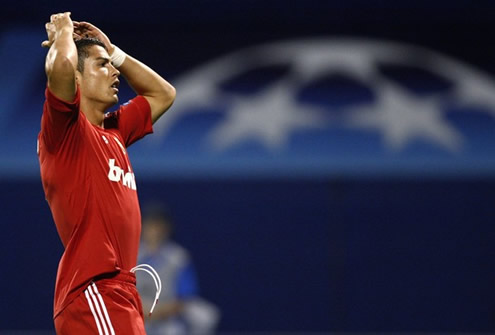 Cristiano Ronaldo: "I hope this referee doesn't take any other Real Madrid match, because he's very bad. Regarding my ankle, I don't know if I'll manage to recover until Sunday and play against Levante. We'll have to see how this injury develops in the next days.", responded Ronaldo still upseted with everything that happened, which culminated on his ankle bleeding and needing to get stiches.
David Albelda, Valencia CF player, already comment publicly today about Cristiano Ronaldo statements and incidents from last night match in Croatia: "I didn't lose a single second last night, thinking if Cristiano Ronaldo is handsome and cute or not. But it's true that if we would dispute a ball fairly, he would win it 99% of the times." Albelda says that there shouldn't exist any kind of special treatment to anyone: "I defend the idea that no one should be protected by the referees, whatever team and player name is on the equation. The right thing would be to simply banish and get rid of violent tackles in football." Real Madrid will play against Valencia in the next Wednesday!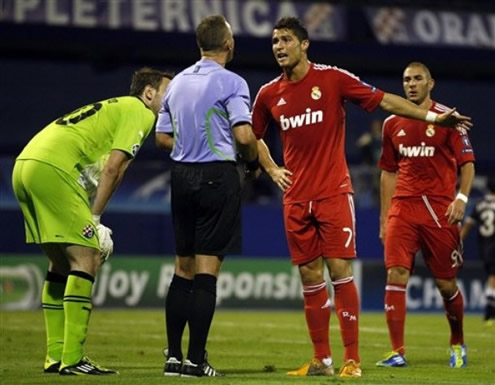 On a different matter, you can now visit a new section we opened a few days ago: Cristiano Ronaldo quotes, containing a compilation of CR7 best quotes so far, as well as statements related to Ronaldo, made by other famous people. Please also remember that you can watch Manchester United vs Chelsea live this weekend, inside the "Live" section.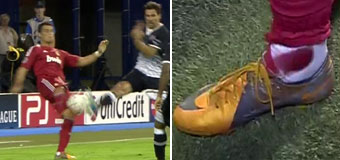 Real Madrid next game is against Levante, for the Spanish League "La Liga", in the 18th of September. You can watch Levante vs Real Madrid live streams, inside our Live Games Streams page. Cristiano Ronaldo is still in doubt for the line-up, due to the recent injury he suffered against Dinamo Zagreb. The countdown clock timer, displaying the time left for the next Ronaldo game, is shown on the top right corner of all pages. You can also watch Barcelona vs Osasuna in our new and dedicated page.
Levante vs Real Madrid kickoff information:
18th of September, 2011:
19:00 (GMT+1) - London (U.K.), Lisbon (Portugal)
20:00 (GMT+2) - Madrid (Spain)
02:00 (GMT+8) - Beijing (China), (Monday)
10:00 (GMT-8) - Los Angeles (USA)
Here are Cristiano Ronaldo highlights vs Dinamo Zagreb:
Sources: ronaldo7.net/marca.com/record.pt

comments powered by