13.09.2011 » Benzema: "Being friend of Cristiano Ronaldo helps my performances"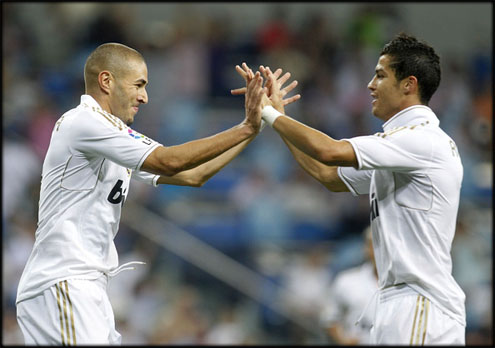 Karim Benzema is on fire this season as he just can't stop scoring. After scoring another 2 goals in this weekend's match against Getafe, Benzema reckonized how important it is to have a good relationship with Cristiano Ronaldo and Mesut Ozil, for his perfomances to keep at such a good level.
Karim Benzema is definately one of the players of the moment, as he keeps scoring goals after goals. The French man scored a brace this Saturday, in La Liga match against Getafe, but confessed that one of the keys for his recent success is the good friendship relationship he maintains with Cristiano Ronaldo and Mesut Ozil. Check out Cristiano Ronaldo amazing assist to Benzema in Real Madrid last match against Getafe:
Karim Benzema recent form has already earned him praises from several teammates, as well as his coach, José Mourinho. The French player is still 23 years (he was born in the 19th of December of 1987) and is now finally convincing the critics that Real Madrid can rely on him for the future. However, Gonzalo Higuain is also fully recovered from his injury and also managed to score a goal from the few minutes he had against Getafe. It should be interesting to see who's going to earn José Mourinho's confidence for the number 9 position in the next weeks.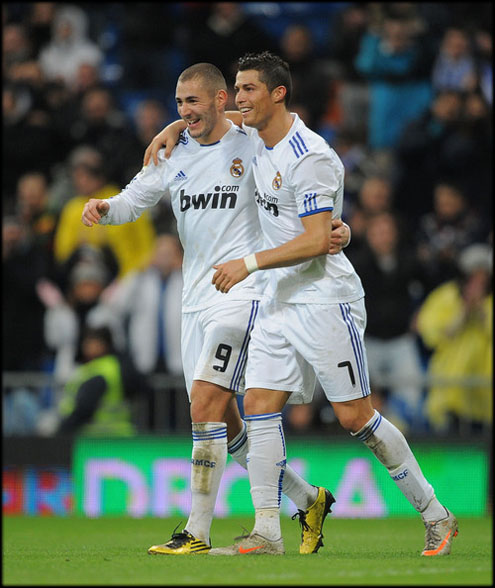 In a short talk with Spanish newspaper "As", Karim Benzema talked about his relationship with Cristiano Ronaldo and Mesut Ozil and pointed that, as one of the factors that have helped him improving his performances from last season. Benzema: "Me, Ronaldo and Ozil are really good friends off the pitch and that helps us when we're playing together. That's exactly what I need to keep playing like I've been doing. We take advantage of fast plays that we manage to combine in tight spaces. The ball gets passed very quickly."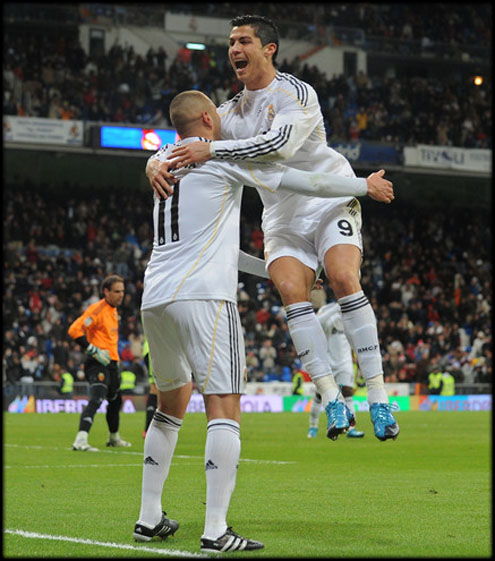 One of the most beautiful moments of the match between Real Madrid and Getafe took place in the 3rd goal that the Merengues scored. Cristiano Ronaldo showed how good his game vision is, and assisted Benzema with a low superb pass, crossing the ball from one side of the pitch to the other. Benzema reckonized that was a sublime moment and commented: "He had already assisted me in a similar way last season. I felt I had to run upfront, because I knew Cristiano Ronaldo would think of putting the ball in that space."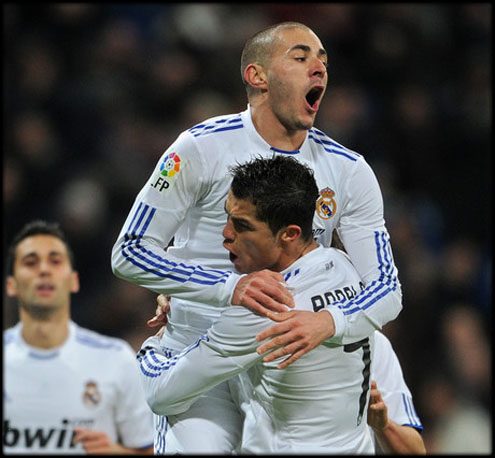 Benzema: "We knew before the game started, that Barcelona had drawn against Real Sociedad. However, we were never worried about that fact, because we don't care about what Barcelona does. It would have been a serious mistake if that had happened. We only care about ourselves." Check out one of our newest pages, where you can buy Cristiano Ronaldo boots, like his popular Nike Mercurial Vapor Superfly models.
Real Madrid next game is against Dinamo Zagreb for the UEFA Champions League debut this season, the 14th of September. You may watch Dinamo Zagreb vs Real Madrid free live stream, in our Live Games Streams section. Cristiano Ronaldo will be on the line-up for this match. The countdown clock timer, displaying the time left for the next Ronaldo game, is shown on the top right corner of all pages. You can also watch Benfica vs Manchester United live stream and Barcelona vs AC Milan live stream, in our dedicated live streams pages.
Dinamo Zagreb vs Real Madrid kickoff information:
14th of September, 2011:
19:45 (GMT+1) - London (U.K.), Lisbon (Portugal)
20:45 (GMT+2) - Madrid (Spain)
02:45 (GMT+8) - Beijing (China), (Thursday)
10:45 (GMT-8) - Los Angeles (USA)
Sources: ronaldo7.net/record.pt

comments powered by