12.09.2011 » José Mourinho: "Cristiano Ronaldo doesn't dive, like a few others do"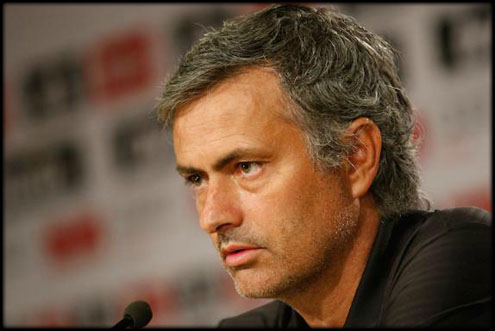 Real Madrid proved they are a more mature team this season, as they pulled up the 3 points against Getafe, in a match where they could afford to play bad. One of the highlights of the game was the controversial penalty awarded to Cristiano Ronaldo, which allowed Real Madrid to restore the lead.
In the aftermath of the game against Getafe, on which Real Madrid was awarded a penalty kick in a controversial foul play on Ronaldo, José Mourinho defended his player once more and claimed that Cristiano Ronaldo doesn't have the habit to dive, as a few other players in this League do. Real Madrid finished the game with a 4-2 victory, with CR7 adding another goal to his personal count.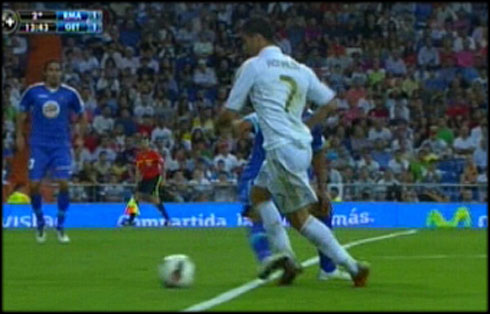 José Mourinho was the first to admit that he didn't like the way Real Madrid performed against Getafe: "I'm not happy with my team. We won and we deserved to win, because we scored 4 goals, but we could have scored more, even though our opponent had a good game. We gave them too much freedom to play and they presented themselves very organized. I was close to their coach, Luis Garcia and I could hear the instructions he was giving to his players. I must say he was well documented and he had his homework done regarding my team. This was a very hard match, where we didn't play well. I'll have to think why that happened and take my conclusions from it."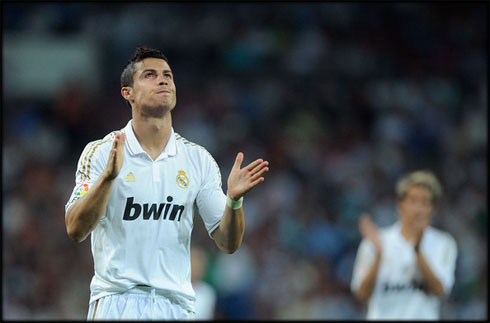 José Mourinho also commented the recent controversy regarding how uneven and unbalanced the Spanish La Liga has been turning to be: "I'm a bit tired of too much people talking about that matter and trying to explore the idea that it is easy to win most of this league matches when you're coaching Real Madrid or Barcelona, just because the other teams are bad. If you see one of those teams, who have been considered as "bad teams" by those supposed "opinion makers", you can see they really work well, with tremendously good and professional players and managers. They are well prepared to win matches."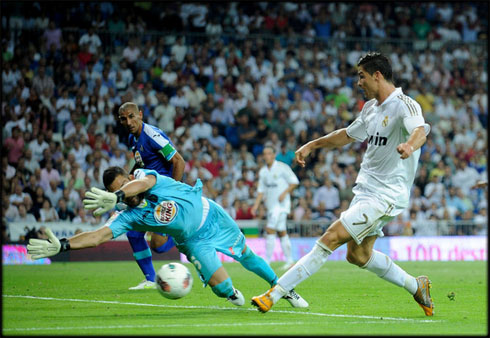 Cristiano Ronaldo and Karim Benzema had a good performance against Getafe, and José Mourinho preffered to praise the French man's work and improvement from last season: "Benzema is very well, he has transformed and he's the one to be credited for that, even though he got a bit of an help by me, his teammates, Zinedine Zidane and Laurent Blanc. The fact is, he has a great attitude and the quality he has always had since the beginning. It's true that last season he got booed a few times, but this year everyone realizes he's in a totally dimension and playing some of his best football.
Real Madrid coach then approached the most controversial play of the match, where Cristiano Ronaldo was fouled near the penalty area. José Mourinho: "It wasn't a penalty, that's a fact. But what's also true is that it was a foul, because Cristiano Ronaldo doesn't dive, like a few others do, and even less when he already has a yellow card, as it was the case. There was no reason for a penalty (the foul was outside the penalty area), but that incident took place when were dominating the match and I'm convicted we would end by scoring sooner or later and still win the match.", said Mourinho in what could be interpreted as an insinuation to what had happened a few hours before, in Barcelona 2-2 draw against Real Sociedad, where Lionel Messi dived in the penalty area close to the end of the match, being shown a yellow card as a result of that action.
We finally finished the site's restructure and we would like to invite you checking one of the new pages: Cristiano Ronaldo jersey. There you can look for Ronaldo shirts and buy whatever model you would like, from our partners online shop. The new Cristiano Ronaldo jersey 2011-2012 is already available there. Here's one of our latest CR7 wallpapers/backgrounds in HD: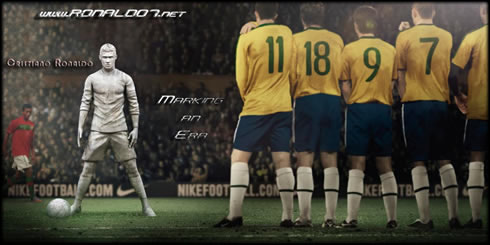 After defeating Getafe in La Liga, Real Madrid next match is against Dinamo Zagreb in the UEFA Champions League debut this season, the 14th of September. You can watch Juventus live stream, Dinamo Zagreb vs Real Madrid live stream, in our Live Games Streams section. Cristiano Ronaldo will probably be on the line-up for this match. The countdown clock timer, displaying the time left for the next Ronaldo game, is shown on the top right corner of all pages. You can also watch Benfica vs Manchester United and Barcelona vs AC Milan in our dedicated live streams pages.
Dinamo Zagreb vs Real Madrid kickoff information:
14th of September, 2011:
19:45 (GMT+1) - London (U.K.), Lisbon (Portugal)
20:45 (GMT+2) - Madrid (Spain)
02:45 (GMT+8) - Beijing (China), (Thursday)
10:45 (GMT-8) - Los Angeles (USA)
Sources: ronaldo7.net/marca.com

comments powered by