02.09.2011 » Cyprus 0-4 Portugal. Ronaldo brace and Euro 2012 around the corner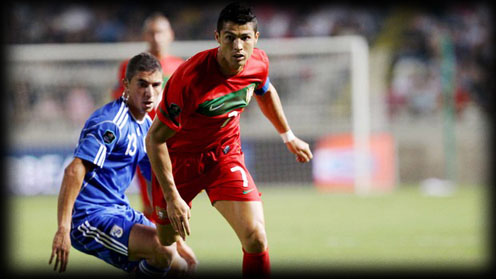 In what could have been a dangerous match, Portugal made things easy, led by their captain, Cristiano Ronaldo, who scored a brace (2 goals) and assisted Hugo Almeida for another. Danny scored the last goal in this 0-4 win and Portugal remains leading the Group H, in the Euro 2012 Qualifiers.
Portugal easily defeated Cyprus by 0-4, with the help of Cristiano Ronaldo, who scored 2 more goals and had another assist. Just like CR7 commented on the preview for this match, bringing home the 3 points was crucial, as Portugal needed those to remain leaders of Group H and only depend on theirselves to be in the Euro 2012.
Watch Cristiano Ronaldo game photos in Portugal vs Cyprus
Watch Portugal vs Cyprus goals and highlights (including Cristiano Ronaldo goals):
After a very controverse incident with Ricardo Carvalho last Wednesday, where the Real Madrid defender decided to leave the Portuguese camp and renounced to the Portuguese National Team, there were some doubts on how that could affect Portugal's performance against Cyprus. The game only started becoming easy after the first goal, around the 34th minute, in a play where F.C. Porto's João Moutinho saw his shot blocked by Dobrasinovic hands, inside the area. The referee had no doubts and gave a second yellow card to the Cypriot and pointed to the penalty spot. Cristiano Ronaldo opened hostilities and made it 0-1, despite the constant booing from the crowd.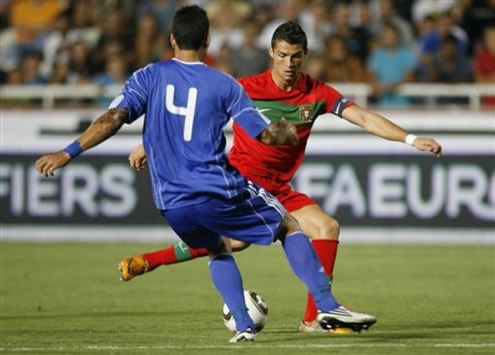 A 10 men team from Cyprus was predictably going to be in trouble against Portugal and the 2nd half just prooved that hypothesis to be right. Cristiano Ronaldo would score his second goal of the night around the 82th minute, putting an end to any expectation left for the home side. A couple minutes later, in the 84th minute, it would now be time for Hugo Almeida to score from an easy tap in, assisted by Ronaldo. Already in the stoppage time, Danny (from Zenit St Petersburg), would make the 0-4, which would be the final score of this match.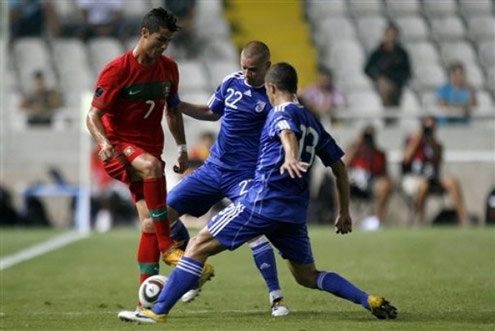 With these 2 goals scored tonight, Cristiano Ronaldo just reached the 4th place for the Portuguese National Time All-time goalscorers table. Ronaldo has now 29 goals after 82 caps, the same ammount of goals as Nuno Gomes (currently playing for SC Braga), but still behind legendas such as Luís Figo (32 goals), Eusébio (41 goals) and Pauleta (47 goals). Does Cristiano Ronaldo have what it takes to become the Portuguese National Team highest goal scorer of all-time? 18 goals left and only time will tell...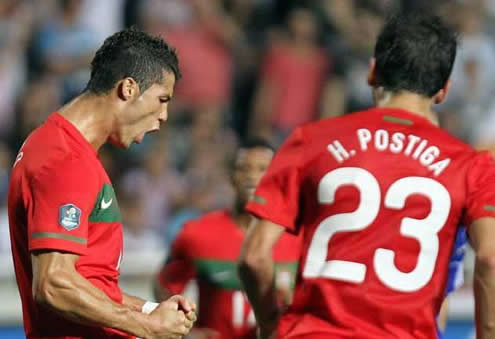 Portugal line-up vs Cyprus:
Rui Patrício; João Pereira, Pepe, Bruno Alves, Fábio Coentrão; Raúl Meireles, Rúben Micael, João Moutinho; Nani, Cristiano Ronaldo and Hélder Postiga.
Watch Cristiano Ronaldo goals and highlights vs Cyprus:
After helping Portugal to defeat Cyprus in the Euro 2012 Qualififers, Cristiano Ronaldo and Real Madrid next game in La Liga will be on the 10th of September, against Getafe. You can watch Juventus live stream, Real Madrid vs Getafe live streams next Saturday (10-09-2011) and Cristiano Ronaldo playing, inside our Live Games Streams section. Countdown clock timer, with the time left for the next Ronaldo game is shown on the top right corner of all pages.
Real Madrid vs Getafe kickoff information:
10th of September, 2011:
19:00 (GMT+1) - London (U.K.), Lisbon (Portugal)
20:00 (GMT+2) - Madrid (Spain)
02:00 (GMT+8) - Beijing (China), (Saturday)
10:00 (GMT-8) - Los Angeles (USA)
Sources: ronaldo7.net/record.pt/marca.com

comments powered by