15.08.2011 » Cristiano Ronaldo: "I got tripped by Valdés. It was penalty"
The Spanish season started with the biggest clash possible, an "El Clasico" between Real Madrid and Barcelona. In a very disputed match, there was an incident around the 84th minute that could have made things different: Cristiano Ronaldo got tripped inside the penalty area by Victor Valdés, when running after a rebound. The score was 2-2 by that time...
A Real Madrid vs Barcelona shock is certainly prone on having controversial situations. Last night's match wasn't an exception, but there's one particular incident that might outline from the rest. Close to the end of the match (around the 84th minute), Callejón attempted to cross the ball to the far post and Victor Valdés swept the ball away. However, Cristiano Ronaldo was fast to react and when he was running towards the rebound, Victor Valdés tripped the Portuguese player inside the penalty area. The referee chose not to do anything about it and there was no penalty kick given to Real Madrid.
Some might argue that Victor Valdés touch wasn't enough to trip and knock Cristiano Ronaldo, while others will simply try to evade the issue by talking about other controversial decisions that happened throughout the game, like a play where Marcelo fouled Pedro ("Pedrito"), also inside the penalty area. However, that last incident happened a few minutes after the one between Victor Valdés and Cristiano Ronaldo and only a naive approach would think that Real Madrid would allow so much space on their back, if they were already on the lead by 3-2, with just a few minutes left for the end of the game.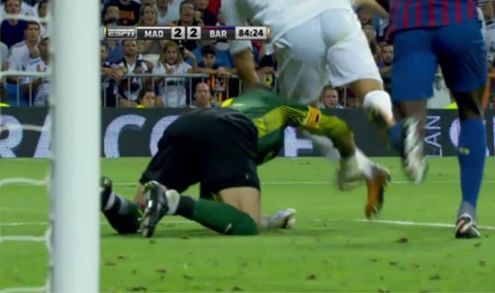 Cristiano Ronaldo: "It was a penalty, but we have to respect referee's decisions. We played a lot better than Barcelona and we creaty more goal scoring chances. We could have won this match. However, I predict a very open game this Wednesday and we'll be confident on being able to win it."
In the other hand, Victor Valdés also commented the controversial play and categorically said: "Cristiano Ronaldo ran into my arm. I couldn't have done anything to prevent it. It was no reason for a penalty." Obviously, no one was expecting the Spanish goalkeeper to admit he fouled Ronaldo, but it's still interesting to watch how some players try to justify the opposite of what was evident to everyone.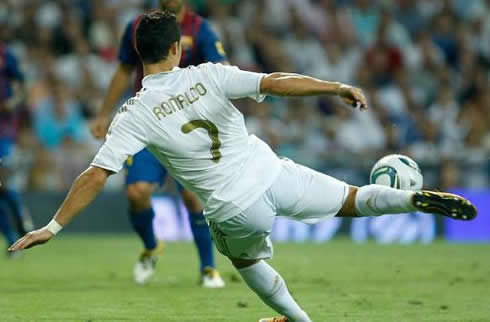 One of the best players on the pitch last night was Benzema. The French man is definately revitalized for this season and has already confessed that José Mourinho has been a key factor for his performances improvements. Benzema also shares the oppinion that Real Madrid outclassed Barcelona in the first leg of the Spanish Super Cup: "We had more goal scoring chances, more ball possession and we've done a lot more than Barcelona to win the game. This is a trophy we want to win and we had a good performance last night. We are on the right track and we have to keep doing things the same way. José Mourinho talked with the team and told us that he's very optimistic. He said that it was a good result and that we have to keep on fighting to win this Spanish Super Cup in the Camp Nou."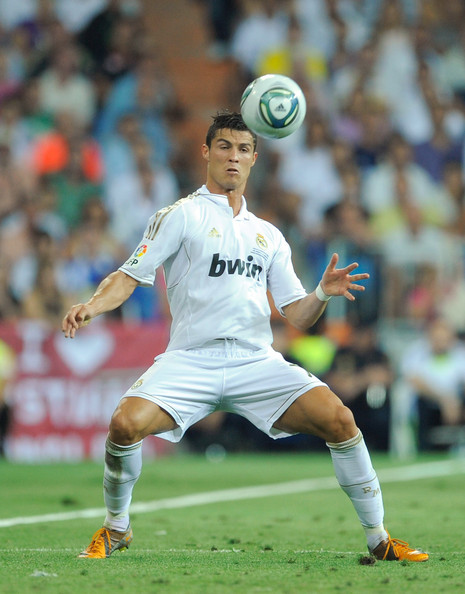 An interesting stat from this Real Madrid vs Barcelona match has precisely to do with the ball possession factor. For the first time in a long time, we've seen Pep Guardiola's Barcelona team struggle to have the ball on their feet. The intense pressure by Real Madrid players paid out. In the end of the first half, Real Madrid proved that it is possible to steal the ball from Barcelona's midfield and dictate the tempo of the game. The first half ended with Real Madrid having a ball possession percentage of 54% against 46% from Guardiola's side. However, and specially after Xavi joined the game, Barcelona regained their old habits and managed to still finish the game with close to 52%, against 48% from Real Madrid. Regarding shots stats, Real Madrid also proved that they were the more attacking side on this game, by having made 20 shots (9 with good direction) against only 4 from Barcelona (2 with good direction which resulted goals). (Stats source for ball possession in Real Madrid vs Barcelona (in Spanish))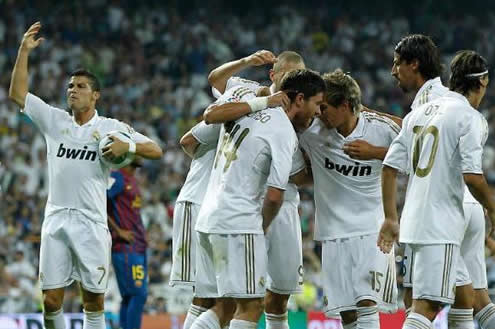 After the first leg, Real Madrid will face again Barcelona this Wednesday, the 17th of August, for the 2nd of leg of the Spanish SuperCup. Cristiano Ronaldo will most likely be on the line-up for this match, which will be played in the Camp Nou. You can watch Juventus live stream, the game Barcelona vs Real Madrid live streams, inside the Live Games Streams section. The kickoff will be at 23:00, Spain local time. Below, we also provide a list of a few local time information for the match kickoff, in several places across the World:
Barcelona vs Real Madrid - 17th of August, 2011 (Wednesday):
22:00 (GMT+1) - London (U.K.), Lisbon (Portugal)
23:00 (GMT+2) - Madrid (Spain)
05:00 (GMT+8) - Beijing (China), (Thursday)
13:00 (GMT-8) - Los Angeles (USA)
Sources: ronaldo7.net/marca.com/abola.pt

comments powered by