14.08.2011 » Real Madrid 2-2 Barcelona. Great match and decision delayed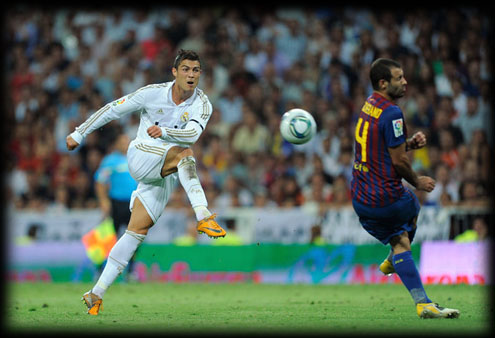 Real Madrid couldn't get more than a 2-2 draw against their biggest rivals, Barcelona, in a very entertaining match for the 1st leg of the Spanish Super Cup, played in the Santiago Bernabeu. Similarly to last season, there was plenty of controversy and the game was prodigal in intensity and emotions. Cristiano Ronaldo couldn't score, but Mesut Ozil and Xabi Alonso made Real Madrid goals last night.
The much anticipated return didn't let the fans down. Real Madrid got a 2-2 draw from last night's clash against Barcelona and the game was very enjoyable to follow, having in mind that this was just the first official match of the season. As expected, José Mourinho played with a very offensive starting line-up, just like he did last season when Real Madrid faced Barcelona in the Camp Nou, and the Blaugrauna won with a "manita" 5-0. This time, things were completly different and Real Madrid even managed to have more ball possession than Barcelona in the first half. However, and even though Real Madrid took the lead, Barcelona would find the time to make a "remontada" still before the half-time, in the only 2 dangerous plays near Casillas goal.
Cristiano Ronaldo game photos in Real Madrid vs Barcelona
Cristiano Ronaldo highlights in HD, from Real Madrid vs Barcelona:
José Mourinho chose to start with Angel Di María, leaving the newcomer Fábio Coentrão in the bench. The Merengues started the match with great intensity and it payed off around the 13th minute, in a play initiated by Di Maria, which Benzema handled majestically, before assisting Ozil for the first goal of the match. The match was being very disputed and Real Madrid was all over Barcelona. However, David Villa would equalize the game around the 35th minute, in a tremendous shot from outside the area, leaving no chances for Iker Casillas to respond. Just a few minutes before the half time, Messi would take advantage of a loose ball and make it 1-2 for Barcelona. Everyone felt that Real Madrid was playing enough to be leading the score by 2 or 3 goals by then, but Barcelona had a complete effectiveness in their goalscoring chances and were the lucky side on this match.
Real Madrid vs Barcelona goals and highlights:
The second half would start with Real Madrid rushing into Barcelona's area, trying to get the equalizer as soon as possible. Just after replacing Di Maria for Fábio Coentrão, Xabi Alonso scored the 2-2, in a crossed shot, after being assisted by Pepe. Things were looking even more promising for the 2nd half, as Real Madrid didn't seem to go to settle with a draw in this 1st leg clash. However, it has to be said that Barcelona improved a lot their game around the 60th minute, when Xavi replaced Thiago Alcântara, and the Blaugrana started playing their distinctive "tiki-taka" football and as a result, having more ball posession. A direct consequence from this, was the slowing down of the tempo and less goalscoring chances for both sides.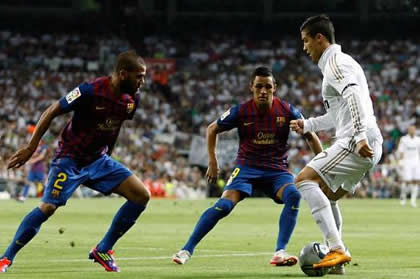 Cristiano Ronaldo played the entire game and was close to score for a few times, but unfortunately, this wasn't CR7 night. Ronaldo was a crutial player in Real Madrid strategy, since he was able to give depht when the team needed and always posed as a big threat to Barcelona's defense. There was even a controversy play during the 2nd half, when Cristiano Ronaldo ran after a rebound inside the area and clearly got tripped by Barcelona goakeeper, Victor Valdés, but the referee ordered to play on. There's definately a sense of injustice in the end of this game, as Real Madrid has always looked the strongest side on this first clash, but there's no time for regrets, since Real Madrid will play again against Barcelona this Wednesday (17th of August), for the 2nd leg of the Spanish Super Cup.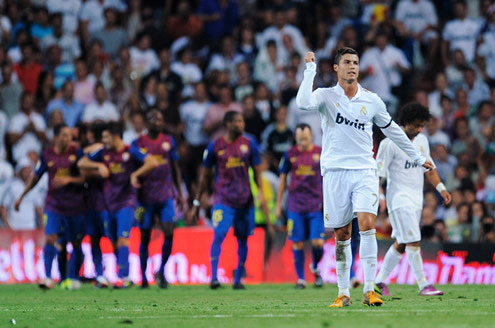 Real Madrid line-up: Casillas; Marcelo, Pepe, Ricardo Carvalho and Sergio Ramos; Xabi Alonso, Khedira and Ozil; Di Maria, Cristiano Ronaldo and Benzema.
Barcelona line-up: Valdés; Adriano, Mascherano, Abidal, Daniel Alves; Keita, Iniesta, Thiago Alcântara; Alexis Sanchez, Messi, David Villa.
After the first leg, Real Madrid will face again Barcelona this Wednesday, the 17th of August, for the 2nd of leg of the Spanish SuperCup. Cristiano Ronaldo will certainly be in the line-up for this match, which will be played in the Camp Nou. You can watch Juventus live stream, the game Barcelona vs Real Madrid live streams, inside the Live Games Streams section. The countdown clock is working again, so you may check the timeleft for the kickoff in the top right corner of this site. Below, we also list a few local time information for the match kickoff, in several places across the World:
Barcelona vs Real Madrid - 17th of August, 2011 (Wednesday):
22:00 (GMT+1) - London (U.K.), Lisbon (Portugal)
23:00 (GMT+2) - Madrid (Spain)
05:00 (GMT+8) - Beijing (China), (Thursday)
13:00 (GMT-8) - Los Angeles (USA)
Sources: ronaldo7.net/marca.com/realmadrid.com

comments powered by