13.08.2011 » Cristiano Ronaldo is the World's most popular football player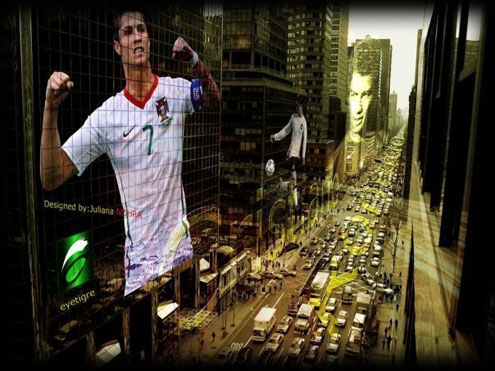 Cristiano Ronaldo was ranked as the World's most popular football player, according to the reputed site "Famecount.com", which analyzes the media impact from social network pages. CR7 was ranked #1, leaving behind his Real Madrid team mate Ricardo Kaká and Barcelona's Lionel Messi.
Cristiano Ronaldo is a true phenomenon world-wide and the popularity of the Portuguese superstar doesn't seem to be ceasing anytime soon. Regarded by many as the best and most complete football player in the World, in what will always be a subjective analysis, Ronaldo has now been ranked as the most popular football player in the World, by using quantitative data and stats gathered from social networking records. A valuable indicator of CR7's popularity is certainly the ammount of fans following him on Facebook, and Cristiano Ronaldo has the 18th page most followed page the World, with close to 32.500.000 fans. Still ahead of the Real Madrid player, are the likes of Eminem, Rihanna, Lady Gaga, Michael Jackson, Justin Bieber, Katy Perry, Linkin Park or The Simpsons. Below you may see the top18 ranking table for the most popular pages in Facebook: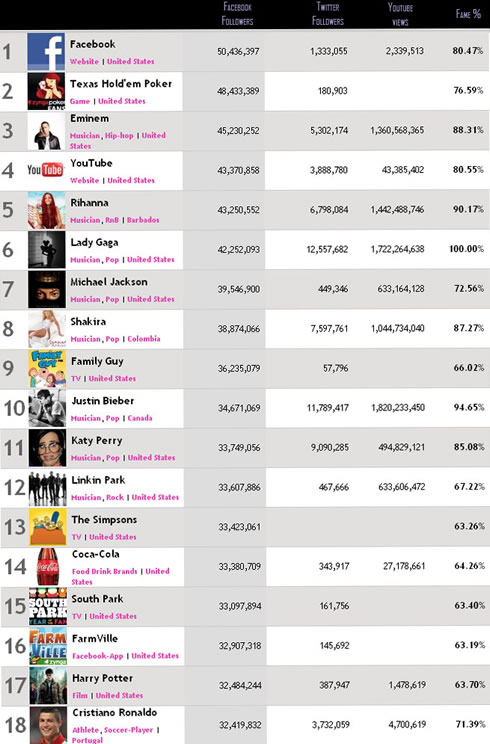 Regarding sports clubs popularity, there's a clear evidence of a big world-wide presence by 3 football clubs in Facebook. Real Madrid has 17.922.000 fans, Barcelona has 18.741.000 fans and Manchester United has 18.052.000 fans. The NBA basketball team L.A. Lakers, take the 4th place, but the gap is still huge with the Los Angeles team having no more than 9.914.000 fans. Famecount accounts not only fans following in Facebook, Twitter and Youtube, but also the engagement level (re-tweets, comments, etc) and that's the reason why a few pages have an higher fame % level, despite having less followers. Here's the popularity top10 ranking for athletes: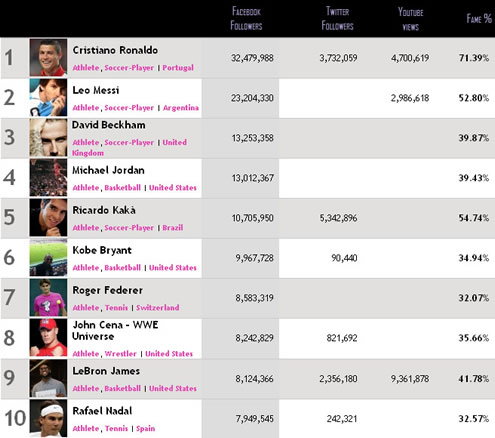 Cristiano Ronaldo has deliberately made an investment in increasing his presence on the Web, over the last years. CR7 is one of the few athletes who has an official Facebook, Twitter and Youtube page, as well as an official website. This sort of analysis provided by famecount, demonstrates the notorious emergent importance of social media presence, so that athletes, teams and personalities can stay closer and interact with their fan base. However, there is also a negative side from this increasing social networking usage, specially through Twitter, leading to a few unwanted and inopportune incidents in a few celebrities lifes.
We'll leave with a few funny and interesting videos involving Cristiano Ronaldo in the last days. The first shows a match taken by Real Madrid while still on tour in China last week, against 109 kids from Guangzhou, to celebrate precisely the Chinese club 109 years of since being founded:
This is definately a great video to confirm how well Cristiano Ronaldo gets along with the likes of Marcelo, Fábio Coentrão, Pepe and even José Mourinho. These Real Madrid players and the Portuguese coach were filmed playing a sort of a curling game, similar to a Portuguese traditional game called "Malha", where the objective is to place the ball as close as possible to the target:
Finally, a very recent video from Cristiano Ronaldo talking in a quick post-match interview this pre-season in Madrid and laughing at a journalist bad pronunciation when attempting to ask about Fábio Coentrão's performance. The problem was that the journalist was convicted that the Real Madrid player was called "Concentrão" and Ronaldo couldn't hold a laugh. After giving a quick Portuguese lessson to the journalists nearby, the jokes continued and CR7 was still asked if he was "concentrated" for the next games. The Portuguese star showed he has good sense of humor too:
Real Madrid first official match match this season will be against Barcelona this weekend. Next Sunday (14th of August), Ronaldo will play the first leg of the Spanish Supercup against Barcelona, in the Santiago Bernabeu. This will be the first of two games against Barcelona and Cristiano Ronaldo will most likely be in the line-up. You can watch Juventus live stream, the game Real Madrid vs Barcelona live streams inside the Live Games Streams section. Our usual countdown clock is broken but you may check a few localtime below:
Real Madrid vs Barcelona - 14th of August, 2011 (Sunday):
21:00 (GMT+1) - London (U.K.), Lisbon (Portugal)
22:00 (GMT+2) - Madrid (Spain)
04:00 (GMT+8) - Beijing (China), (Monday)
12:00 (GMT-8) - Los Angeles (USA)

Sources: ronaldo7.net/independent.co.uk/famecount.com

comments powered by