September 11, 2023
Analyzing Ronaldo's journey for his first title in Saudi Arabia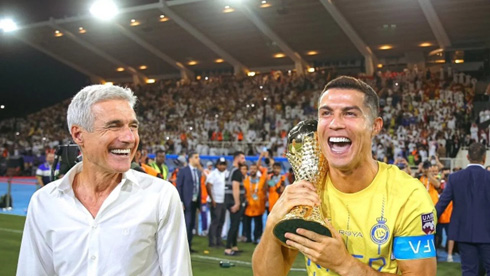 Cristiano Ronaldo's move to Al-Nassr boosted Saudi Arabian football's global profile, leading to increased viewership and attendance. Although he didn't win a title in his first season, Ronaldo already played a key role in Al-Nassr's 2023 Arab Club Champions Cup victory...
Cristiano Ronaldo's transition to Al-Nassr elevated the prominence of Saudi Arabian football on the global stage. This boost, termed the "Ronaldo effect" significantly increased Al-Nassr's viewership and match attendance. Despite not securing a title in his inaugural season, Ronaldo remained optimistic about the league and its growth prospects. His commitment bore fruit in 2023 when he played a pivotal role in Al-Nassr's triumph in the Arab Club Champions Cup, cementing his dedication to achieving football excellence regardless of the league or country. Some fans also claim that with the Portuguese superstar on board, even smaller countries like Malta would jump straight into the spotlight if Ronaldo was ever to ever play there, or at least have fun at a popular online Malta casino in his next summer vacation.
Cristiano Ronaldo - Not over:
---
The "Ronaldo Effect" in Saudi Arabian Football
When Cristiano Ronaldo joined Al-Nassr, his inclusion wasn't merely about on-field contributions. With 530 million Instagram followers, he significantly boosted Al-Nassr's global recognition. This was aptly coined as the "Ronaldo effect" which saw an elevated interest in Saudi Arabian football, including women's soccer. By marking his presence, he not only raised the bar for the league but also set a standard for other global stars, increasing awareness and interest.
---
The Frustration of a Trophyless First Season
Ronaldo's maiden voyage in the Saudi Pro League was nothing short of a rollercoaster ride. Even after scoring a commendable 14 goals in just 16 league matches, it was the draw against Ettifaq and Al-Ittihad's triumph that denied him a taste of silverware. This setback, however, wasn't due to his lack of effort but circumstances like a disallowed goal, and a stellar performance by Romarinho that sealed the fate for Al-Nassr. Ronaldo's journey is reflective of a hard-fought battle on the field, bearing the weight of expectations and yet falling short.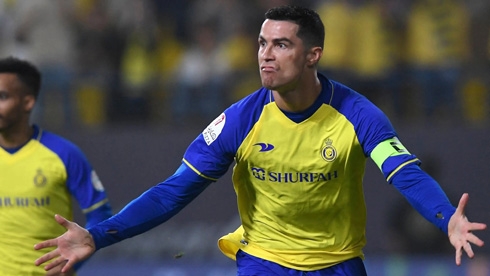 ---
Ronaldo's Reflections and Outlook on the League
Ronaldo's positive spirit shone brightly in an interview marking the end of the first season, where he didn't let Al-Nassr's second-place finish shadow his optimism. Ronaldo expressed:
• Passion and Consistency: Ronaldo stressed the value of these elements for success and projected an improved Al-Nassr performance in the subsequent season.
• Acknowledgment of Challenges: Recognizing the competitiveness of the league, Ronaldo highlighted the areas of growth such as infrastructure enhancement and implementing the VAR system.
• Saudi Arabia's Passion for Football: His stint in Saudi Arabia allowed him to observe and commend the country's profound football culture, notably the developments like a women's premier league and school girls' league.
---
Ronaldo's Redemption: Securing the First Title in 2023
The trophy drought ended in style for Ronaldo and Al-Nassr as they clinched the Arab Club Champions Cup title. The match, a showdown against rivals Al Hilal, was a testimony to Ronaldo's indomitable spirit. Despite facing a numerical disadvantage due to a red card situation, Ronaldo came through for Al Nassr. He equalized and subsequently netted the winning goal in extra time, leading his team to a 2-1 victory. This win wasn't just a redemption for the previous season's setback but also marked Ronaldo's relentless pursuit of excellence and determination to bring silverware to his club.
Cristiano Ronaldo's journey with Al-Nassr is a tale of ups and downs, but it emphasizes his commitment to football, regardless of the league or country. His presence in Saudi Arabia has been nothing short of a revolution, redefining the way the world perceives football in the region.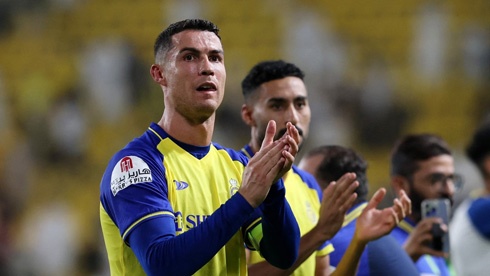 ---
Cristiano Ronaldo next game for Al Nassr is on September 16 for the Saudi Pro League, against Al Raed. You can watch Al Raed vs Al Nassr, Bolivia vs Argentina, Spain vs Cyprus, Scotland vs England, Italy vs Ukraine and Germany vs France, all matches provided from our sports live game pages.
Al Nassr next game:
Al Raed vs Al Nassr kick-off time (16-09-2023):
Beijing (China) | UTC/GMT+8: 23:00
India (New Delhi) | UTC/GMT+5.30: 20:30
Saudi Arabia (Riyadh) | UTC/GMT+3: 18:00
Spain (Madrid) | UTC/GMT+2: 17:00
Portugal and England (Lisbon/London) | UTC/GMT+1: 16:00
Rio de Janeiro (Brazil) | UTC/GMT-3: 12:00
New York (United States) | UTC/GMT-4: 11:00
Los Angeles (United States) | UTC/GMT-7: 08:00
Sources: ronaldo7.net / apnews.com / espn.co.uk