September 6, 2023
The future of the Saudi Pro League after the Ronaldo transfer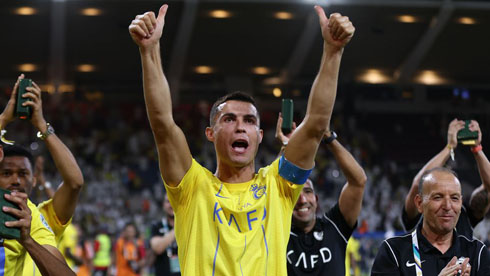 Cristiano Ronaldo's transfer to the Saudi Pro League has globally amplified its prominence. The betting industry has also seen a surge in many types of bets related to Ronaldo. His move ended up acting as a catalyst for other high-profile transfers to Saudi Arabian clubs...
Imagine a world where a soccer star as big as Cristiano Ronaldo moves to a new league. Well, it happened, when Cristiano Ronaldo decided to join the Saudi Pro League and shock the world after having played nearly 20 years in Europe. This big move has changed many things, from Al-Nassr obviously but also the dynamic in many online betting sites. Let's dive into how this surprising transfer has shaken things up...
Cristiano Ronaldo - The legacy:
---
How did Ronaldo's Transfer Change the Saudi Pro League?
Before Ronaldo came, the Saudi League was already good. Teams like Al-Hilal and Al-Ittihad were strong, but Ronaldo has made it even better. Here's how:
Before, only a few reporters would show up to talk about Saudi League games. But when Ronaldo joined, the number of journalists increased a lot. Now, the league is spoken of not just in Saudi Arabia but also around the world.
Ronaldo has a lot of followers on social media, more than all English Premier League clubs combined. His joining Al-Nassr has made the team very popular, so more people will watch games.
Al-Nassr is paying Ronaldo a lot of money. But they expect to make even more. Ronaldo will help sell tickets, jerseys, and even attract sponsors.
Saudi media wants to sell broadcasting rights to other countries. Because of Cristiano Ronaldo, more countries may want to show Saudi League games. Ronaldo has won many awards and titles in soccer games. His skills will help Al-Nassr and make the whole league better.
---
A Sharp Increase in the Number of Bets of the Saudi Pro League
Cristiano Ronaldo's transfer to the Saudi League created a buzz in the betting community. According to experts' opinion on CasinosCanada.reviews, who review top online casinos, the dynamics of rates surged several times with Ronaldo's move. Below are the different types of bets that have become popular.
Player-specific bets
Player-specific bets with Ronaldo capture significant interest. These include:
• Number of goals Ronaldo will score in a match;
• Whether Ronaldo will score a free-kick;
• Whether Ronaldo will receive a yellow or red card;
• Assists made by Ronaldo;
• Shots targeted by Ronaldo.
Season-long bets
With Ronaldo in the Saudi League, season-long bets become also in high demand. These types of bets include:
• Ronaldo as the season's top scorer;
• Ronaldo winning the League MVP award;
• Number of assists Ronaldo will have during the season;
• Ronaldo's team, Al-Nassr, winning the league title;
• Ronaldo being named "Player of the Month" multiple times.
Special bets
Special bets offer a unique flavor to the betting scene. These include:
• Ronaldo breaking any existing Saudi League records;
• Ronaldo winning the "Best Foreign Player" award;
• Ronaldo scored in specific high-profile matches (e.g., derbies or finals);
• Ronaldo scoring a hat-trick in any game;
• Ronaldo being named captain of Al-Nassr at any point in the season.
Combination bets
Combination bets, or combo bets, involve multiple conditions that must be met to win. Check out some popular combination bets involving Cristiano Ronaldo:
• Ronaldo to score and Al-Nassr to win the match;
• Ronaldo to score the first goal and Al-Nassr to win with a clean sheet;
• Ronaldo to score a goal, make an assist, and Al-Nassr to win;
• Ronaldo to score a free-kick and Al-Nassr to draw the match;
• Ronaldo to score twice and Al-Nassr to win by a margin of at least 2 goals.
Combination bets offer higher rewards but also come with increased risk, making them a thrilling option for bettors.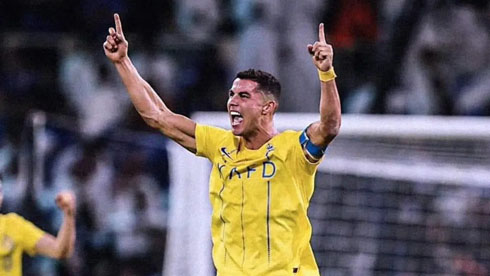 ---
Wide Summer Transfer Window: Main Stars Who Joined Saudi Clubs
The summer of 2023 saw a remarkable influx of star players to Saudi Arabian football clubs. The window closes on September 20, allowing ample time to secure big-money deals. Cristiano Ronaldo's move to Al-Nassr acted as a catalyst, inspiring many big names to follow suit.
Al-Nassr
• Marcelo Brozovic: Joined from Inter Milan with £15 million;
• Sadio Mane: Moved from Bayern after a £35 million transfer last year;
• Alex Telles: Transferred from Manchester United back in July;
• Aymeric Laporte: Completed a £23.5 million move from Manchester City.
Al-Hilal FC
• Ruben Neves: Joined with £47 million, setting a club Wolves record;
• Kalidou Koulibaly: Moved from Chelsea in a £20 million deal;
• Sergej Milinkovic-Savic: Agreed with a £34 million transfer from Lazio;
• Neymar: Left PSG because of a two-year deal worth £130 million per year;
• Aleksandar Mitrovic: Joined from Fulham in a £46 million deal.
Al-Ahli SC
• Edouard Mendy: Joined from Chelsea, becoming the third Chelsea player to move to the Middle East;
• Roberto Firmino: Left Liverpool following the expiration of his contract;
• Allan Saint-Maximin: Completed a £30 million transfer in July;
• Riyad Mahrez: Joined from Manchester City.
Al-Ittihad FC
• Karim Benzema: Joined on a free transfer, signing a three-year deal;
• N'Golo Kante: Also joined the same way after leaving Chelsea.
Al-Ettifaq
• Jordan Henderson: Joined from Liverpool with a £700,000-per-week deal;
• Steven Gerrard: Appointed as the new manager.
---
Is The Saudi Pro League Better than MLS?
In a recent interview, Cristiano Ronaldo voiced a strong opinion regarding the quality of the Saudi League compared to Major League Soccer (MLS) in the United States. According to Ronaldo, the Saudi League stands superior. The Portuguese superstar's comments came shortly after his great rival, Lionel Messi, joined Inter Miami in the MLS.
High-Profile Transfers
Ronaldo isn't alone in his move to the Pro League. Other elite players like Karim Benzema and N'Golo Kante have also chosen the Saudi League over other options, including the MLS. Ronaldo believes his move paved the way to consider the Saudi League a valid destination.
League Quality
According to Ronaldo, European football lacks the quality it once possessed, except the English Premier League. In his view, the Saudi League will attract additional top players in the coming year, potentially outshining MLS regarding talent and competitiveness.
Future Prospects
Ronaldo, at 38, sees no return to European clubs in his future. Instead, he predicts that more high-profile players will opt for Saudi Arabia over other leagues, including MLS.
Messi vs Ronaldo
The eternal rivalry between Messi and Ronaldo also extends to choices in leagues. While Messi opted for MLS, Ronaldo's commitment to the Saudi League adds another layer to ongoing competition.
---
Will Ronaldo Win the League Title this Year: Prediction and Odds
The 2023/24 Saudi Professional League is already shaping up to be a season full of surprises, excitement, and high-profile signings. Ronaldo, a pivotal figure at Al Nassr, brings skill and the spotlight to the Saudi League. But can he lead Al Nassr to victory this season?
The Betting Landscape
Regarding football betting, odds consist of a key indicator of how teams will be performed. According to the best football betting apps, Al Ittihad currently leads with the best odds at 2.87 (15/8), closely followed by Al Nassr at 3.75 (11/4).
Cristiano Ronaldo Odds
To Ronaldo, the odds play a huge role. He had high expectations, with 14 goals in 16 matches in his debut season. The football odds point toward a strong season for Ronaldo and his club, especially given the recent acquisition of Sadio Mane from Bayern Munich.
Al Nassr Odds
Al Nassr was a stone's throw away from glory last season, finishing just five points behind champions Al Ittihad. Given their strong home record and bolstered squad, Al Nassr odds suggest they could clinch the title this year if they improve away form.
The Competition
Al Hilal, with odds at 4.50 (7/2), cannot be overlooked. This is a strong team with multiple league titles and recent acquisitions like Kalidou Koulibaly and Ruben Neves. Al Shabab and Al Ahli are considered long shots with odds at 15.0 (14/1) and 17.0 (16/1), respectively.
---
Expert Picks
Football pundits and experts agree that Al Nassr, backed by Ronaldo's star power and new signings like Mane and Marcelo Brozovic, will be the team to beat. The only weak link might be their defense, but new addition Alex Telles could plug that gap.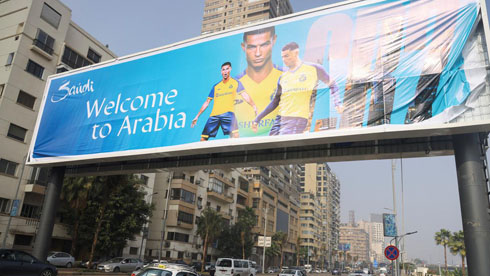 ---
Cristiano Ronaldo next game for Portugal is on September 8 for the EURO Qualifiers, against Slovakia. You can watch Slovakia vs Portugal, Argentina vs Ecuador, Georgia vs Spain, Ukraine vs England, France vs Ireland and Netherlands vs Greece, all matches provided from our live football game pages.
Portugal next game:
Slovakia vs Portugal kick-off time (08-09-2023):
Beijing (China) | UTC/GMT+8: 02:45
India (New Delhi) | UTC/GMT+5.30: 23:45
Saudi Arabia (Riyadh) | UTC/GMT+3: 21:45
Spain (Madrid) | UTC/GMT+2: 20:45
Portugal and England (Lisbon/London) | UTC/GMT+1: 19:45
Rio de Janeiro (Brazil) | UTC/GMT-3: 15:45
New York (United States) | UTC/GMT-4: 14:45
Los Angeles (United States) | UTC/GMT-7: 11:45
Sources: ronaldo7.net / goal.com / theguardian.com