August 13, 2023
The Ronaldo vs Messi rivalry over the years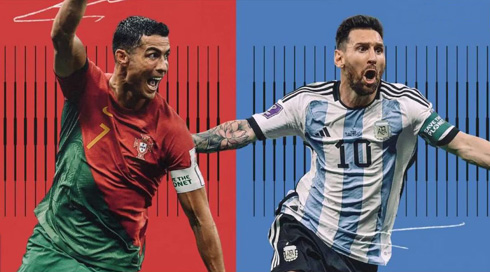 The chances that two of the greatest players that football has ever seen were born in the same decade were extremely slim, much less in the span of a couple years. The Ronaldo and Messi rivalry is regarded by many football experts as the most unique and duel between two superstars...
The Lionel Messi versus Cristiano Ronaldo rivalry always to leads to some of the biggest debates about who dominates the football world since the Pele-Maradona conundrum. And rightfully so. In the prime of their careers, Messi and Ronaldo have faced off against each other regularly and pushed each other to the heights of football greatness. Both players are unanimously considered the best football players of all time, and it is easy to see why there might be some rivalry between them, real or perceived. In this article, we look at the Messi-Ronaldo dynamic through the years...
Cristiano Ronaldo vs Messi - Prime years:
---
Origins - 2007 to 2009
The rivalry between Messi and Ronaldo is widely accepted to have begun in 2007. The two were runners ups for the 2007 Ballon d'Or that year, losing to Kaká, before playing their first match against each other in the 2007-08 UEFA Champions League semi-finals. Pundits, major sportsbooks, and journalists immediately branded them major rivals. Playing for Barcelona and Manchester United, the two players faced off, with Ronaldo's United winning the game.
In 2009, Messi and Ronaldo met against in the UEFA Champions League final in a match dubbed the "dream clash". Messi had the last say, scoring the second goal – a header – and securing Barcelona's 2-0 win. From this point, the rivalry was born and fans could not get enough. This period also saw increased betting around the two players. In the UK, where football is more popular than in the US, fans flocked to betting sites not on Gamstop to have their say on who between Messi and Ronaldo would score in the next game or break the next record.
---
El Clasico (2009-2018)
2009 was a great year for football because it marked the beginning of what would be called "the most competitive period in El Clásico history". On June 11, Real Madrid obtained Ronaldo from Manchester United for £80 million (€94 million). Real Madrid and Barcelona where El Clásico rivals, and between 2009 and 2018, Messi and Ronaldo played against each other at least twice every season.
This period was among the most exciting times in football. The two-star players also met in competitions like the Champions League (2011), the Supercopa de España, and the Copa del Rey. Additionally, it was during this time that Messi and Ronaldo became the all-time top scorers for Barça and Real Madrid, respectively. They also alternated for the top-scorer position in the Champions League and La Liga throughout most seasons.
---
Notable years between 2009 and 2018
Messi and Ronaldo broke and set most of their records during their stints at Barcelona and Real Madrid. The period between 2009 and 2018 is widely regarded as the prime of their careers and when the rivalry was most heated...
---
2014 to 2015
At the start of the 2014-2015 season, the media was abuzz about whether Messi or Ronaldo would break the 71-goal UEFA Champions League record set by Raúl between 1995 and 2011. Messi was first to hit the record on November 5, during a game against Ajax, before surpassing it 20 days later. On November 26, Ronaldo also equaled the score in a Basel match. Earlier that month, he had broken a record previously held by Isidro Lángara when he scored 17 league goals in 10 matches.
In December, Cristiano Ronaldo achieved 200 goals in La Liga after 178 games, becoming the fastest player to achieve that. Messi scored his 21st hat-trick in La Liga that year too.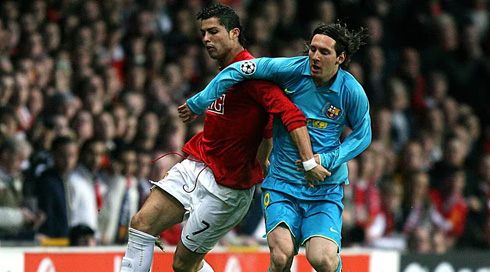 ---
2015 to 2016
In September of the next year, Ronaldo surpassed 500 career goals during a Champion League game against Malmö to become his team's top goalscorer – at the time, tied with Raúl at 323. He beat the record on October 17 during a game against Levante.
On the other hand, Messi scored one goal during a game against Sporting Gijon, reaching the 300-goal mark in La Liga. He closed the year as the highest scorer in the league's history, with Ronaldo second.
---
2018-2021
The El Clásico period ended in 2018 when Ronaldo transferred to Juventus during the summer window. Over the next four seasons, he and Messi only played against each other once during the UEFA Champions League group stage in 2021. Juventus won 3-0, with Ronaldo scoring 2 of the goals.
---
2022 FIFA World Cup to 2023 (final meetings)
While they did not play against each other, Messi and Ronaldo met again during the 2022 FIFA World Cup. Some pundits and critics used the fact that Ronaldo remained benched for most of the games and that Messi led Argentina to a win to argue that Messi had "won" the rivalry.
The two did meet on January 21, 2023, in a match against Messi's PSG and Ronaldo's Al-Nassr in Riyadh, where PSG won 5-4. This match was described as likely being the last ever to feature them both.
---
Records and awards
Messi and Ronaldo have also been rivals in awards and football records. Ronaldo holds the record for the most appearances, scores, and assists in the UEFA Champions League, with Messi second for assists and goals and third for appearances. Meanwhile, Messi has scored more goals and provided more assists than any player in the history of La Liga, with Ronaldo fourth for assists and second for goals.
The Ballon d'Or is their most contested award. Messi has won seven times, including four consecutive times between 2009 and 2012 and in 2015, 2019, and 2021. Ronaldo, on the other hand, won five times in 2008, 2013, 2014, 2016, and 2017.
---
Final remarks
Despite all this, Messi has continually denied any personal rivalry with Ronaldo, calling it an invention of the media and press. He also maintains that he has "never fought with Cristiano". Whatever the origin of the rivalry, pundits generally agree that Lionel Messi and Cristiano Ronaldo are the best players of their time – and by a long shot.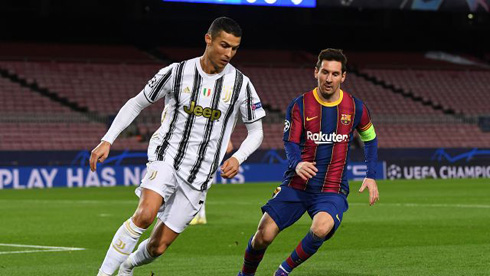 ---
Cristiano Ronaldo next game for Al Nassr is on August 14 for the Saudi Pro League, against Al Ittifaq. You can watch Al Ittifaq vs Al Nassr, Nottingham Forest vs Sheffield United, Getafe vs Barcelona, Manchester United vs Wolverhampton, Chelsea vs Liverpool and Brentford vs Tottenham, all matches provided from our soccer live game pages.
Al Nassr next game:
Al Ittifaq vs Al Nassr kick-off time (14-08-2023):
Beijing (China) | UTC/GMT+8: 02:00
India (New Delhi) | UTC/GMT+5.30: 23:30
Saudi Arabia (Riyadh) | UTC/GMT+3: 21:00
Spain (Madrid) | UTC/GMT+2: 20:00
Portugal and England (Lisbon/London) | UTC/GMT+1: 19:00
Rio de Janeiro (Brazil) | UTC/GMT-3: 15:00
New York (United States) | UTC/GMT-4: 14:00
Los Angeles (United States) | UTC/GMT-7: 11:00
Sources: ronaldo7.net / skysports.com / footballbenchmark.com / br.com