July 13, 2023
Ronaldo and Benzema - Will the Saudi Pro League be popular in EAFC24?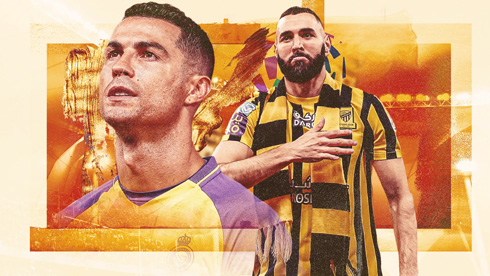 For the first time ever, the world will see two Ballon d'Ors holders in Saudi Arabia, which will inevitably lead to a lot more media attention towards this country. Ronaldo in Al-Nassr and Benzema in Al-Ittihad will headline most of the sports news in the middle east in the times to come...
As you are most likely aware, EA Sports FC is now taking over from FIFA this year and there are set to be some very exciting changes. If you have no idea what's to come or if you want to know if the Saudi Pro League is going to be popular in this game, then you can find all of the details here. Naturally, you'll be able to play with Cristiano Ronaldo if you choose either the Portuguese National Team or his current club, Al-Nassr. As for Benzema, the French striker will be available via the French National Team or his new club, Al-Ittihad.
Cristiano Ronaldo - Assisting Benzema in Madrid:
---
Fan Excitement is High
Right now, it seems that fan excitement for the new game is at an all-time high and that the new game is going to be parting from FIFA. EA Sports FC is a brand-new game and this always brings about a set amount of uncertainty. That being said, it is going to feature all of the classic game modes that you know and love.
On top of this, there are going to be some fresh innovations. The EA license portfolio right now is going to be built upon for the launch of the new game and fans are eager to know which of their favourite clubs and players are going to be licensed. France and even Real Madrid legends have announced that they are going to be leaving Bernabeu and fans want to know which players are going to be licensed. So, is football going to be great? Is the EA Sports franchise going to document the move to the Pro League? Find out here.
---
There are a Lot of Big Money Moves
Right now, it would seem that there are going to be some big money moves and it seems that Karim Benzema has finally reached an agreement with the Pro League. He is going to Al-Ittihad. He is going to be signing a two-year deal with the League and this is going to be managed by Nuno Espirito Santo. The penalty for Athletic Bilbao in the final league match of the season shows his total goals being taken to 31. This is alongside his 43 assists. This is of course, across every competition.
We will not be seeing Benzema in a shirt for Real Madrid much longer but speaking after the match, Ancelotti has said that the legend should in fact retire with the team. He has come out with a statement saying that it was indeed a surprise and that everyone was shocked but they have to understand that he has given it some serious thought and that this is part of the process that started at the club several years ago.
This is a transition that is going to take place until the next season. They have to start thinking about what the future is going to hold and they have to be as competitive as possible for the next season. There are lots of hopes that this is going to be the case and that positivity is going to ensue given the dedication of the players.
---
Casino Betting and The Saudi Pro League
The Saudi Pro League is very popular and always has been. If you check out new mobile casinos, you will soon see that they have favourable betting odds as well as a range of football-themed games. That being said, that doesn't mean that the league is going to be popular in the new game. There are a lot of changes to be made and it would seem that more has to be done to make sure that things are successful. One of them could be showing a bit of favouritism to other leagues, but only time will tell. EA has always been focused on making sure that the fans are as happy as possible, so if the fans want this league to be popular then it possibly will be.
---
Karim Benzema and EA Sports FC
So is Karim Benzema going to feature on EA Sports FC? A lot of this, believe it or not, actually comes down to whether or not EA are able to secure the rights for the new game or not. In the current game, FIFA 23 that is, every single Saudi Pro League team is going to feature, and so are the player names. You also have the badges, the club kits and the stadia as well. Right now, it's important to know that EA have not confirmed whether or not the Saudi Pro League are going to feature and if the player names are going to be part of it.
---
EA is Going to Retain the Rights
It is fully expected that EA is going to retain the rights to the Saudi Pro League as well as the new club which is Al-Ittihad. Of course, one thing to know is that nothing has been confirmed as of yet but right now it seems that Karim Benzema is going to be in EA Sports FC. He is also going to be starring alongside Cristiano Ronaldo. The next season is now drawing to a conclusion and it is becoming much easier to get an idea of who is going to be crowned the next champion.
Throughout the entire FIFA season, it's safe to say that one of the most anticipated releases to this day is the build-up to the new title. The player ratings are going to be released soon and fans are excited to see who has benefitted from their rating. Of course, some are going to have had some downgrades to their rating as well. This is all going to come down to how that particular player ended up performing but either way, it looks like exciting times are ahead. In the last game, there was a five-way tie for the player with the highest rating. Lionel Messi, Karim Benzema and Robert Lewandowski were all rated 91. This is alongside Kevin De Bruyne and even Kylian Mbappe.
Of course, we do not expect the rating system to change in the near future but it is said that there is going to be a shift in the ratings that are at the top. EA Sports FC is the new football game and this is going to replace the long-lasting FIFA series. The publisher and the FIFA team are putting an end to the three-decade partnership.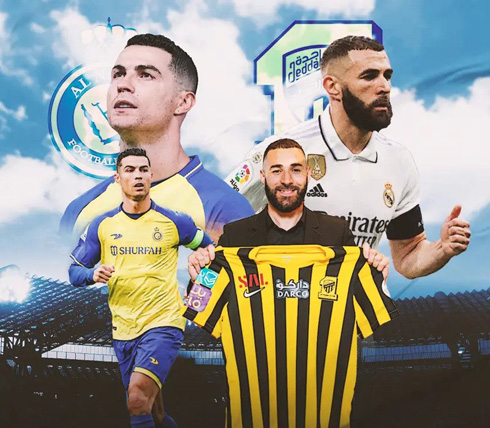 ---
EAFC is Going to be Released Soon
EA FC is going to be released soon and it is said that it is going to be done at a very similar time to the domestic season. This is going to start in real life soon and although we do not have much information right now, there are exciting times ahead. Social media leaks do suggest that there are going to be some big changes and that the Ultimate Team mode is going to become Football Ultimate Team. You also have the new card design as well, which is very exciting for fans.
So who do we think the best players are going to be when the new game comes out? If you want to know who the top players are and who is going to be taking the highest rating then the only thing you have to do is take a look below.
---
Lionel Messi
Lionel Messi is currently with Inter Miami. He is 36 years old and he has played an incredible season, to say the least. He finally lifted the World Cup trophy at last and he has 145 goals to his name. He has the best rating when you look at individual games and this is great, to say the least. It would not be surprising to see if this player keeps his current rating, and that he is going to end up being the highest joint-ranked player in the game.
---
Kylian Mbappe
Kylian Mbappe has had an incredible season so far and he ended the World Cup being the top scorer. He has also grabbed the hat-trick in the World Cup final as well. The Frenchman is leading the top scoring charts and he had a total of 28 goals. When you add this on to the seven that he was able to grab during the Champions League, you'll soon find that he is one of the most talented players in the league. When you add everything together, it's not hard to see why this player is one of the best in the business.
---
Kevin De Bruyne
When you look at things as they stand right now, you will soon see that Manchester City are on track to win the treble right now. Kevin De Bruyne has been instrumental in all of this. He is the definition of a big game player. Right now he has scored a total of 10 goals and he also has 26 assists across his competitions. He has shown that he has superstar potential and that he is said to be the top player in the game right now. Who knows what the future holds right now but it looks like he is going to keep pushing to achieve bigger and better things for the team and the sport in general.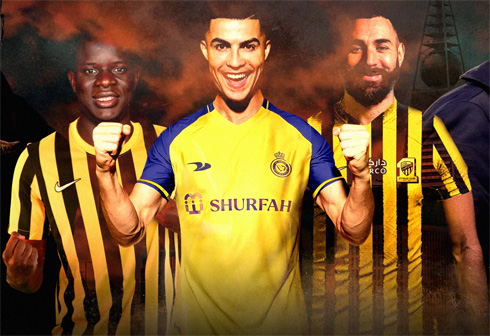 ---
Cristiano Ronaldo next game for Al Nassr is a pre-season friendly on July 25, against Paris-Saint Germain. You can watch PSG vs Al Nassr, Real Madrid vs Milan, Tottenham vs West Ham, Manchester United vs Leeds, Nurnberg vs Arsenal and Karlsruher vs Liverpool, all matches provided from our football live game pages.
Al Nassr next game:
PSG vs Al Nassr kick-off time (25-07-2023):
Beijing (China) | UTC/GMT+8: 16:20
India (New Delhi) | UTC/GMT+5.30: 15:50
Saudi Arabia (Riyadh) | UTC/GMT+3: 13:20
Spain (Madrid) | UTC/GMT+2: 12:20
Portugal and England (Lisbon/London) | UTC/GMT+1: 11:20
Rio de Janeiro (Brazil) | UTC/GMT-3: 07:20
New York (United States) | UTC/GMT-4: 06:20
Los Angeles (United States) | UTC/GMT-7: 03:20
Sources: ronaldo7.net / transfermarkt.co.uk / cbssports.com