July 6, 2023
The day Ronaldo shocked Swedish football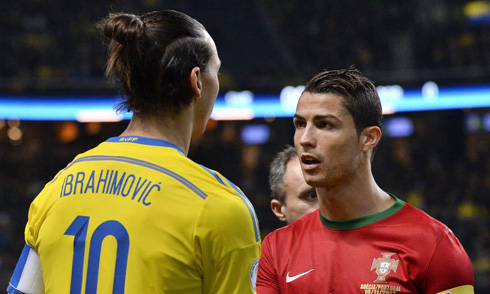 Cristiano Ronaldo has collected many memorable games and hat-tricks throughout his long career, however, there was one in particular that fans will never forget. His hat-trick against Sweden in a World Cup playoff in 2013...
In a thrilling World Cup qualifying play-off second leg, Cristiano Ronaldo carried Portugal to victory against Sweden. On November 19, 2013, the Portuguese international celebrated one of his most memorable career hat-tricks during the FIFA 2014 World Cup playoff football match at Friends Arena, outside Stockholm. How he did this really shocked Swedish football. The legend has an incredible, extraordinary talent most football fans had never seen before...
Cristiano Ronaldo - Sweden vs Portugal (WC 2013 Playoff):
---
Portugal started cautiously
The match started cautiously, with Portugal just satisfied to maintain their advantage and control the pace of the game. Sweden, on the other hand, had to work hard to maintain possession while trying to force Portugal to make some mistakes. Zlatan Ibrahimović had to dive deep to get into possession. The first half went on and Portugal gained confidence. Cristiano Ronaldo had many scoring chances but failed to take advantage.
---
The Ronaldo and Ibrahimović showdown
Not long enough into the second half, Ronaldo put an end to a situation that could not move. He calmly slipped a perfect through ball past the Swedish goalkeeper. This placed Portugal in 2-0 lead, making Sweden in desperate need of three goals to advance.
Ibrahimović, in turn of events, gave the Swedish supporters new hope in an attempt for a comeback. With a stunning low free kick from the edge, Ibrahimović put Sweden a very tiny distance away from qualification, reigniting the hope among Swedish fans.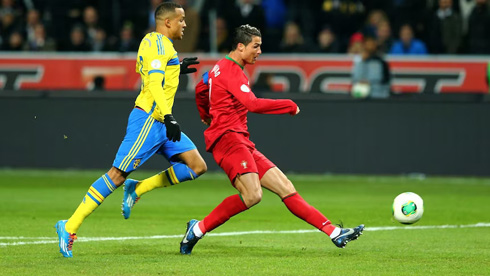 ---
Redeeming Ronaldo
It was Sweden's dream to win this match, but Ronaldo had other plans. He took advantage of Hugo Almeidas' through ball and shot the ball low using his left foot into the goal. A few moments later, he finished his hat trick like an expert while outsmarting defenders and further crushing Sweden's dream.
With the final whistle, Ronaldo cemented the victory for Portugal with a 3-2 score, giving them a 4-2 overall win. Ronaldo's exceptional performance and hat trick were nothing short of remarkable. These scenes left the audience on the edge of their seats. Every football enthusiast will surely remember Ronaldo's overall impact on the game and the display of his talent to the world.
---
The Hat-trick to victory
Spectators always eagerly await for some magical moments. But something they didn't expect happened — Ronaldo's hat trick. As the Friends Arena got lively for the match, football fans had no idea that they were about to witness an extraordinary display of skill.
Ronaldo, who is always hungry for goals, finds himself in an advantageous position again and again. As the game heats up, Ronaldo holds onto his dreams. CR7, as he is fondly called, was waiting for that one final act that will defy boundaries. He released a shot and the ball soared through the air in a way that goalkeepers couldn't stop. It was a strike of pure perfection. For sure, the remarkable hat trick goes down as one of the most notable moments in football history.
So, there you have it, NFL fans! Just as Ronaldo's hat trick left a mark on football history, let this Swedish sports betting site be your guide for all things NFL and more. Let's make some history in sports and sports betting together. Visit gustaf at spelbolagutansvensklicens.co for more information. Keep your eyes peeled, stay informed, and stay ahead of the game!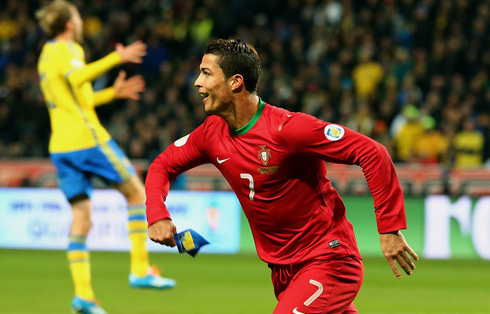 ---
Cristiano Ronaldo next game for Al Nassr is a pre-season friendly on July 25, against PSG. You can watch PSG vs Al Nassr, Real Madrid vs Milan, Tottenham vs West Ham, Manchester United vs Leeds United, Nurnberg vs Arsenal and Karlsruher vs Liverpool, all matches provided from our soccer stream game pages.
Al Nassr next game:
PSG vs Al Nassr kick-off time (25-07-2023):
Beijing (China) | UTC/GMT+8: 16:20
India (New Delhi) | UTC/GMT+5.30: 15:50
Saudi Arabia (Riyadh) | UTC/GMT+3: 13:20
Spain (Madrid) | UTC/GMT+2: 12:20
Portugal and England (Lisbon/London) | UTC/GMT+1: 11:20
Rio de Janeiro (Brazil) | UTC/GMT-3: 07:20
New York (United States) | UTC/GMT-4: 06:20
Los Angeles (United States) | UTC/GMT-7: 03:20
Sources: ronaldo7.net / france24.com / independent.co.uk