June 30, 2023
Unveiling how Ronaldo became the world's most prolific goalscorer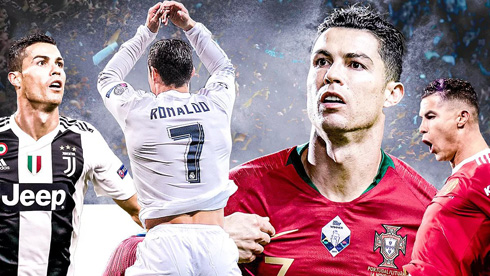 The keys to success are no secret to anyone, but putting them in practice is what really makes the difference when every detail counts...
Cristiano Ronaldo is much more than just another Portuguese football player. After more than two decades breaking records, the Portuguese superstar already cemented his legacy as the one of the world's top goalscorer of all-time. Through a combination of innate talent, unwavering determination, and relentless dedication, Ronaldo has soared to extraordinary heights in the realm of football. For those wondering if it's already too late to start betting on Ronaldo scoring goals and winning more trophies, you can still grab a special bitcoin sports welcome bonus and explore the opportunities in this market. In this article, we will delve into the key elements that have contributed to his exceptional goal-scoring prowess, solidifying his status as one of the greatest players to ever grace the sport.
Cristiano Ronaldo - The top 40 goals in his career:
---
The genesis of greatness: Early development and natural aptitude
Ronaldo's path to becoming the world's top goalscorer began during his formative years in Sporting CP. Blessed with remarkable natural aptitude, his prodigious skills were evident from the outset. As a youngster, he diligently honed his technique and nurtured his athleticism through countless hours of practice and unwavering commitment. Ronaldo possessed lightning speed, exquisite ball control, and a thunderous strike, making him an undeniable force on the field. These innate abilities laid the foundation for his future success as an indomitable goal-scoring machine.
---
Relentless ambition: The drive for success
What sets Ronaldo apart is his insatiable hunger for success. From his early days at Sporting CP to his tenures at Manchester United, Real Madrid, and Juventus, he continually pushed himself to surpass boundaries. His unyielding drive to improve and triumph propelled him to score goal after goal. Ronaldo's resolute commitment to his craft is evident in his disciplined training routines, rigorous physical fitness regimen, and meticulous attention to detail, both on and off the pitch.
---
The blueprint of brilliance: Exemplary work ethic
Ronaldo's work ethic is the stuff of legends. He is consistently the first to arrive at training and the last to depart. His dedication to perfecting his skills knows no bounds. Ronaldo ceaselessly strives for self-improvement, tirelessly refining his shooting accuracy, positioning, and timing. His relentless pursuit of excellence has allowed him to fine-tune his goal-scoring prowess over the years, enabling him to convert even the most challenging chances into spectacular goals.
---
Chameleon-like adaptability: Versatility on display
Another contributing factor to Ronaldo's goal-scoring supremacy is his remarkable adaptability and versatility on the field. Throughout his illustrious career, he seamlessly transitioned between various positions and formations, constantly reinventing himself to serve the needs of his team. Ronaldo's capability to find the net from different angles and roles, be it as a winger, striker, or even an attacking midfielder, has made him an indomitable threat to opposing defenses.
---
The mentality of a champion: Mental resilience and unquenchable
Beyond his physical attributes, Ronaldo possesses exceptional mental strength and an unrelenting competitive spirit. He thrives under pressure and thrives in pivotal moments. Ronaldo's confidence and self-belief, coupled with his unyielding desire to outshine his adversaries, have propelled him to deliver awe-inspiring performances time and time again. His mental fortitude allows him to remain focused, composed, and lethal in front of goal, making him a nightmarish opponent for defenders worldwide.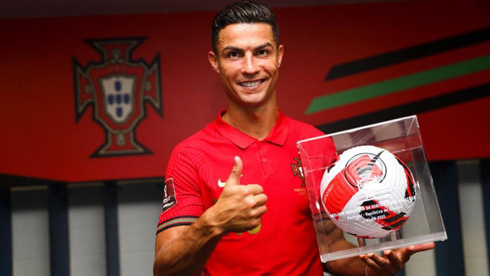 ---
Cristiano Ronaldo next game for Al Nassr for the pre-season friendlies is on July 25, against PSG. You can watch PSG vs Al Nassr, Real Madrid vs AC Milan, Tottenham vs West Ham, Man Utd vs Leeds, Nurnberg vs Arsenal and Karlsruher vs Liverpool, all matches provided from our streaming football game pages.
Al Nassr next game:
PSG vs Al Nassr kick-off time (25-07-2023):
Beijing (China) | UTC/GMT+8: 16:20
India (New Delhi) | UTC/GMT+5.30: 15:50
Saudi Arabia (Riyadh) | UTC/GMT+3: 13:20
Spain (Madrid) | UTC/GMT+2: 12:20
Portugal and England (Lisbon/London) | UTC/GMT+1: 11:20
Rio de Janeiro (Brazil) | UTC/GMT-3: 07:20
New York (United States) | UTC/GMT-4: 06:20
Los Angeles (United States) | UTC/GMT-7: 03:20
Sources: ronaldo7.net / britannica.com / sportingnews.com / sportsjoe.ie