May 29, 2023
Could Barcelona legends join Ronaldo in Saudi Arabia?
As the current season approaches its end, we naturally witness an increase in transfer rumours. However, there are 3 names in particular being linked with a move to Saudi Arabia that have been in featuring in most of the headlines: Messi, Iniesta and Busquets....
Cristiano Ronaldo is no stranger to making headlines and he has done so consistently throughout his imperious two-decade-long career. On the eve of last year's FIFA World Cup, he was once again making the front pages as his fiery sit-down interview with Piers Morgan and subsequent release from Manchester United went viral. That triggered his money-spinning move to Al-Nassr in the Saudi Arabian Professional League, and the iconic Portuguese captain has successfully managed to put the league on the map.
Before the former Real Madrid star joined Knights of Najd, the only time anyone would see the Saudi league on their social media feeds was if there was a shocking miss or stunning goal. Nowadays, however, thanks to CR7's exploits, Al-Nassr is a regular staple on Twitter, Instagram, and TikTok feeds the world over. Iconic yellow shirts with "Ronaldo 7" on the back are being sold in markets across the planet, and there can be no denying what the great man has done for football in Saudi Arabia.
There is no denying that the 38-year-old hitman gambled with his career and his reputation when he decided to make the move to the Arabian Gulf. In the end, however, his calculated move looks to have required plenty of thought and strategic planning. It was just like if you had professional bettor playing bitcoin pokies. And just like the players do when playing pokies, both Ronaldo and the Saudi Professional League have hit the jackpot.
But CR7 may very well not be the only superstar to ply their trade in the Kingdom of Saudi Arabia before the summer is out...
Cristiano Ronaldo - All for 14 goals for Al-Nassr:
---
Lionel Messi Tipped to Join His Nemesis in Saudi Arabia
For the better part of 15 years, Cristiano Ronaldo has gone head-to-head with Lionel Messi for the crown of being the world's greatest footballer. Last December, it seemed like the former Barcelona man had finally secured his spot in the history books as the greatest footballer of all time when he led his beloved Argentina to World Cup glory in Qatar. And while both players may not be at the peak of their powers anymore, their rivalry could be set to reignite later this year.
That's because Lionel Messi is out of contract at Paris Saint-Germain, and the French club has confirmed that their Rosario-born superstar will be leaving them on June 30th. A return to Barcelona has been touted however, the Catalonians don't have the funds they once had and even if they did, they couldn't match the wages offered in Saudi Arabia even if they wanted to. It has been reported that the Argentina captain has been offered a whopping $400m per year to feature in the Saudi Professional League, money that no one in their right mind would ever be able to turn down.
Messi has stated numerous times that he would like to win the UEFA Champions League one final time in his career and the only club that could provide him with that opportunity is Barcelona. However, a return to Catalonia is looking increasingly unlikely, and with a megamoney deal already on the table to head to the Arabian Gulf, it seems that there is only one country in which the Argentinian magician will end up.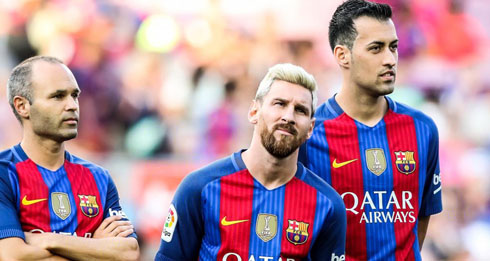 ---
A Potential Reunion with Sergio Busquets and Andres Iniesta?
Messi, however, isn't the only former FC Barcelona star that will be without a club this summer, however. Current captain at the Nou Camp, Sergio Busquets has confirmed that he will leave his boyhood club this summer following a trophy-laden 15-year spell. Former club captain Andrés Iniesta has also confirmed that he will leave Vissel Kobe after five years with the Japanese club, and he has confirmed that he wishes to continue playing despite being 39 years old.
It is thought that all three superstars could head to Saudi Arabia this summer in what would be a massive coup for the Saudi Professional League. Whether all three of them end up on the same team or not remains to be seen, but we have our fingers crossed that they will. Could you imagine Messi, Busquets, and Iniesta rolling back the years one last time, facing off against Cristiano Ronaldo on a regular basis just as they did during those epic El Clasico battles of the 2010s?
And one must imagine that CR7 would be all for the three of them joining him in the Arabian Gulf. Both he and Messi have stated their mutual admiration for one another in recent years, stating that never before had two all-time greats existed at the same time as one another, pushing each other on to become the best possible players they could be. Yes, Ronaldo's popularity monopoly within the Kingdom would be no more, but what a coup it would be to see three of the greatest players to have ever played the game all head to his league this summer.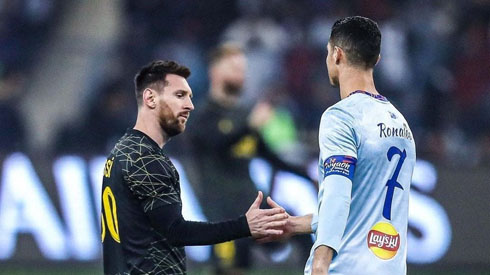 ---
Cristiano Ronaldo next game for Al Nassr for the Saudi Pro League is on May 31, against Al Fateh. You can watch Al Nassr vs Al Fateh, Real Madrid vs Athletic Bilbao, Celta de Vigo vs Barcelona, Manchester City vs Manchester United, PSG vs Clermont and Sevilla vs AS Roma, all matches provided from our football live game pages.
Al Nassr next game:
Al Nassr vs Al Fateh kick-off time (31-05-2023):
Beijing (China) | UTC/GMT+8: 02:00
India (New Delhi) | UTC/GMT+5.30: 23:30
Saudi Arabia (Riyadh) | UTC/GMT+3: 21:00
Spain (Madrid) | UTC/GMT+2: 20:00
Portugal and England (Lisbon/London) | UTC/GMT+1: 19:00
Rio de Janeiro (Brazil) | UTC/GMT-3: 15:00
New York (United States) | UTC/GMT-4: 14:00
Los Angeles (United States) | UTC/GMT-7: 11:00
Sources: ronaldo7.net / marca.com / bbc.co.uk