May 15, 2023
Could Ronaldo shock the world and sign for Newcastle?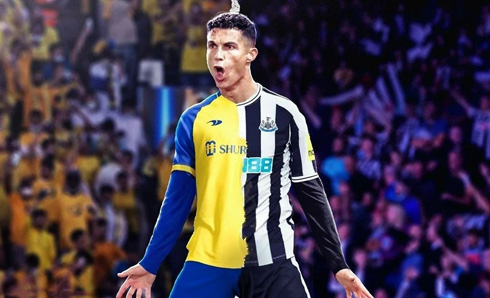 The signing of Ronaldo by Newcastle United could be a game-changer for the club. The Portuguese superstar would return to the Premier League at the age of 38, but this time, Ronaldo could finally have a team built around him...
Newcastle United, a club known for its passionate fanbase and historic legacy, has been making headlines recently with rumors surrounding the potential signing of Portuguese superstar Cristiano Ronaldo. While many football pundits and fans initially dismissed these speculations as mere fantasy, recent developments have ignited a glimmer of hope among the Magpies faithful. Could Ronaldo, one of the greatest footballers of all time, really shock the world by donning the black and white stripes of Newcastle United?
If the Portuguese superstar does end up returning to England, that could also represent a big opportunity for casino and gambling companies to approach and lure him to an ambassador role in the future. The gambling market is highly competitive these days and it's no wonder we're seeing big players in the industry like SlotZilla offering 50 free spins when you add your bank card on their site.
Cristiano Ronaldo - Skills showcase:
---
The Saudi Arabian Takeover: A Game-Changer
The recent acquisition of Newcastle United by a Saudi Arabian consortium has injected new life into the club. With deep pockets and a desire to transform the club's fortunes, the new owners have wasted no time in expressing their ambitions to compete with the elite clubs of Europe. Ronaldo's potential signing would undoubtedly be a statement of intent from the new owners, signaling their determination to establish Newcastle as a footballing powerhouse not only in the Premier League but also in Europe.
---
Financial Powerhouse: Breaking the Bank for Ronaldo?
While the financial prowess of the Saudi Arabian owners cannot be understated, it is crucial to analyze the feasibility of such a monumental transfer. Ronaldo, who is currently plying his trade with Al Nassr in the Saudi Pro League, commands an astronomical salary and transfer fee. However, with the backing of the wealthy consortium, Newcastle United might just have the financial muscle to lure the Portuguese sensation to St. James' Park. The sheer magnitude of the deal would send shockwaves through the footballing world, as Newcastle would shatter the existing transfer records.
---
A New Challenge for Ronaldo
As Ronaldo approaches the twilight years of his illustrious career, he might be seeking a fresh challenge. Throughout his career, he has conquered the Premier League with Manchester United, La Liga with Real Madrid, and Serie A with Juventus. A move to Newcastle United would offer Ronaldo an opportunity to leave an indelible mark on the English game once again. The prospect of leading the Magpies to domestic and continental glory might be an alluring proposition for the Portuguese maestro.
---
Ronaldo's Possible Teammates
If Cristiano Ronaldo were to sign for Newcastle United, he would find himself surrounded by a group of talented players who would play a crucial role in his adaptation to the team's playing style. It is important to consider how he would fit into the existing squad and how his presence would impact the dynamics of the team. Here's a look at some of Newcastle's current top players that Ronaldo would meet at the club:
Callum Wilson - The English striker has been a consistent goalscorer for Newcastle since joining the club. His partnership with Ronaldo could provide a formidable attacking duo, with Wilson benefiting from Ronaldo's ability to create space and provide assists.

Allan Saint-Maximin - Known for his electric pace and dribbling skills, Saint-Maximin could thrive alongside Ronaldo. His ability to run at defenders and create scoring opportunities would complement Ronaldo's clinical finishing.

Miguel Almirón - The Paraguayan midfielder possesses great energy and creativity. Almirón's work rate and ability to link up play would provide Ronaldo with the necessary service and support in the attacking third.

Bruno Guimarães - A midfield playmaker with excellent passing ability, Guimarães would provide Ronaldo with the creative support needed to unlock defenses. His vision and technical skills would complement Ronaldo's attacking instincts.

Alexander Isak - A young and talented forward, Isak has already showcased his goal-scoring prowess when playing for Real Sociedad and now for Newcastle. His speed, agility, and clinical finishing would make him an ideal strike partner for Ronaldo, forming a potent attacking duo.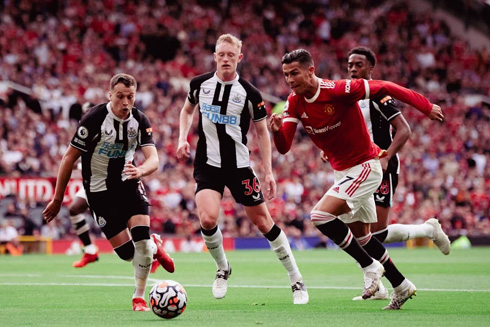 ---
Potential Impacts: On and Off the Field
The signing of Ronaldo would undoubtedly have a profound impact, both on and off the field, for Newcastle United. Here are a few potential implications:
On-field impact: Ronaldo's arrival would instantly elevate Newcastle's squad, adding a wealth of experience, skill, and goalscoring prowess. His presence would inspire his teammates, raise the team's overall performance levels, and potentially attract other world-class players to join the Magpies' revolution.

Commercial success: Ronaldo's global appeal is unparalleled. His signing would open up new revenue streams for the club through increased shirt sales, sponsorship deals, and global exposure. Newcastle United would become an attractive destination for investors and commercial partners, boosting the club's financial standing even further.

Fan euphoria: Newcastle fans, renowned for their unwavering support, would be electrified by Ronaldo's arrival. St. James' Park, already a cauldron of passion, would reach new levels of intensity as fans flood the stadium to witness their idol in action. The atmosphere generated by Ronaldo's presence would create a formidable home advantage for Newcastle.
---
The Road Ahead: Potential Hurdles
While the possibility of Ronaldo joining Newcastle United is tantalizing, there are several hurdles that must be overcome. Competition from other elite clubs, both domestically and internationally, cannot be underestimated. The allure of established Champions League contenders might sway Ronaldo's decision. Additionally, convincing Ronaldo to leave Saudi Arabia for the sometimes harsh weather of England might prove challenging. However, if the new owners can present a compelling vision and project for the future, coupled with a lucrative financial package, Newcastle United could indeed become an irresistible proposition for Ronaldo.
Furthermore, the sporting project and ambitions of the club must align with Ronaldo's own aspirations. He is a player driven by the pursuit of excellence and the desire to win major trophies. The new owners must demonstrate a clear plan to build a competitive team capable of challenging for domestic and European honors. This includes investing in top-quality players, securing a world-class manager, and providing the necessary resources for sustained success.
Another crucial factor to consider is the potential impact on the club's existing squad. While Ronaldo's arrival would undoubtedly be a massive boost, it could also disrupt the team dynamics. Balancing the integration of a superstar player while maintaining harmony within the squad requires careful management and strong leadership from the coaching staff.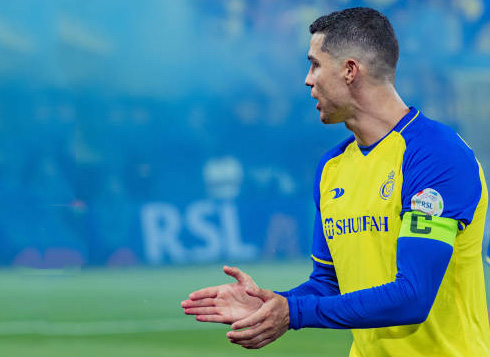 ---
Cristiano Ronaldo next game for Al Nassr for the Saudi Pro League is on May 16, against Al Tai. You can watch Al Tai vs Al Nassr, Man City vs Real Madrid, Sevilla vs Juventus, AZ vs West Ham United, Newcastle United vs Brighton and Internazionale vs AC Milan, all matches provided from our streaming football live game pages.
Al Nassr next game:
Al Tai vs Al Nassr kick-off time (16-05-2023):
Beijing (China) | UTC/GMT+8: 02:30
India (New Delhi) | UTC/GMT+5.30: 00:00
Saudi Arabia (Riyadh) | UTC/GMT+3: 21:30
Spain (Madrid) | UTC/GMT+2: 20:30
Portugal and England (Lisbon/London) | UTC/GMT+1: 19:30
Rio de Janeiro (Brazil) | UTC/GMT-3: 15:30
New York (United States) | UTC/GMT-4: 14:30
Los Angeles (United States) | UTC/GMT-7: 11:30
Sources: ronaldo7.net / espn.com / premierleague.com / theconversation.com