April 25, 2023
Cristiano Ronaldo's best goals in his football career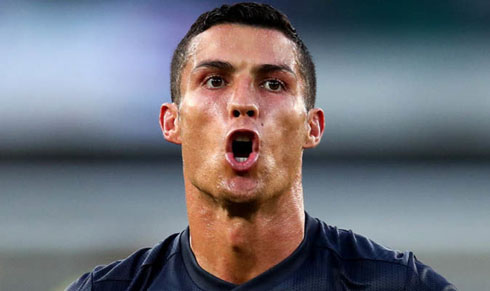 It's probably one of the most difficult missions any Cristiano Ronaldo fan may be tasked for. The Portuguese superstar already scored more than 800 goals in his professional career and choosing his best ones so far can easily bring up many dilemmas...
There is no doubt that Cristiano Ronaldo is really extraordinary when it comes to playing football and scoring goals. The most recent statistics clearly showcase that the Portuguese icon is one of the top scorers of all time. In this article we'll bring you a shortlist containing some of the best goals Cristiano Ronaldo has scored throughout his extensive football career. Please note this wasn't an easy task to accomplish since the Portuguese legend has already scored nearly a thousand goals in his his more than 1,100 professional career appearances...
Cristiano Ronaldo - Best goals in his career:
---
Arsenal vs. Manchester United
(

2009

)
Manchester United were tearing up the Premier League and were well on their way to a three-peat title win. Their impressive track record, including seven triumphs in football's second tier and three consecutive wins in the Football League First Division, has made them a clear favorite in any top-tier fixtures found at sportsbook markets.
To make their recent achievements even more impressive, they were able to even crush their archenemies Arsenal with an impressive 4-1 score in the semi-finals. Led by Sir Alex Ferguson, this team was simply unstoppable.
The superstar Ronaldo completely blew everyone away with not one but two jaw-dropping goals in that game. The first was a long-range free-kick that dipped and swerved, although goalkeeper Manuel Almunia could have saved it. And his second goal on the breakaway sealed United's victory with flair.
---
Juventus vs. Sampdoria
(

2019

)
Speaking of displaying unbeatable skills, you have to check out this other incredible moment by CR7 himself. In Juventus vs Sampdoria in 2019, he pulled out all stops again.
Through some masterful passing between teammates Alex Sandro and Juve players on the left side of the pitch, Alex crossed into space beyond everyone and right into crunch territory where CR7 had been waiting all along.
With incredible speed and agility, Ronaldo launched himself into the air, reaching such a height that his feet were almost level with the defender's shoulders. He remained suspended in mid-air for an impressive length of time before delivering a powerful header across the goal and into the net.
---
Manchester United vs. Portsmouth
(

2008

)
In 2008, Ronaldo made a near-perfect attempt that almost burst Porto's net, delivering what many consider his finest free-kick to date. If you're a fan of CR7, then you probably know which free-kick it is.
During a match against Portsmouth at Old Trafford, Ronaldo showed off his impressive goal-scoring streak by exchanging passes with Nani and putting his team ahead just ten minutes into the game. But that wasn't enough for him. Two minutes later, Manchester United got awarded a free-kick outside the box, which was basically an invitation begging CR7 to show off his insane skills.
And he managed to prove himself. He sent a missile towards Porto's net so powerful it almost tore down the posts. It's still considered by many to be his best free-kick ever!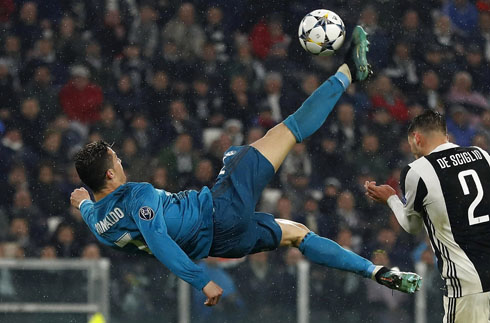 ---
Porto vs. Manchester United
(

2009

)
Have you seen Ronaldo's goal against Porto? Words just can't do justice to what happened during that crucial Champions League quarter-final match. The moment he received the ball over 35 yards away from Porto's goal, magic was about to unfold.
With one swift touch of his foot, Ronaldo unleashed a bullet-like shot that soared into the top corner of the net – it was like watching poetry in motion.
What made this goal even more remarkable was its significance for his team – securing victory or licking their wounds would be determined by this one decisive strike.
---
Barcelona vs. Real Madrid
(

2017

)
In classic El Clasico matches between Barcelona and Real Madrid, Ronaldo scored an astounding 18 goals. Yet it's his solo effort in the 2017 Spanish Super Cup at Camp Nou that stands out above the rest.
Talk about individual brilliance! From a cleared corner kick chested into place by Ronaldo, Isco launches a stunning pass deep within their own half straight to him as he races downfield on the left side with lightning-fast speed.
Simply put: unforgettable moments crafted by those who dared reach beyond human limits with unparalleled finesse and drive toward fulfilling destiny on football fields around the world.
---
Juventus vs. Real Madrid
(

2018

)
One decade after a near-perfect attempt in Porto's net, Cristiano Ronaldo did it again with a mouth-watering goal that left all fans mesmerized. Can you believe this guy already peaked in 2008, but still managed to surprise us at every turn ten years later in 2018?
As his last season with Real Madrid rolled around, Ronaldo was determined to leave an epic legacy on the pitch. And boy did he deliver! With three consecutive Champions League titles under his belt and Paris Saint-Germain defeated in the round of 16, Real faced off against Juventus in the quarter-finals.
It only took less than three minutes into the first leg for Ronaldo to snag a ball and score an incredible goal that put Real Madrid ahead early on in Turin.
---
Wrapping up
Narrowing down Cristiano Ronaldo's top six goals from his impressive collection of over 800 strikes was no small feat. This superstar has consistently blown our minds with his goal-scoring wizardry throughout his career.mIf you're hungry for more content on CR7 and his otherworldly achievements, be sure to check out our blog on what records he has yet to break.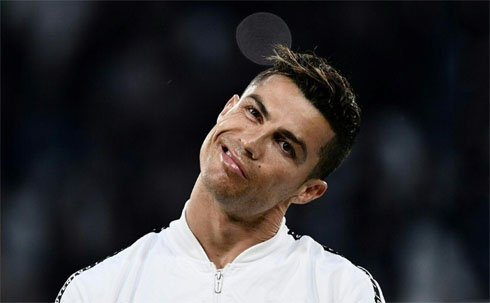 ---
Cristiano Ronaldo next game for Al Nassr for the King's Cup is on April 26, against Al Wehda. You can watch Al Nassr vs Al Raed, Girona vs Real Madrid, Leeds United vs Leicester City, Wolverhampton vs Crystal Palace, Aston Villa vs Fulham and Inter vs Juventus, all matches provided from our soccer live game pages.
Al Nassr next game:
Al Nassr vs Al Raed kick-off time (28-04-2023):
Beijing (China) | UTC/GMT+8: 02:30
India (New Delhi) | UTC/GMT+5.30: 00:00
Saudi Arabia (Riyadh) | UTC/GMT+3: 21:30
Spain (Madrid) | UTC/GMT+2: 20:30
Portugal and England (Lisbon/London) | UTC/GMT+1: 19:30
Rio de Janeiro (Brazil) | UTC/GMT-3: 15:30
New York (United States) | UTC/GMT-4: 14:30
Los Angeles (United States) | UTC/GMT-7: 11:30
Sources: ronaldo7.net / manutd.com / fcbarcelona.com