April 23, 2023
A look at Cristiano Ronaldo's biggest sport achievement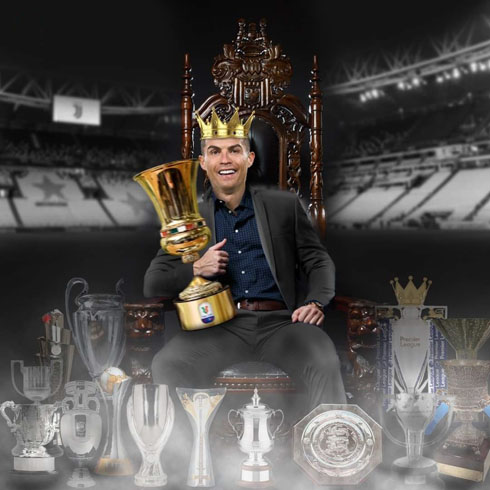 The name Cristiano Ronaldo is one for the history books. His team trophies and individual titles fill multiple cabinets. However, when people look back at his most significant sports achievements, such as the EURO 2016, they can quickly agree that he is the best of his time.
The name Cristiano Ronaldo is one for the history books, having perfected the act of playing football and being one of the deadliest goal scorers. His team trophies and Individual titles fill multiple cabinets. However, when people look back at his most significant sports achievements, such as the EURO 2016, they can quickly agree that he is the best of his time.
Cristiano Ronaldo has spent decades playing the game he loves; his level of determination is there for all to see. He exemplifies what it means to be determined and hardworking, which is why so many players in the upcoming generation look up to him. Ronaldo is the perfect example that you can become the best with hard work and determination. Furthermore, crypto betting sites compared to fiat sites, are preferable as they offer the opportunity to wager on players like Ronaldo. The Portuguese star plays intending to win at all times, to get the ball into the opposition's net, and to lead his team to victory. He is so determined that age is not even looking like a barrier to him; all he wants to do is keep scoring to smash and create records for himself.
Despite his age, Cristiano Ronaldo will always have the best odds to score in every game on crypto sports betting sites compared to traditional areas. In this article, we will examine Cristiano Ronaldo's most significant sports achievements, which are very many. And if for any reason you don't find yourself impressed by the Portuguese's feats, you can always turn your attention to one of those pay n play casino available on the market, which will surely entertain you throughout the season...
Cristiano Ronaldo - In the end:
---
First International Trophy (Euro 2016)
Cristiano Ronaldo loves his country so much and has been trying desperately to get his country a trophy since making his international debut for the senior national team in August 2003. However, the Portuguese did not give up, always fighting hard during international competitions, trying to win a trophy with his country.
Victory eventually prevailed for Ronaldo in the Euro 2016 championship; the legend motivated his compatriots from the sideline to a victory after leaving the pitch in tears due to an injury. The team emerged victorious against a resilient French team, with the game ending 1-0 in favor of Portugal. CR7 defined the victory as the most critical success of his career and his most significant sports achievement, ranking the Euro 2016 title as the title of his career.
---
Five-Time World Best
Every player's dream right from the first time they kick a football is to become the world's best. However, with Ronaldo, it is no longer a dream but now an achievement. Ronaldo has had the honor of receiving the Ballon d'Or five times, the most for any European player. The award is for the best male player in the world. Here's a look at some of the years he was regarded as the best in the world.
• 2008: His first world best recognition came in 2008 while he was breaking defenders and tearing nets at Manchester United. He was the clear favorite to land the award, scoring 42 goals that season and helping his team to premier league and champions league glory.
• 2013: His exploits at Real Madrid were crowned off with his second Ballon d'Or title. Undoubtedly, there was no better player than Cristiano Ronaldo that year, as confirmed by many Bitcoin sports blogs. He also single-handedly sent Portugal to the World Cup, after scoring a hat trick in the World Cup playoffs against Sweden.
• 2014: Ronaldo became the first Real Madrid player to win successive Ballon d'Or awards. Moreover, it was the year that he set a record that seems unbreakable till now, which is the record for the most goals scored in a Champions League season, 17 goals.
• 2016: Claiming another champions league trophy for Real Madrid saw Ronaldo claim his fourth world-best title. The Portuguese scored 51 goals, with 17 assists in 55 appearances for Real Madrid that season.
• 2017: His fifth and last Ballon d'Or award came in 2017 after leading his team to both the La Liga and Champions League trophies. Scoring a brace in the final against Juventus made Ronaldo the first player to score in three separate finals.
---
All Time Goal Scorer in the Champions League
CR7's favorite club competition is the Champions League, which he has won 5 times, four times with Real Madrid and once with Manchester United. He loves scoring in the Champions League, and as a Madrid player, he did it for fun.
Ronaldo holds the record for being the highest goal scorer in the Champions League with 140 goals, capturing the interest of many crypto sites. He achieved this while playing for Manchester United, Real Madrid, and Juventus. His first Champions League goal came in Manchester United's 7-1 victory over Roma in 2007.
---
Three Time UEFA Player of the Year
Undoubtedly, Ronaldo is the most successful player in the history of UEFA club competitions. Snatching that title from him would be challenging for any other player. The Portuguese has won the UEFA Player of the Year a record three times and is also the only player to win the award twice in a row.
---
Real Madrid's All-Time Goal Scorer
Cristiano Ronaldo is already part of the legacy at Real Madrid after joining the club in 2009. This leap began what would become one of football's success stories. As a Madrid player, Ronaldo was a constant threat to every club. Ronaldo scored 451 goals in 438 competitive appearances to become the club's all-time leading goal scorer. His goal tally for the club in all competitions includes 312 goals in La Liga, 105 in the UEFA Champions League, 22 in the Copa del Rey, 2 in the UEFA Super Cup, 4 in the Spanish Super Cup, and 6 in the FIFA Club World Cup.
---
All Time Leading Scorer in International Football
Scoring goals is what CR7 is all about, whether playing from the left wing, right wing, or as a striker. He is the highest goal-scoring player in international football, with 122 goals for Portugal. He broke the existing form of global goals when he scored a brace in Portugal's European Qualifiers victory against the Republic of Ireland in 2021.
For 20 years, until 2023, the Portuguese have scored in a row for Portugal. This record number of goals will increase as Ronaldo remains active in his national team, with many more international competitions coming up. Furthermore, he can extend his record as the most-capped global player with 198 appearances...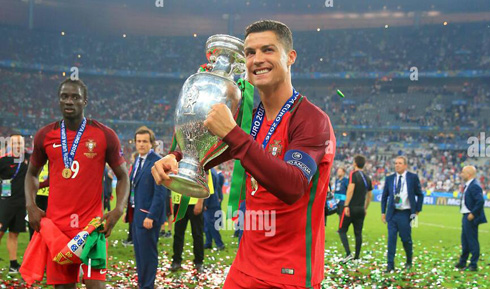 ---
Cristiano Ronaldo next game for Al Nassr for the King's Cup is on April 26, against Al Wehda. You can watch Al Nassr vs Al Wehda, AC Milan vs Lecce, Barcelona vs Atletico Madrid, Brighton vs Manchester United, Newcastle vs Tottenham and Juventus vs Napoli, all matches provided from our streaming soccer game pages.
Al Nassr next game:
Al Nassr vs Al Wehda kick-off time (24-04-2023):
Beijing (China) | UTC/GMT+8: 02:00
India (New Delhi) | UTC/GMT+5.30: 23:30
Saudi Arabia (Riyadh) | UTC/GMT+3: 21:00
Spain (Madrid) | UTC/GMT+2: 20:00
Portugal and England (Lisbon/London) | UTC/GMT+1: 19:00
Rio de Janeiro (Brazil) | UTC/GMT-3: 15:00
New York (United States) | UTC/GMT-4: 14:00
Los Angeles (United States) | UTC/GMT-7: 11:00
Sources: ronaldo7.net / manutd.com / juventus.com