April 19, 2023
The World's highest-paid footballer: Where Ronaldo spends his money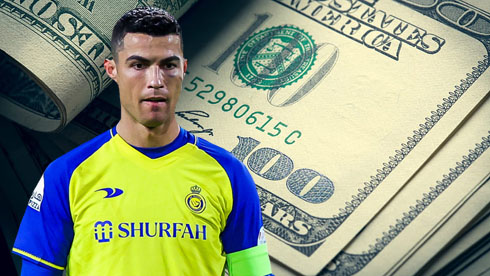 Ronaldo was already one of the highest-paid footballers in the world before moving to Al Nassr, but the truth is, the move to Saudi Arabia made him even more wealthy...
Cristiano Ronaldo is a name that needs no introduction to either football fans or even individuals with no interest in professional football at all. The Portuguese superstar footballer has an incredible career that has earned him a reputation as one of the best of all time. The five-time Ballon d'Or winner spent his career playing for six clubs so far and has already scored a total 834 goals during that time. His success on the field has also translated to his personal life, as he enjoys a lavish lifestyle that most people dream of. So, tune in as we'll take a look at Cristiano Ronaldo's salary and how he spends his fortune.
Cristiano Ronaldo - Best of me:
---
Cristiano Ronaldo career
Cristiano Ronaldo started his football career at a young age, playing for Andorinha and Nacional before signing with Sporting CP. He was then spotted by Manchester United and joined the club in 2003. Ronaldo quickly became a star player at the club and helped them win three Premier League titles and a UEFA Champions League. In 2009, he joined Real Madrid for a record-breaking transfer fee of £80 million. In Madrid, he continued his success, winning four Champions League titles and numerous other titles before moving to Juventus in 2018.
During his time in Italy, the Portuguese forward received many individual awards, winning consecutive Serie A Player of the Year awards in 2019 and 2020. The football legend also helped his team win two Serie A titles, as well as two Supercoppa titles and a Coppa Italia trophy.
---
The passion for gambling
According to reports, Cristiano Ronaldo is a frequent visitor to some of the most exclusive casinos in the world. He has been spotted in Las Vegas, Macau, and other popular gambling destinations. It is said that he enjoys playing poker at top Australian online casino as well as baccarat and other high-stakes games. Despite the risks involved, he seems to be a skilled player and has been known to win big at the casino tables.
It is also worth noting that Cristiano Ronaldo's salary allows him to indulge in his passion for gambling without any financial worries. His net worth is estimated to be around $500 million, and he earns millions from his football career, endorsements, and investments. However, this doesn't mean that he isn't responsible while gambling, as many users opt for safe and trusted payment methods. What is more, according to expert reviews one payment option that has gained popularity in recent years is PayID. With this banking option, punters can be sure that their financial data is secure.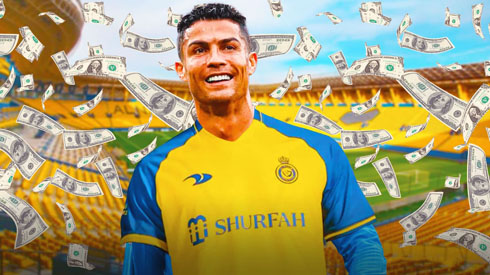 ---
Overview of Cristiano Ronaldo's salary
During his time with the Red Devils, Cristiano Ronaldo's salary was $63 million over the course of the two years he spent at the club. This was enough to make him the highest-paid footballer at the time, earning $31.5 million each year. Moreover, while he was in the Premier League, Cristiano Ronaldo was on top of every football prediction site due to his many goals. In comparison, the second-highest-paid player was Manchester City's Kevin De Bruyne, with a salary of just under $25 million per year.
However, with his move to Al Nassr, Cristiano Ronaldo's salary has only increased. Reportedly, the Portuguese striker is now earning a stunning $200 million for each season he spends at the club. This translates to more than $500,000 each day and just under $400 a minute. As things stand, Cristiano Ronaldo's salary in Al Nassr is set to be $500 million, should he remain there for the rest of his contract signed back in December.
---
Ronaldo's lavish lifestyle - Yachts, private jets, and car collection
Ronaldo is well-known for his extravagant lifestyle, and he doesn't shy away from showing it off on social media. One of his favorite ways to spend his money is on luxury yachts. He has been spotted on several occasions on his yacht which is reportedly worth around $7 million. The yacht features five cabins, a gym, a jacuzzi, and plenty of space for entertaining guests. In addition to his yacht, Ronaldo also owns a private jet, which he tried to sell. The Gulfstream G650 is worth around $65 million and is one of the fastest and most luxurious private jets in the world. Ronaldo uses the jet to travel to football matches, take vacations, and attend business meetings. Ronaldo is also an avid car collector and has a fleet of luxury cars that includes:
• Bugatti Chiron
• Ferrari 599 GTO
• Lamborghini Aventador
He is known for customizing his cars with his initials and is regularly seen driving around in his luxury vehicles. According to some reports, his car collection is valued at $22.5 million.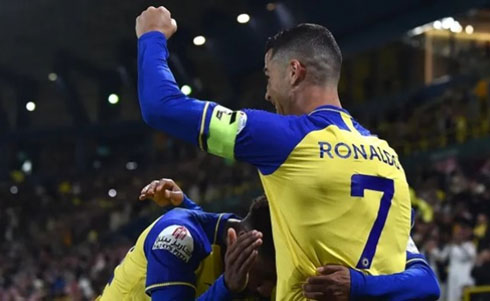 ---
Cristiano Ronaldo next game for Al Nassr for the King's Cup is on April 26, against Al Wehda. You can watch Al Nassr vs Al Wehda, Sporting vs Juventus, Inter vs Benfica, Bayern Munich vs Manchester City, Arsenal vs Southampton and AS Roma vs Feyenoord, all matches provided from our live soccer game pages.
Al Nassr next game:
Al Nassr vs Al Wehda kick-off time (26-04-2023):
Beijing (China) | UTC/GMT+8: 02:00
India (New Delhi) | UTC/GMT+5.30: 23:30
Saudi Arabia (Riyadh) | UTC/GMT+3: 21:00
Spain (Madrid) | UTC/GMT+2: 20:00
Portugal and England (Lisbon/London) | UTC/GMT+1: 19:00
Rio de Janeiro (Brazil) | UTC/GMT-3: 15:00
New York (United States) | UTC/GMT-4: 14:00
Los Angeles (United States) | UTC/GMT-7: 11:00
Sources: ronaldo7.net / manutd.com / espn.com