April 4, 2023
The most iconic TV commercials with Ronaldo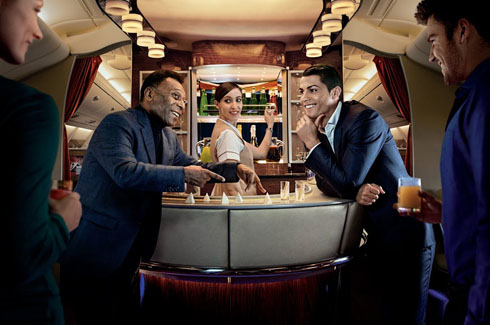 Whenever a football players reaches the level of success and popularity Ronaldo has earned over the last two decades, it's almost inevitable to see his name and image associated in many advertising campaigns from multiple top brands across different industries...
As the most famous Portuguese professional footballer, Cristiano Ronaldo has been featured in numerous TV commercials throughout his career. With millions of fans worldwide, the former Real Madrid and Manchester United player has been highly sought after and paid exorbitant amounts of money by renowned global brands for his commercial appearance. In this article, you'll be able to check out some of the best examples of his TV commercial appearances since he began his professional football career...
Cristiano Ronaldo - Top TV commercials:
---
The TV commercials of top brands that Ronaldo has been a part of
Most of the TV advertisements that Ronaldo has starred in have received positive feedback from the viewers. However, controversy happened when he participated in LiveScore's commercial, which is a popular sports scorekeeping app. LiveScore is on the list of casinos without Swedish license, so its promotion is banned in Sweden. Ronaldo and other big names in football are prohibited from encouraging the use of the app among the residents of Sweden. Apart from this blip, Ronaldo's other commercials, such as the following, are highly appreciated and widely watched.
Nike
Armani
Castrol
Tag Heuer
Emirates Airlines
Coca-Cola
---
Nike
Cristiano Ronaldo has been a longtime ambassador for Nike and has appeared in several of the brand's advertisements. One of the most notable campaigns was the "Write the Future" commercial in 2010, which featured Ronaldo alongside other football stars like Wayne Rooney and Didier Drogba.
The ad showcased how the players' performances on the pitch could affect their future and portrayed Ronaldo scoring a crucial goal for Portugal in a World Cup match. The commercial received critical acclaim and won several awards, including the Cannes Lions International Advertising Festival Grand Prix.
Ronaldo's association with Nike has continued over the years, with the brand releasing several signature boots and clothing lines in collaboration with the footballer.
---
Armani
The footballer famously appeared in an advertisement campaign for Armani in 2010, modeling the brand's Emporio Armani underwear. By then, Ronaldo was already part of Intikkertje's list of most expensive football players, but this work made him even more valuable as marketing brand. The black-and-white photos and video clips of Ronaldo posing in the iconic Armani briefs quickly went viral and became a sensation around the world.
The campaign was widely praised for its bold and daring approach and for the way it highlighted Ronaldo's sculpted physique and confident demeanor. The Armani campaign helped to solidify Ronaldo's status as a global style icon, and it paved the way for future endorsement deals and fashion collaborations.
Even today, over a decade later, the images of Ronaldo in his Armani underwear remain a cultural touchstone for fashion and sports enthusiasts alike.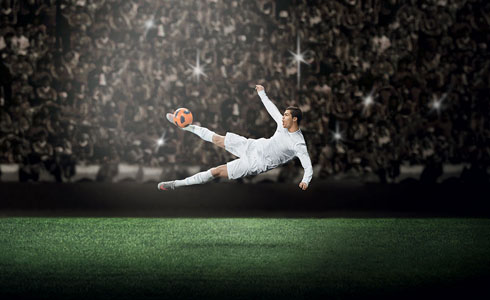 ---
Castrol
Cristiano Ronaldo also appeared in a Castrol commercial in 2013 alongside Brazilian footballer Neymar Jr. The ad, titled "Footkhana", showcased the two players performing a series of impressive football tricks while driving around in a high-performance car. The concept of the ad was inspired by the viral sensation of "gymkhana" videos, which feature drivers performing stunts in cars.
The ad was a massive hit with football and car enthusiasts alike, and it helped to further cement Ronaldo's status as one of the world's top footballers. The Castrol campaign highlighted Ronaldo's precision and control on the pitch and his willingness to push boundaries and explore new challenges.
Overall, the ad was a playful and exciting tribute to the world of sports and athleticism, and it was a fitting showcase for Ronaldo's incredible talent and charisma.
---
Tag Heuer
Cristiano Ronaldo was also featured in a Tag Heuer advertisement in 2014 as part of the brand's "Don't Crack Under Pressure" campaign. The commercial showcased Ronaldo's remarkable control and precision on the football pitch and his commitment to excellence and mental toughness.
The ad featured Ronaldo performing a series of impressive football moves, including a powerful free kick, all while wearing a Tag Heuer watch. The campaign was designed to showcase the durability and performance of Tag Heuer watches and their ability to withstand the rigors of professional sports.
Ronaldo was the perfect ambassador for the campaign, given his reputation as one of the world's most disciplined and focused athletes. The ad was a stunning display of Ronaldo's physical abilities and mental fortitude, and it helped solidify Tag Heuer's reputation as a top brand for sports watches.
---
Emirates Airlines
The football legend has been featured in several advertisement campaigns for Emirates Airlines, which he has been an ambassador for since 2013. One of the most notable campaigns was the "All-Time Greats" commercial in 2019, which showcased Ronaldo and other football legends like Pelé and Diego Maradona, all traveling on an Emirates Airlines flight together.
The ad highlighted the luxury and comfort of Emirates Airlines and the brand's commitment to excellence and to serving the needs of top athletes and performers. Ronaldo has also appeared in other Emirates ads, including ones that showcase the airline's sponsorship of his home team, Portugal, and its commitment to promoting sports and tourism worldwide.
Overall, Ronaldo's partnership with Emirates has been very successful, helping to raise the profile of the airline and the football superstar.
---
Coca-Cola
Cristiano Ronaldo has appeared in several Coca-Cola advertisements over the years, beginning with a campaign in 2006 for the FIFA World Cup. The ad featured Ronaldo and other football stars performing impressive tricks with a Coke can, and it was a hit with fans worldwide.
Ronaldo has also been featured in other Coke campaigns, highlighting the brand's commitment to promoting healthy lifestyles and supporting youth sports programs. However, in June 2021, Ronaldo made headlines when he appeared to remove two bottles of Coca-Cola from a press conference table during the European Championship. Ronaldo later explained that he prefers to drink water instead of sugary drinks like Coke, and his actions sparked a larger discussion about the role of sponsorships in sports.
While Ronaldo's relationship with Coca-Cola may have been contentious at that moment, his history with the brand shows how influential he has been in the world of advertising and marketing.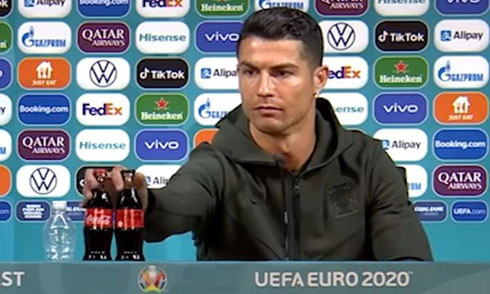 ---
Cristiano Ronaldo next game for Al Nassr in the Saudi Pro League is on April 4, Al Adalh. You can watch Al Adalh vs Al Nassr, Juventus vs Internazionale, Barça vs Real Madrid, Leicester City vs Aston Villa, Chelsea vs Liverpool and Bayern Munich vs Freiburg, all matches provided from our live football game pages.
Al Nassr next game:
Al Adalh vs Al Nassr kick-off time (04-04-2023):
Beijing (China) | UTC/GMT+8: 03:00
India (New Delhi) | UTC/GMT+5.30: 00:30
Saudi Arabia (Riyadh) | UTC/GMT+3: 22:00
Spain (Madrid) | UTC/GMT+2: 21:00
Portugal and England (Lisbon/London) | UTC/GMT+1: 20:00
Rio de Janeiro (Brazil) | UTC/GMT-3: 16:00
New York (United States) | UTC/GMT-4: 15:00
Los Angeles (United States) | UTC/GMT-7: 12:00
Sources: ronaldo7.net / nike.com / coca-colacompany.com