February 24, 2023
Ronaldo and footballers love pets!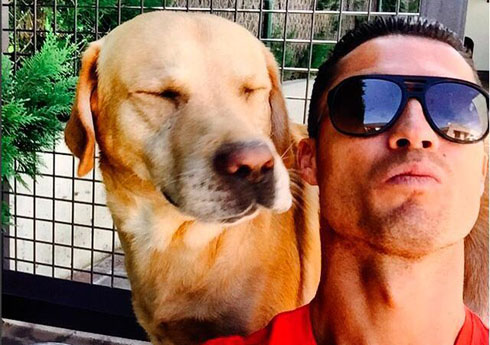 Cristiano Ronaldo has always had at least a pet or two around him and he absolutely loves dogs. One of his oldest friends is a Labrador dog named Marosca. Nevertheless, over the years CR7 had the chance to adopt different pets and one of the lastest ones was a sphynx cat...
Cristiano Ronaldo is one of the richest athletes on the planet. Cristiano owns several dogs: two Labradors, one named "Bobby Moore" (in homage to the well known English player) and the other one named "Marosca". He also owns a white poodle and a Yorkshire, named "Abelhinha". Finally, the newest member of the family is a cat called "'Pepe". It seems that Georgina is more of a cat person, that is why, some time ago, the family welcomed this sphinx cat into their home...
Famous footballers and their dogs:
---
Pepe, the star of the family
Renowned for his big heart, Ronaldo does not hesitate to regularly make donations to people in need. But he also likes to spend his money. Thus, he bought for himself and his family a Sphynx cat for 2600 pounds. Its name is Pepe, in tribute to a former teammate of the footballer at Real Madrid and in the Portuguese selection.
We can say that Pepe quickly became the star of the whole family and the main topic of Internet users, because Cristiano and Georgina Rodriguez never hesitate to post their pet on social networks.
---
When Pepe was hit by a car
For some time, Pepe has been absent in the online field, and for good reason. Cristiano Ronaldo and his family had a big scare recently - because of their cat. He was the victim of a terrible accident.
The companion of the footballer confided: "He escaped from the house and was knocked down. He was close to death. After a month and a half in intensive care at the vet's, we decided that my sister Ivana should take care of him. Pepe is now in Spain, recovering (...) Now he is in good hands."
According to the Daily Mail, it was via private jet that Pepe was repatriated to Spain. But he was not alone, of course. Georgina Rodriguez was also on the plane. All that remains is to hope that the pet did not receive any long term injuries!
As we've been discussing the favorite pet of the most famous football player, this is about time to remember that many footballers have a special relationship with their pets.
Some have even become as famous as their owner. Here is a short, non-exhaustive overview of the most famous of them.
---
Alexis Sanchez
Among dog-loving footballers, he shares his passion the most. Alexis Sánchez has two golden retrievers. The footballer even has an Instagram page specially dedicated to the adventures of Atom & Rimber. Launched in August 2016, the account gained 13,000 followers during a single day. In particular, there, you can take a look at the two dogs playing ball, or accompanying Alexis Sánchez on his yacht.
---
Harry Kane
The star owns two Labradors, Wilson and Brady, whom he does not hesitate to show on big occasions. In July 2016, the two doggies were responsible for announcing the birth of Harry Kane's first child. Wilson and Brady were photographed with a message around their necks: "Mum + Dad are getting us a human".
The player did not hesitate to use the popularity of his doggies for a good cause. One year, he printed Wilson and Brady on tea towels, which were then sold for fundraising by bluecross.org.uk, an organization that fights to help abandoned dogs.
---
Isco and his dog, Messi
In 2013, when the sportsman was a Málaga player, Isco amused the general public by revealing what his pet's name was: "I called him Messi".
Some time later, the Spanish midfielder signed up with Real Madrid, the now former club of the other best player in the world, Cristiano Ronaldo. The question of his dog's first name therefore became almost embarrassing. Asked about this in May 2016 by radio Antenna 3, he was forced to respond this way: "To defend myself, calling the dog Messi was more an idea of my father and my brother. I'm a devoted player."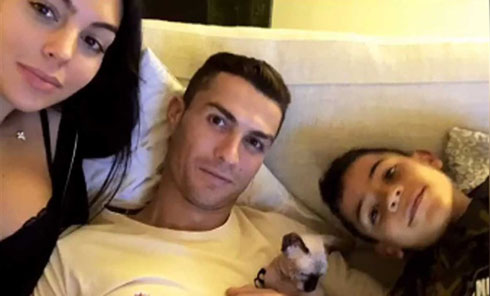 ---
Roy Keane
In 2002, leaving for Japan with the Irish selection, Roy had a quarrel with Mick Maccarthy, the coach at the time, and was notified of his dismissal. Coming back to Manchester, he got into the habit of going out for long walks with his dog Trigg.
Photographed several times, the dog became a real celebrity and regularly forced the former captain of Manchester United to speak about his furry friends: "I would be lost without my dogs, they are a very important part of my life". Unfortunately for Keane, Triggs passed away in 2012. He has since bought two dogs, a Labrador and a German Shepherd named Izac.
---
Jeremy Morel
In 2013, Jeremy confided: "In my leisure time, I read, take care of my garden and go for walks with my two Newfoundlands." Since then, his family has grown - the footballer has acquired another Newfoundland - Iwok - whom he had the opportunity to present to the general public during the show "30 million friends", in 2014.
---
Francesco Totti
The legendary captain owns a labrador named Ariel. Rather than posting photos on Instagram, he enrolled him in the Italian rescue dog school. In July 2012, the dog had even saved the life of a 68-year-old man and an 8-year-old girl. His second rescue was a young girl, in July 2008.
---
Mario Balotelli
The relationship that the striker has with dogs is complicated. At first, it was believed that the Italian was frightened by canines. In January 2015, passing through a training hall in Liverpool where his boxer friend Giorgio Petrosyan was training, Balotelli made the web laugh when he was frightened by a dog chasing him in a boxing ring.
Then, the striker made the first page of newspapers because of his generosity. During his stay in Liverpool, he adopted two bull terriers from a center helping abandoned dogs.
---
David Beckham
In 2010, one of the Beckhams' dogs caused a stir on the streets of Los Angeles when he appeared with pink nail polish on his paws. The photo had made the press laugh a lot. Several canine experts then claimed that the pink color was simply a protective substance.
One thing is certain - the English star takes care of the appearance of his dogs. A year ago, several English newspapers announced that the couple had recruited a personal trainer, paid 30 dollars an hour, to ensure the health and fitness of their cocker spaniel, Olive.
If you also are a devoted pet lover and football fan you can think about getting a furry pet yourself. Norwegian forest cat is a fascinating cat breed that has a stunning beauty and very calm nature. So, for those who got inspired by this article it will be an interesting pet to begin with.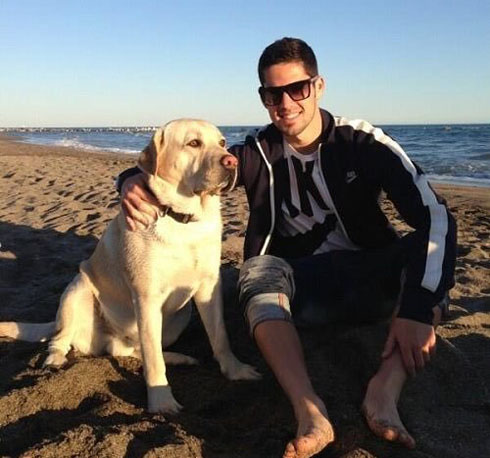 ---
Cristiano Ronaldo next game for Al-Nassr in the Saudi Pro League is on February 25, against Damac. You can watch Damac vs Al Nassr, Real Madrid vs Atletico Madrid, Crystal Palace vs Liverpool, Bournemouth vs Man City, Tottenham vs Chelsea and Leicester City vs Arsenal, all matches provided from our football streaming live game pages.
Al-Nassr next game:
Damac vs Al Nassr kick-off time (25-02-2023):
Beijing (China) | UTC/GMT+8: 22:30
India (New Delhi) | UTC/GMT+5.30: 20:00
Saudi Arabia (Riyadh) | UTC/GMT+3: 17:30
Italy (Turin) | UTC/GMT+1: 15:30
Spain (Madrid) | UTC/GMT+1: 15:30
Portugal and England (Lisbon/London) | UTC/GMT+0: 14:30
Rio de Janeiro (Brazil) | UTC/GMT-3: 11:30
New York (United States) | UTC/GMT-5: 10:00
Los Angeles (United States) | UTC/GMT-8: 06:30
Sources: ronaldo7.net / bleacherreport.com / basepaws.com