December 26, 2022
Who was Ronaldo's best teammate in his career?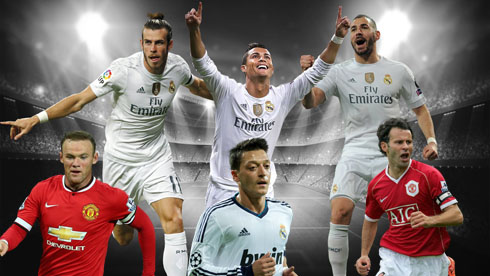 Cristiano Ronaldo has played side by side with some of the greatest players of his generation, creating impressive partnerships in several stages of his career. Who do you think that was the best player Cristiano Ronaldo has every played with?
When Cristiano Ronaldo made his debut for Sporting CP as a professional football player, he managed to score a double against Moreirense. In that game and at the age of 17, the Portuguese prodigy already had the chance to play right next to two superstars, Ricardo Quaresma and Mário Jardel. Few people would imagine this would only mark the start of a new era and that Ronaldo would soon conquer the world. The Portuguese icon didn't last too long in Sporting and got transferred to Manchester United the summer after. In England, Ronaldo had the chance to learn and play with some of the greatest players United has ever had in Sir Alex Ferguson's era. In 2009, Ronaldo felt it was time to aim higher and he decided to move to Real Madrid. The Portuguese superstar became the club's all-time top scorer and once again, played next to some of the biggest names in this sport.
Cristiano Ronaldo - Prime years:
---

Wayne Rooney
Wayne Rooney was born in the exact same year as Ronaldo (1985) and in his first years as a professional footballer, many experts and football analysts probably believed he would become a better player than Cristiano Ronaldo. Time would prove them wrong though, which doesn't mean Rooney didn't leave his mark in United and in football in general. In fact, "Wazza" (one of his several nicknames) became United's all-time top scorer, after scoring a total of 253 goals in 559 appearances for the Red Devils.
In the years Ronaldo and Rooney played together, betting in at least one of them scoring a goal in United's next game was almost a sure bet. Those who had the chance to grab one of those online casino no deposit bonus free spins in the UK, were certainly happy with their gambling sessions at the time, as they always knew they could still bet on Ronaldo scoring in almost every weekend the Premier League was on.
Ronaldo and Rooney played next to each other in United's attack for 5 consecutive seasons, but it was between 2007 and 2009 that their understanding on the pitch really reached a very high level. It was also in those years that Carlos Tévez joined them in the attacking front and the three formed what many still rate as one of the most deadly attacking partnerships this sport has ever seen...
---

Ryan Giggs
There are very few elite players who were able play and willing to play their entire football career in the same club where everything started. That was the case of the true football legend, Ryan Giggs, who played for United from 1990 to 2014. The Welsh winger welcomed Ronaldo when he joined the Red Devils in 2003 and the two players allowed Sir Alex Ferguson to produce the type of vertical football fans love the most.
Who doesn't remember Ronaldo's first years at United? Taking on defenders in every single occasion he had and always relying in his speed, pace and dribbling skills? In his prime years, Giggs was also one of the best dribblers in the game and together with Ronaldo, they really destroyed almost every opponent in the Premier League...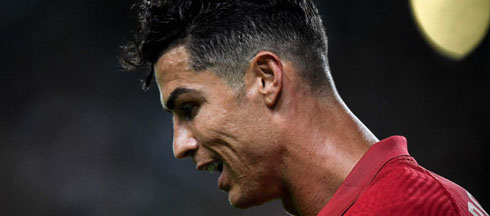 ---
Ozil
After his first spell at United, Ronaldo left the club to follow his childhood dream and playfor Real Madrid. At the time, in 2009, the Spanish giants were struggling to impose their football, as Barcelona were probably playing their finest football ever, with players like Xavi, Iniesta and Messi looking almost unstoppable. Nevertheless, the Merengues were determined in ending with Barça's dominance and players like Mesut Ozil played a very important role in Ronaldo's journey in Spain.
The German playmaker joined the Merengues in 2010 and he immediately made an impact in the team, providing multiple assists to Cristiano Ronaldo and establishing himself as one of the best creative midfielders in the game. He may have only played 3 seasons with Ronaldo, but the the chemistry on the pitch these two players demonstrated was something very hard to find in any other team in the world at that time...
---
Benzema
The French striker joined Real Madrid in the same year as Ronaldo (2009) and the two played together for a total of 9 seasons. In those years, Ronaldo and Benzema scored a total of 642 goals for the club, with the Portuguese forward contributing with 450 goals and the French striker with 192 goals. Unlike many other forwards, Benzema always looked happy to play a secondary role next to Ronaldo, which allowed the Portuguese star to get the most out of his own skillset, season after season.
Benzema and Luka Modric are also Ronaldo's only former teammates to have ever won the FIFA Ballon d'Or. Nevertheless, they only won the prestigious award after Ronaldo left Real Madrid...
---
Gareth Bale
One of Real Madrid's biggest signings in the last decades was Gareth Bale. The Welsh forward joined the club in the summer of 2013, after the Merengues decided to pay a sum of nearly 100 million euros, which made him the most expensive football player at the time. In his prime, Bale was almost unstoppable when he used his speed and pace. He was also a big fan of Ronaldo even before joining Real Madrid, so the two got along really well during their journey at the Spanish capital.
With Bale and Ronaldo in their ranks, Real Madrid really conquered Europe and managed to win a total of 4 UEFA Champions League between 2014 and 2018. If it wasn't for the plague of injuries that seemed to never leave Gareth Bale, his partnership with the Portuguese legend could have had even more triumphs in the years they played together in Madrid...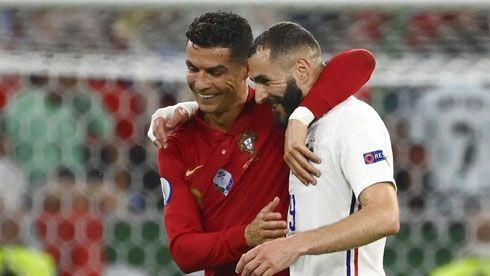 ---
Cristiano Ronaldo next game for Manchester United in the Premier League is on December 27, against Burnley. You can watch Man United vs Nottingham Forest, Valladolid vs Real Madrid, PSG vs Strasbourg, Chelsea vs Bournemouth, Liverpool vs Leicester City, and Leeds vs Man City, all matches provided from our football streaming game pages.
Manchester United next game:
Manchester United vs Nottingham Forest kick-off time (27-12-2022):
Beijing (China) | UTC/GMT+8: 04:00
India (New Delhi) | UTC/GMT+5.30: 01:30
Italy (Turin) | UTC/GMT+1: 21:00
Spain (Madrid) | UTC/GMT+1: 21:00
Portugal and England (Lisbon/London) | UTC/GMT+0: 20:00
Rio de Janeiro (Brazil) | UTC/GMT-3: 17:00
New York (United States) | UTC/GMT-5: 15:00
Los Angeles (United States) | UTC/GMT-8: 12:00
Sources: ronaldo7.net / theguardian.com / uefa.com