November 30, 2022
The everlasting Cristiano Ronaldo effect on football betting
Whenever Cristiano Ronaldo plays in a game, everything around him adapts to him and the betting markets are no exception. The Portuguese forward has the ability to change the fate of a game with a single action and football experts are well aware of that...
Cristiano Ronaldo will go down as one of the greatest players to have ever played the beautiful game. CR7 has already earned that status for such a stunning career of technical ability, desire to win and numbers to back it all up. He stands up there alongside Lionel Messi, Neymar Jr and Kylian Mbappé as a generational talent of the modern game. Ronaldo will be onto his next adventure in 2023 with the 2022 FIFA World Cup and a second spell at Old Trafford with Manchester United behind him, but the Portuguese legend will still have a massive influence on markets at sports betting sites UK wherever he goes, just as he has done throughout his career...
Cristiano Ronaldo - Legendary goals:
---

Ronaldo on the pitch - beware
Ronaldo's output with Manchester United between 2003 and 2009 was remarkable. The forward would single-handedly tear the opposition apart. He ended his six-season spell with 84 goals in 196 appearances for the Red Devils. What is remarkable about that is that he scored only 19 in total in his first three campaigns.
Ronaldo was pivotal in Manchester United's three Premier League titles that they won during his spell in the northwest. Such was his presence, that when he was on the pitch, it was hard to see Manchester United slipping up. They always had a chance. The later the chance in the game, the more you felt Ronaldo would have his moment.
CR7 took a few seasons to really find his feet on his move to England. But when he started adding goals to his game, bookmakers had to adjust the markets to accommodate him. In the "Goalscorer" betting markets, it was common to see his name top of the list. He was consistently a favourite in the "First Goalscorer" and "Anytime Goalscorer" betting markets.
The Ronaldo effect took over, and it wouldn't go away. Ronaldo's best season with Manchester United was his 31 goals in 34 appearances during their 2007/08 title campaign.
---

The Ronaldo effect on individual and tam markets
Ronaldo's time with Manchester United came to an end in 2009 when he moved to Real Madrid. As good as his scoring form at Old Trafford had been, it was nothing compared to what he would achieve at the Bernabéu.
During his nine seasons with Real Madrid, Ronaldo scored at least 25 league goals every season. Three times he passed 40 goals in a single La Liga season. The pinnacle of his scoring prowess was in the 2014/15 season when he tallied a staggering 48 league goals in 35 appearances.
So who else were bookmakers ever going to put at the head of goalscorer markets? Who else were punters going to be interested in? CR7's scoring threat made markets like "To Score 2+", and "To Score A Hattrick" more popular, plus gave punters the expectancy that most games he would be involved in would slide "Over 3.5 goals".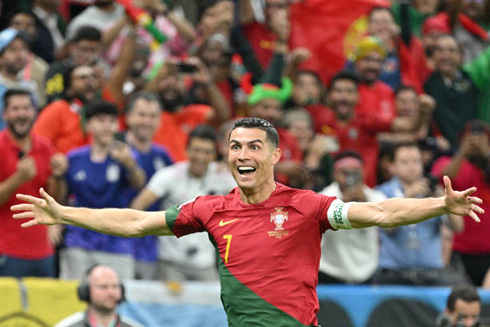 ---
Remarkable influence from a remarkable man
Although it probably hasn't been recognised, the five-time Ballon d'Or winner heavily influenced betting markets. His time with Manchester United, Real Madrid and even continuing on with Juventus, saw him play for strong teams that were expected to win.
With CR7 in the side, the chances of those respective teams winning were increased, so betting odds on winning results for teams housing Ronaldo, got shorter and shorter. His was a presence that could not be ignored. On joining Juventus for example, Juve's shots per match average spiked and their expected goals stat doubled from the previous season.
He was unstoppable and unplayable and in the best possible way, just a freak of nature at the pinnacle of his career. Think of his 40-yard goals against FC Porto and Osasuna, his astonishing header for Juventus against Sampdoria when he leapt two and a half metres in the air to the net.
Those are perfect examples of the Cristiano Ronaldo effect. No one else was capable of pulling off staggering feat after staggering feat. Bookmakers came to expect it. It took a brave punter to lay the Cristiano Ronaldo anytime goalscorer option.
---

Changing the face of the game
2022 saw Ronaldo attend his fifth World Cup with Portugal. His ability to keep physically active and strong enough to compete still at the top level is a testament to his commitment. Cristiano Ronaldo changed the face of the game. His record-breaking exploits, his supreme fitness and his ability ensured that he stayed relevant, well after some of the peers he played with, had already hung up their boots.
He has been marketing gold for clubs too, another huge Ronaldo effect. Seven titles across three of Europe's top five domestic leagues, five UEFA Champions League titles, the FA Cup, the Coppa Italia and even success on the international stage with Portugal's Euro 2016 triumph is just the tip of the iceberg in terms of titles that he has earned.
No one pulls in quite as much attention as he does, and "Cristiano Ronaldo Specials" continue to inundate bookmakers with action. If you want to place a bet on Ronaldo, you can find a reliable bookmaker for that at "Match Center".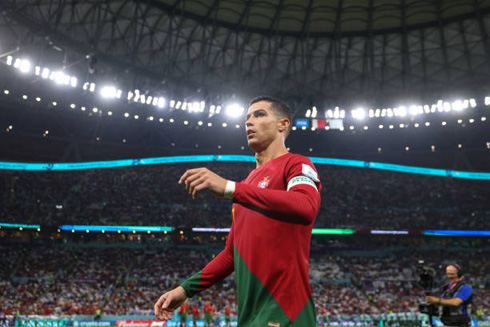 ---
Cristiano Ronaldo next game for Portugal in the World Cup is on December 2, against Korea Republic. You can watch Korea Republic vs Portugal, Canada vs Morocco, Japan vs Spain, Ghana vs Uruguay, Croatia vs Belgium, and Costa Rica vs Germany, all matches provided from our football live game pages.
Portugal next game:
Portugal vs Korea Republic kick-off time (02-12-2022):
Beijing (China) | UTC/GMT+8: 23:00
India (New Delhi) | UTC/GMT+5.30: 20:30
Italy (Turin) | UTC/GMT+1: 16:00
Spain (Madrid) | UTC/GMT+1: 16:00
Portugal and England (Lisbon/London) | UTC/GMT+0: 15:00
Rio de Janeiro (Brazil) | UTC/GMT-3: 12:00
New York (United States) | UTC/GMT-5: 10:00
Los Angeles (United States) | UTC/GMT-8: 07:00
Sources: ronaldo7.net / fourfourtwo.com / skysports.com