November 17, 2022
Cristiano Ronaldo and his World Cup history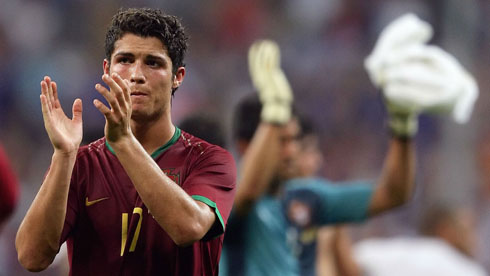 Ronaldo will be one of the most experienced players in the upcoming 2022 FIFA World Cup in Qatar, as this will be the Portuguese 5th straight World Cup participation, since his debut in 2006. At the age of 37, Ronaldo looks ready to leave his mark!
If there's one thing you can't deny about Cristiano Ronaldo, it's that he's been a loyal servant when it comes to representing his country on the soccer field. The Portuguese international has appeared in four World Cups and scored in every competition. He's also set records while on the squad, such as becoming the youngest Portuguese player to ever score in a FIFA World Cup. The World Cup trophy itself, however, has evaded him. He, his country and his fans will all be hoping 2022 is the year that he and Portugal lift it. Below is a look at Cristiano's service to Portugal in the World Cup and at his prospects in the competition when it kicks off in Qatar in November. Could this be his year?
Cristiano Ronaldo - Ready for the World Cup:
---

Working his magic for Portugal
Cristiano has been a reliable performer for the squad when it comes to the World Cup competition. If you're looking at the World Cup odds, you'll notice that Portugal are seen as outsiders for the tournament, with a whole host of teams tipped to shine ahead of them.
In terms of Ronaldo himself, his World Cup debut, in 2006, didn't get off to the best start, as he received a yellow card and, after an hour, was pulled off from this game against Angola. At that stage of his career, the world was already beginning to sense he was a soccer-playing prodigy. Serving alongside the legendary Luis Figo would only help to improve his game.
He put this misdemeanor right in the following game by firing a penalty past the keeper in the 80th minute against Iran. Portugal won this game 2-0. In the quarter finals, he played the full game for Portugal and scored the winning penalty in the shootout to add to England's never-ending World Cup woes. Portugal, however, wouldn't make it past the semi-finals.
2010
By this time, Cristiano was playing for Real Madrid and had inherited the No 7 jersey. He was now also captain of the national squad. The team would hammer North Korea 7-0, with Ronaldo scoring the sixth goal and assisting in another. Unfortunately for Portugal, Spain would shatter the team's World Cup ambitions with a 1-0 win in the round of 16 and progress to the quarter finals.
2014
In the qualifiers for the 2014 World Cup, Cristiano helped Portugal to the tournament with a thrilling hat trick in a 3-2 win over Sweden. Between the game and the tournament, however, he suffered an injury which weakened his form. The team felt it, losing 4-0 to Germany and drawing 2-2 with the USA, a game in which Cristiano provided an assist for the equalizer. He would, however, score a late winner in Portugal's game against Ghana but it wouldn't be enough to take them beyond the group stages.
2018
In 2018, Cristiano was Portugal's golden boy, scoring a hat track against Spain in the side's first match of the tournament to salvage a draw and a point for the team. His direct free kick, which he curled around the Spanish wall, was a particularly memorable highlight of his performance that game. In the next game, he'd score the winner in Portugal's 1-0 win over Morocco and participate in the following 1-1 draw with Iran. Although the team went into the round of 16, they lost 2-1 against Uruguay. All of the seven goals Cristiano has scored in World Cup competitions have been in the group stages. He'll be looking to change this in Qatar.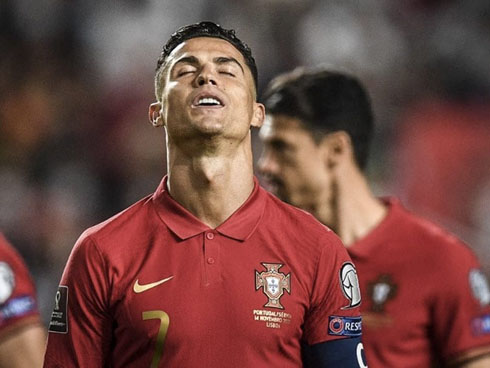 ---

All eyes turning to Qatar 2022
Just now, Cristiano is 37 years old and will be when he's out in Qatar. This is likely to be his last World Cup, although he hasn't ruled out appearing on international duty at the 2024 Euros.
Cristiano keeps himself in peak physical condition, which is part of the reason he's been able to play for so long and prove age is just a number. Alongside this high level of self-care, he's devoted to his club and national side and is professional. This has helped him to play long after previous big names in the game had retired from international football. Zinedine Zidane was 34 when he retired from international soccer, and Pele was 29 when he played in his last World Cup.
Ronaldo's general experience in World Cup competitions is going to be a major asset to Portugal in Qatar, as is his reliability. He possesses a composure in front of goal that will spread to his colleagues on the squad, who should already be brimming with confidence given the maestro's creativity and footballing skills. Anything can happen when he's on the ball.
Cristiano Ronaldo has served his country loyally at the World Cup. Qatar 2022 is likely to be his last one as a player and he'll be hoping he can captain the side to the final. Many would like to see him lift the World Cup before he hangs up his boots.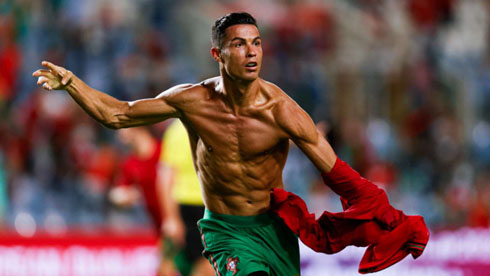 ---
Cristiano Ronaldo next game for Portugal in the World Cup is on November 24, against Ghana. You can watch Portugal vs Nigeria, Belgium vs Egypt, Jordan vs Spain, England vs Iran, Qatar vs Ecuador, and Austria vs Italy, all matches provided from our football live game pages.
Portugal next game:
Portugal vs Nigeria kick-off time (17-11-2022):
Beijing (China) | UTC/GMT+8: 02:45
India (New Delhi) | UTC/GMT+5.30: 00:15
Italy (Turin) | UTC/GMT+1: 19:45
Spain (Madrid) | UTC/GMT+1: 19:45
Portugal and England (Lisbon/London) | UTC/GMT+0: 18:45
Rio de Janeiro (Brazil) | UTC/GMT-3: 15:45
New York (United States) | UTC/GMT-5: 13:45
Los Angeles (United States) | UTC/GMT-8: 10:45
Sources: ronaldo7.net / cnn.com / goal.com