November 16, 2022
Ronaldo vs Messi
Who has a better chance to win the World Cup 2022?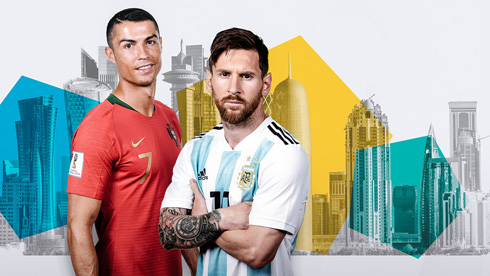 Portugal and Argentina are two of the favorite nations going into the 2022 World Cup in Qatar, but it's hard to tell which one has better chances to lift the trophy next December. One thing is for sure, both Ronaldo and Messi will need to be at their best level in order for their teams to be crowned world champions...
There have always existed specific individuals who have stood out from the crowd. Even though most people with enough practice may have a certain degree of competence in their respective fields, there have also been those born with unique talents. The results can be astonishing when these naturally gifted people hone their individual skills through training and experience. Geniuses and masters of their craft are acknowledged for having had the necessary commitment and self-discipline to sharpen and develop their skills into actions that have astonished and inspired people. There is no difference in football, where we have seen many great and talented players. However, there are times when we encounter certain particular players that go above and beyond what many consider possible and become superstars in their own right. They have defied the limits of the football experience, have both broken and set new records, and are often the favorite examples of what to look for if you want to know how to bet on football and win. Amongst these football superstars and talented players, we find names that have made echoes in football histories, such as Johan Cruyff, Diego Maradona and Lionel Messi and Cristiano Ronaldo.
This article is dedicated to the latter. We have seen such heavyweight talents in football history, and the fact that we can watch them play is nothing short of living football history. However, we have seen the emergence of Messi and Ronaldo, and we will inevitably see the day when they depart from the field and enjoy a well-earned retirement. Unfortunately, that day might be coming sooner than expected.
Cristiano Ronaldo vs Messi - It's now or never!:
---

CR7 and Messi: The best under the heavens
Messi and Cristiano Ronaldo are undoubtedly two of the greatest players of our generation and a source of inspiration for millions and millions of football players and fans worldwide. Over time, however, we have seen the progress of these superstars slowly but surely wane.
Time forgives no one, and we all knew the day these two superstars would eventually stop playing due to their advanced age. Ronaldo is 37 years old, and Messi is 35, so these two outstanding players are reaching their golden years in football. After a fantastic career, it will surprise no one that soon these players will leave the field for the next generation.
Even though that day is still yet to come, it is saddening to think that this upcoming Qatar 2022 World Cup is regarded as the last Messi and Ronaldo will play before their retirement. Even though we all know both players intend to give it their all and more to take home the World Cup, we all know that eventually, only one team will take it all. Even if it all comes to a dream final between Argentina and Portugal, ultimately, only one would bring home the cup.
If it comes down to that, there is a gnawing doubt in everyone's mind: Who would have the better chance of winning Qatar 2022? Would it be Ronaldo or Messi?
Fans of either player must admit, reluctantly or otherwise, that their respective rival is also an unparalleled force in football. Many fans are looking forward to seeing, if not an outright face-off of the two, who are considered to outperform the other in terms of goal-scoring, coordination and team play.
---

Cristiano Ronaldo and Lionel Messi: Accomplishments and records
Regardless of who might be considered the most accomplished player, there is no doubt that both of them deserve a spot among the best. However, only one may take the lead.
Cristiano Ronaldo's accomplishments are myriad and nothing short of extraordinary. His personal belief in the ultimate rewards of hard work and dedication has undoubtedly paid off. He has 32 major trophies, including five FIFA Ballon d'Or, two PFA Player of the year, and a three-time Pichihi trophy holder. Not only won the European Golden Shoe award four times but also five UEFA Champions League trophies. Trophies aside, Cristiano Ronaldo's total goal score amounts to over 800 goals and 234 assists.
Lionel Messi is considered one of Ronaldo's greatest rivals as a football player. Amongst his achievements, we can count three European Golden Shoe awards, five Ballon d'Or and six La Liga Player of the Year. Messi's goal score count throughout his career reaches 785 goals and 346 assists.
Messi surpasses Cristiano Ronaldo regarding the number of trophies won; he possesses 41 trophies to Cristiano Ronaldo's 34. On the other hand, Ronaldo beats Messi in goals scored.
Despite their trophies and goals, neither player has won a World Cup. Seeing as this might be their last chance to accomplish this feat. We will most likely see both players push themselves to their utmost limit. Ronaldo has proven himself to be a versatile attacker who can effectively maneuver in both wings and the middle of the field and is famous for his dribbles and feints like step-overs. Messi is an agile player capable of easily evading tackles and changing direction quickly, as well as being capable of astounding sprints on the field.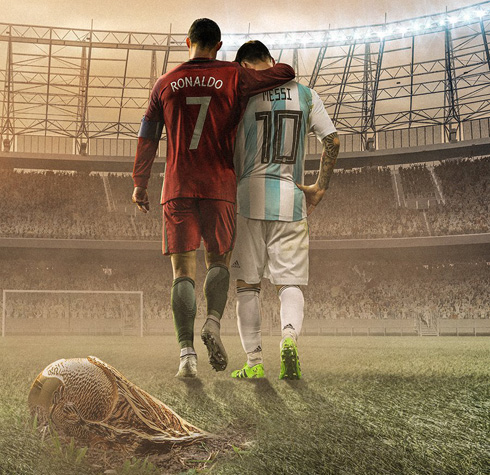 ---

Portugal and Argentina Squad
In our zeal to see two titans clash in the field, we forget that football is a team sport. No matter how talented a single player might be, they are their team backing them up. Portugal will be placed in group H against Ghana, Uruguay and South Korea. These teams, not considered top-tier, should not be understimulated.
Portugal's performance in previous World Cups has not been as impressive as Argentina's, with their best being ranked third in the 1966 World Cup. However, new coaching under Fernando Santos has been positive overall, which is expected to be seen at the tournament. Portugal didn't disappoint and qualified for the World Cup.
Argentina will play in Group C against Saudi Arabia, Mexico and Poland. Their performance in previous World Cups has been more impressive than Portugal's, as Argentina held the World Cup on two separate World Cups: In 1978 and 1986. In this case, Argentina is a stronger contender historically.
Nothing is written in stone, however, and this World Cup promises to be one of the most exciting, nerve-wracking, and in a way, sad ones, as this will most likely be the last World Cup where two titans will step on the field for their final swan song. We don't know about you, but we are counting the days until the 20th of November.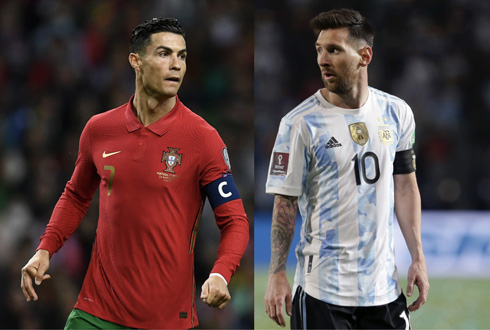 ---
Cristiano Ronaldo next game for Portugal in the World Cup is on November 24, against Ghana. You can watch Portugal vs Nigeria, Belgium vs Egypt, Jordan vs Spain, England vs Iran, Qatar vs Ecuador, and Austria vs Italy, all matches provided from our football live game pages.
Portugal next game:
Portugal vs Nigeria kick-off time (17-11-2022):
Beijing (China) | UTC/GMT+8: 02:45
India (New Delhi) | UTC/GMT+5.30: 00:15
Italy (Turin) | UTC/GMT+1: 19:45
Spain (Madrid) | UTC/GMT+1: 19:45
Portugal and England (Lisbon/London) | UTC/GMT+0: 18:45
Rio de Janeiro (Brazil) | UTC/GMT-3: 15:45
New York (United States) | UTC/GMT-5: 13:45
Los Angeles (United States) | UTC/GMT-8: 10:45
Sources: ronaldo7.net / sportingnews.com / goal.com