27.10.2022 » Can Ronaldo and United get back to the old synergy?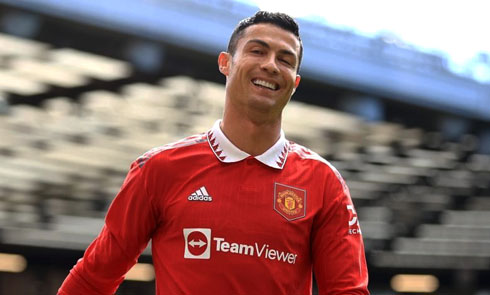 It's hard to understand and even accept what we've all been witnessing at Manchester this season and it all started in the pre-season. Cristiano Ronaldo attempted to leave the club in the summer and apparently his decision left a lot of people unhappy...
Following a quite happy first year when Ronaldo decided to return to Manchester United in 2021, everything changed over the summer and the second year in English soil has been a true nightmare for the Portuguese superstar. It's important to give some context though and it all starts in the summer, when Ronaldo starts looking to get transferred to a club set to play in the Champions League. At the time, anyone who had the chance to grab a 25 euro bonus and place a bet on Ronaldo's next club, most likely believed CR7 was not going to stay at United for too long. That was the main reason why the Portuguese forward decided to leave the Red Devils this year, which obviously led to a tense relationship with the club's board and the team's first manager, Erik ten Haag.
Cristiano Ronaldo - Controversial actions:
---

The most recent episodes...
Last week, Ronaldo refused to come in as a substitute in a match against Newcastle, which has obviously irritated the manager, Erik ten Haag. The Red Devils were 2 goals ahead going into the last 5 minutes of the game, when the Dutch manager decided to rotate a few of the players upfront to naturally waste some time while refreshing legs. Cristiano Ronaldo was visibily unhappy with his manager's decision, as he considered it a lack of respect for a player of his status. He reacted in the heat of the moment and walked way to the dressing room.
United would naturally bag the 3 points in that game, sealing an important and difficult win against Tottenham, but the headlines would once again focus on Ronaldo's atittudes. Erik ten Haag would reveal the day after that the Portuguese star was not going to be available to play in United's following fixture against Chelsea, in what was a sort of a punishment for Ronaldo's actions.
Without Ronaldo, the Red Devils ended up pulling off a 1-1 draw at the Stamford Bridge last weekend and a few days later, on October 25, Ronaldo was fully reintegrated in the first team's training, allegedly after having had a very honest talk with Erik ten Haag.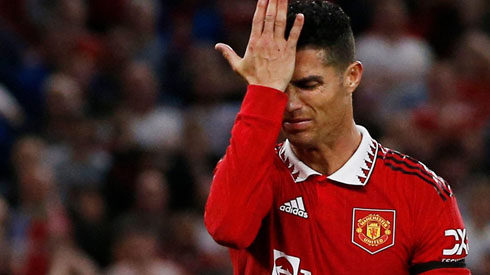 ---

is it too late for redemption?
Judging by every episode we've been witnessing in this recent Ronaldo-United novel, there are natural concerns that the relationship between the player and the club will never be the same again. Yes, it's true that Ronaldo made himself the player he is today in Manchester, that he won his first Ballon d'Or when he was playing for the Red Devils and that he won multiple titles under Sir Alex Ferguson's orders in his first spell at the club.
Nevertheless, the love and admiration most of the fans had for him seems to be gone now and unless things change drastically in the near future, it's hard to foresee a different outcome than Cristiano Ronaldo ending up leaving United by the back door...
The only way to restore some sort of normality in this tense relationship will only happen when both United and Ronaldo give a step back and accept the reality. The Portuguese player needs to realize that he cannot start every game like he used to in the past and he will have to accept a different role from now on. As for United and for Erik ten Haag in particular, he will also have to start dealing with Ronaldo's lack of playing time in a different way. Using Ronaldo to come in as a substitute in the last minute of a game quite simply to waste time and nothing else, is not the proper way to deal with a player of Ronaldo's character and personality...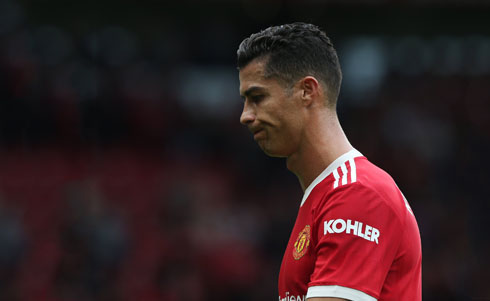 ---
Cristiano Ronaldo next game for Manchester United in the Europa League is on October 27, against Sheriff. You can watch Manchester United vs Sheriff, PSG vs Troyes, Valencia vs Barcelona, Leicester City vs Manchester City, PSV vs Arsenal, and Liverpool vs Leeds, all matches provided from our soccer live game pages.
Manchester United next game:
Manchester United vs Sheriff kick-off time (27-10-2022):
Beijing (China) | UTC/GMT+8: 03:00
Jakarta (Indonesia) | UTC/GMT+7: 02:00
India (New Delhi) | UTC/GMT+5.30: 00:30
Italy (Turin) | UTC/GMT+2: 21:00
Spain (Madrid) | UTC/GMT+2: 21:00
Portugal and England (Lisbon/London) | UTC/GMT+1: 20:00
Rio de Janeiro (Brazil) | UTC/GMT-3: 16:00
New York (United States) | UTC/GMT-4: 15:00
Los Angeles (United States) | UTC/GMT-7: 12:00
Sources: ronaldo7.net / skysports.com / bbc.com / bleacherreport.com