12.10.2022 » Can Ronaldo return to United's starting lineup?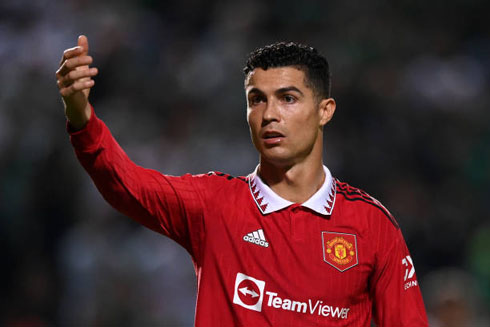 The summer might be gone now, but the consequences of the transfers rumors and the whole novel about Ronaldo leaving the club are still visible in United's daily life. The Portuguese is now waiting for another opportunity to prove all his critics wrong...
This has been one of the most difficult seasons for Cristiano Ronaldo on a personal level, with the Portuguese player being forced to start most of his team's games on the bench and not scoring as many goals as he used to in a recent past. The summer was quite hectic in terms of transfer rumors related to the 37-year old, which eventually led to Ronaldo missing Man United's pre-season works and losing the chance to play the first official games for the club. At the time, the odds for Ronaldo leaving United were extremely tempting and even some of the top casinos not on Gamstop had to adjust their offers. The new manager, Erik ten Hag, has been trying to showcase his determination since the day he joined the Red Devils and he didn't hesitate to relegate Ronaldo to the bench in these first weeks of the season, as he always defended the idea that the Portuguese superstar needs to recover his fitness levels.
Cristiano Ronaldo - Skills and goals for United:
---

Troubled times in the pre-season...
Following a quite disappointing campaign last season that led Man United to fail securing a Champions League spot for the current season, basically left room to all sort of speculation around the team's main star, Cristiano Ronaldo, being unhappy with the situation and his future at the club. With the season over, it didn't take long for the predictable rumors to come to surface and at some point during the summer, it looked way more likely to see Ronaldo leaving United rather than see him staying for another year.
However and against all odds, Ronaldo ended up staying at the club for another year, but not without giving clear signs that he wasn't happy with this role in United's new project. The Portuguese star missed United's pre-season works in the first weeks of July and only made his first appearance in the training center on July 26. The official statements to justify Ronaldo's absence always pointed to "personal reasons", but everyone knew something else was going on and at the end of the day, it was all about Ronaldo agreeing his departure with United and finding another club who was willing and capable of supporting his wages.
That scenario never took place despite waiting until the final days of the transfer window and Ronaldo had to accept the reality of staying another year at United. However, the armwrestling between the Portuguese player and United's board left Ronaldo on a delicate position and now he's still paying the price of gambling his own future during the transfer window.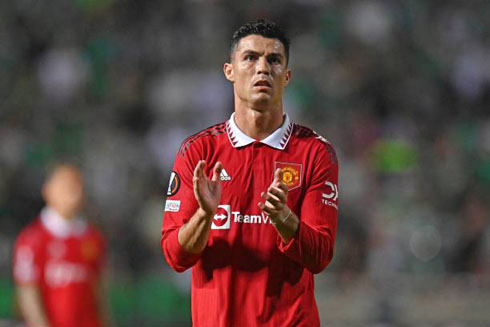 ---

An unusual record for Ronaldo's standards...
As the new season started, United's new manager Erik ten Hag didn't hesitate in sending a message to Ronaldo and letting him know that he was going to need to wait and fight for a place in the team's first choices. Since the Premier League's debut on August 7 against Brighton, Man United already played a total of 8 fixtures and Cristiano Ronaldo only started in one of those games (a 4-0 loss against Brentford). On the other hand, ten Hag has relied on Ronaldo for the Europa League games and started him in all 3 games played so far.
The Portuguese forward also spent an entire game on the bench against Manchester City on October 2, but ended up assisting a teammate in the following game against Omonia Nicosia and scoring United's winning goal in his most recent appearance in the Premier League, against Everton.
So far, Ronaldo has scored a total of 2 goals this season, one in the Europa League (a penalty-kick against Sheriff Tiraspol) and his latest one in the Premier League last week, against Everton. That's a total of 2 goals in 10 games, in a total of 535 minutes spent on the pitch. That's an average of 265 minutes per goal, a number clearly far from Ronaldo's standards throughout his career.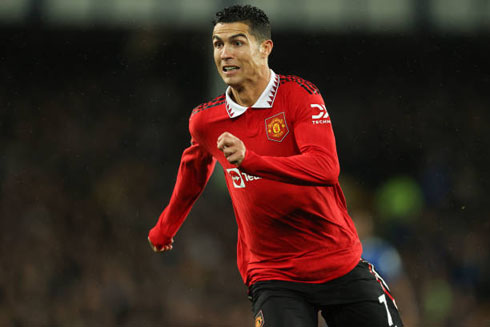 ---
Cristiano Ronaldo next game for Manchester United in the Premier League is on October 2, against Manchester City. You can watch Manchester United vs Omonia Nicosia, Napoli vs Ajax, Barcelona vs Inter, Rangers vs Liverpool, Tottenham vs Eintracht, and Viktoria Plzen vs Bayern Munich, all matches provided from our football streaming game pages.
Manchester United next game:
Man United vs Omonia Nicosia kick-off time (13-10-2022):
Beijing (China) | UTC/GMT+8: 03:00
Jakarta (Indonesia) | UTC/GMT+7: 02:00
India (New Delhi) | UTC/GMT+5.30: 00:30
Italy (Turin) | UTC/GMT+2: 21:00
Spain (Madrid) | UTC/GMT+2: 21:00
Portugal and England (Lisbon/London) | UTC/GMT+1: 20:00
Rio de Janeiro (Brazil) | UTC/GMT-3: 17:00
New York (United States) | UTC/GMT-4: 16:00
Los Angeles (United States) | UTC/GMT-7: 13:00
Sources: ronaldo7.net / eurosport.com / goal.com