23.08.2022 » Is this the end of the road for Ronaldo at United?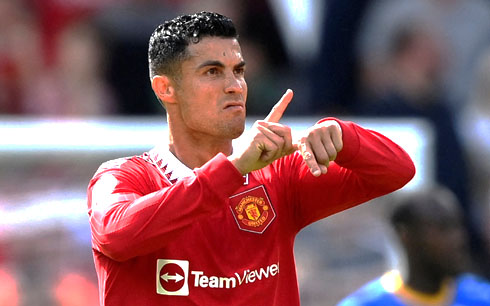 When Ronaldo announced his comeback to Old Trafford roughly a year ago, few would believe he could walk out the year after. Despite having scored a total of 24 goals for the club last season, he now seems to have been relegated to the bench by the new manager...
If there's anything the Portuguese superstar enjoys more than anyone else, that's proving his doubters wrong. We've seen that happening over and over throughout the past two decades and now, at a key stage of his career, he's once again in a position where he needs to step up his game and shut the critics from all corners of the world... With just a week left in this transfer window, Ronaldo's future remains being a question mark and many sports betting bookmakers like Mr Mega Sport are offering bets on what will be his next club. Nevertheless, there have been multiple signs leading us to believe that if an opportunity to leave arises in the next few days, Ronaldo won't think twice about it and he'll embrace a different challenge with no hesitation.
Cristiano Ronaldo - The days CR7 destroyed every defender:
---

The Ronaldo-United arm wrestling...
is still in place
There's no other way to look at it. Cristiano Ronaldo is clearly uncomfortable at Manchester United and judging by the most recent events at Old Trafford, it doesn't seem like things are going to change much in the upcoming days.
The Portuguese forward started the game against Brentford on August 13, but the shocking and traumatic 4-0 loss made the manager, Erik ten Hag, take some tough calls. In the game against Liverpool disputed this past Monday, the Dutch manager decided to bench several key players, starting with the team captain's Harry Maguire, but also the team's top scorer last season, Cristiano Ronaldo.
Even though ten Hag justified the Portuguese forward's absence with the need to press high from the start against Liverpool, it's hard not to look at these words and immediately relate them with Hag's intention of punishing Ronaldo for not contributing to the team's efforts and dynamics the way he wants. Nevertheless, the Dutch manager has already tried to ease the tension and made a statement after the Liverpool game saying that he counts with Cristiano Ronaldo for both the short and long run.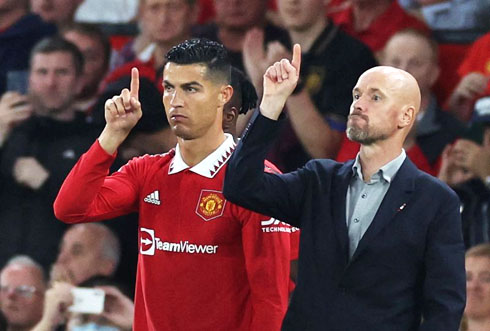 ---

The most likely scenario:
Ronaldo leaving United this summer
At this point, many United fans still prefer to believe that Ronaldo will accept his secondary role in this team and will end up being an important piece of ten Hag's puzzle, coming in from the bench in multiple games of the season ahead. However, this is most likely a very lyric perspective of the situation, especially after knowing the type of character Ronaldo has and what really motivates him to play at his very best.
A week ago, Ronaldo commented on Instagram that the media were making up most of the news and stories to the public, which, afterall, is something everyone already knows that happens when it comes to transfer rumors. However, the 37-year old added a quite enigmactic remark in his post, as he mentioned he would grant an interview to clarify things out, but only after the transfer window is over. Well, Cristiano Ronaldo might not be able to speak out what he wants right now for strategic reasons, but the simple fact that he promised a somewhat enlightening interview for the period right after the transfer window closes, kind of let us perceive that his silence and sadness is strongly related to something that has to do strictly with himself and the club.
However and if Ronaldo ends up staying at Old Trafford, it's hard to imagine how things will unfold. We can't see Ronaldo settling for playing in the Europa League, much less if he's forced to accept his bench role very often throughout the season. As much as we would like to see Ronaldo happy for simply being able to help the team in one game or another and mostly coming in from the bench, we need to realize the Portuguese legend is not willing to accept such challenge after such an illustrious career and even though he is already 37 years old.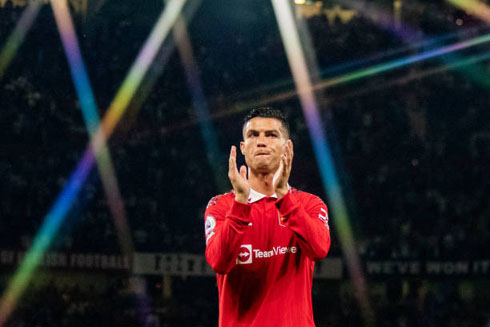 ---
Cristiano Ronaldo next game for Manchester United is on August 27, against Southampton. You can watch Southampton vs Manchester United, Chelsea vs Leicester City, Liverpool vs Bournemouth, Man City vs Crystal Palace, Arsenal vs Fulham, and PSV Eindhoven vs Rangers, all matches provided from our streaming live game pages.
Manchester United next game:
Southampton vs Man United kick-off time (27-08-2022):
Beijing (China) | UTC/GMT+8: 19:30
Jakarta (Indonesia) | UTC/GMT+7: 18:30
India (New Delhi) | UTC/GMT+5.30: 17:00
Italy (Turin) | UTC/GMT+2: 13:30
Spain (Madrid) | UTC/GMT+2: 13:30
Portugal and England (Lisbon/London) | UTC/GMT+1: 12:30
Rio de Janeiro (Brazil) | UTC/GMT-3: 08:30
New York (United States) | UTC/GMT-4: 07:30
Los Angeles (United States) | UTC/GMT-7: 04:30
Sources: ronaldo7.net / si.com / metro.co.uk / skysports.com