17.08.2022 » Cristiano Ronaldo and his major accomplishments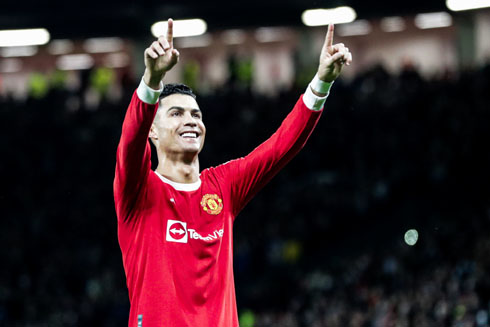 Cristiano Ronaldo made his professional debut on October of 2002 and since then, the Portuguese star has amazed the world with his dribbling, scoring and hard-work mentality. Throughout his career, Ronaldo already won the league title in Spain, Italy and England, as well as multiple Champions League trophies...
When addressing who is the most accomplished and influential football player of our time, only a few can match the accomplishments of one player in particular: Cristiano Ronaldo. The 37-year-old Portuguese prodigy has played as the plaintiff of some of the most prestigious football clubs in the world, earnestly earning himself a well-deserved reputation for his impeccable skill, dedication and talent in the world of football. At 37, he is still full of energy and passion for the game. We definitely expect to see new records being broken and more things to come before he finally settles down to retire. This unparalleled potential has shown in countless trophies for best player, records beaten and new ones set by him. Also several cups in Italy, Spain, England and Portugal, as well as having captained and led the Portuguese national football team to victory in the EURO 2016. Without a doubt, Cristiano Ronaldo is one of the safest winning bets if you are a gambling football fan, and if you are looking to gamble in trustworthy online casinos, feel free to look on this site for European casinos not on Gamstop.
Cristiano Ronaldo - Destroying defenders in his prime years:
---

A legacy for future generations
However, regardless of all his accomplishments, his most important one is the example he has set for all future generations of football players. His deeds will be recorded in the annals of football history as a living example of how tenacity, talent, self-discipline and a little luck can help unlock your hidden talent. Suppose we elevate Ronaldo's skills to a superhuman level unattainable to others. In that case, we are downplaying all the hard work, dedication, and sacrifice he has put in to earn all these achievements. Ambitious new footballers should see Ronaldo as the ultimate obstacle to overcome.
The following article intends to pay tribute to the impressive array of accomplishments earned by Cristiano Ronaldo, and it is to him that we dedicate this piece.
---

Goal record
When discussing the skills displayed by a player of Ronaldo's calibre, the total number of goals scored by the Portuguese star throughout his career needs to be acknowledged. To do this, a stats table provided by Ronaldo7.net and last updated on 10th August 2022 will be used to number the total amount of goals scored. The table will count goals starting from 2002, when he officially debuted as a professional football player, to August 2022. In total, Ronaldo has scored approximately 810 goals throughout his whole career. This achievement has led many sports news media to recognise him as the highest-ever goal scorer in the history of men's football. Although FIFA has officially acknowledged that it does not keep an official record of statistics related to individual players, this still has not stopped plenty of sports media outlets from crowning Cristiano Ronaldo with the title mentioned before. This is with Lionel Messi as Ronaldo's only active competitor with 768 goals.
Cristiano Ronaldo is also the first player to have won 4 European Golden Shoe awards. Even though he has been beaten by Messi, who has won 6 Golden Shoe trophies, this is still a tremendous accomplishment that should not be overlooked.
As for other beaten records regarding his spectacular goal tally, he also holds the title for the leading goal scorer for the Portuguese national team. He has played in a total of 147 games and scored 79 goals. He has also been the national team's captain in the last years. Furthermore, he has been recognised as Real Madrid's all-time leading scorer, achieving 451 official goals in 438 matches. This impeccable playing skill helped Real Madrid win La Liga title and the Champions League in multiple occasions during his spell at the club.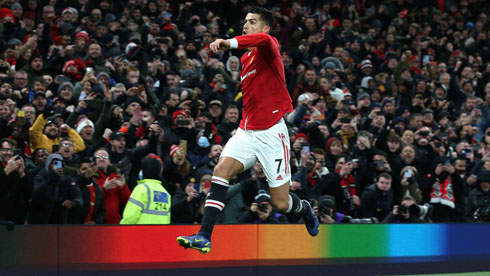 ---

Trophies
Aside from the goals scored by Cristiano Ronaldo, there is also plenty to talk about regarding the number of titles and trophies he has acquired throughout his career.
He has won 5 Ballon d'Or trophies, 4 times the UEFA Best Player in Europe, two Best FIFA Men's Player awards and has been recognised as Footballer of the Year by Portugal for 10 years from 2007 to 2018, excepting 2010 and 2014. On top of that, he has achieved 5 UEFA Champions League, only beaten by Paco Gento (who has won 6 of them) and 4 FIFA Club World Cup trophies (the first one for Manchester United and the three remaining ones for Real Madrid).
He has also been captain of the Portuguese national team, leading Portugal to their first UEFA trophy in the 2016 UEFA European Football Cup hosted by France, the first time Portugal has achieved such a feat in its football history. Additionally, Ronaldo has won the singular achievement of being the only player to have won league titles playing for different teams in Spain, the UK, and Italy, besides winning a total of 7 Super Cup trophies: 2 Spanish, 2 Italians, 2 English and 1 Portuguese.
All trophies and accomplishments aside, the most important feature about Ronaldo is his passionate spirit, constant drive for self-improvement, and absolute love of football that are shown every time he is out on the field. I, for one, can't help but feel that the best is yet to come for Cristiano Ronaldo.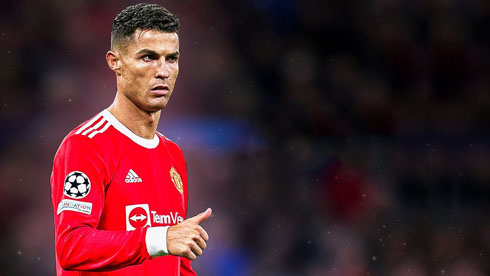 ---
Cristiano Ronaldo next game for Manchester United is on August 22, against Liverpool. You can watch Manchester United vs Liverpool, Sevilla vs Valladolid, Everton vs Nottingham Forest, Tottenham vs Wolverhampton, Bournemouth vs Arsenal, and Inter vs Spezia, all matches provided from our football live game pages.
Manchester United next game:
Brentford vs Manchester United kick-off time (22-08-2022):
Beijing (China) | UTC/GMT+8: 00:30
Jakarta (Indonesia) | UTC/GMT+7: 23:30
India (New Delhi) | UTC/GMT+5.30: 22:00
Italy (Turin) | UTC/GMT+2: 18:30
Spain (Madrid) | UTC/GMT+2: 18:30
Portugal and England (Lisbon/London) | UTC/GMT+1: 17:30
Rio de Janeiro (Brazil) | UTC/GMT-3: 13:30
New York (United States) | UTC/GMT-4: 12:30
Los Angeles (United States) | UTC/GMT-7: 09:30
Sources: ronaldo7.net / realmadrid.com / wikipedia.org