05.08.2022 » The tension between Erik ten Hag and Ronaldo doesn't benefit United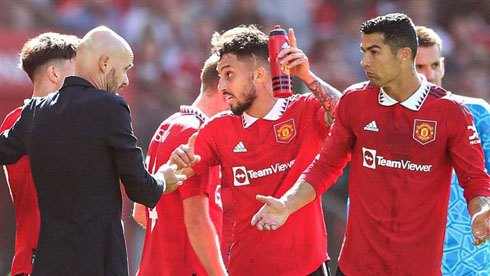 This was everything United wasn't looking for when they started preparing a new season, under a new manager's orders. The team's main star, Cristiano Ronaldo, is visibily upset with his future at Old Trafford and as if that wasn't bad enough for the Red Devils, he also seems to have irritated Erik ten Hag in the process...
When Ronaldo missed Manchester United's first training session of the pre-season back on July 4, the sirens at Old Trafford were immediately triggered for a dramatic scenario that appears to be taking more shape each day that passes. Initially, both the club and the player alleged personal reasons, which, as we know, is quite an ambigious term. As time passed, however, everyone understood there was something upsetting Ronaldo beyond any potential personal or family problems and it's been hard to figure out how the two parts involved, club and player, will manage to reach an agreement that leaves everyone happy. And while Ronaldo's future remains a big question mark, it's also interesting to note how the odds makers in the betting markets are suggesting new clubs behind very attractive odds on a regular basis. In the middle of the turmoil, United's new manager, Erik ten Hag, has also stepped into action and is becoming a key "player" in this summer's novel.
Cristiano Ronaldo and Erik Ten Hag - Tension on the pitch:
---

The first chapters
Once everyone realized Ronaldo wasn't going to travel with the team to Thailand and Australia for the pre-season works, there was a huge pressure on Erik ten Hag to comment the situation and clarify what was happening. Initially, the Dutch manager opted for the diplomatic answer and basically told the media what everyone already knew...
«Cristiano Ronaldo is not with us right now because he is dealing with personal problems. Nevertheless, we're counting with him for the new season. I look forward to start working with him so we may have success here at the club, together. Cristiano Ronaldo is not for sale!», remarked the 52-year old manager, who coached Ajax in the last 5 years.
Roughly a week later, on July 18, ten Hag was urged to update the situation with Ronaldo and the Dutch manager added a few more words to the topic:
«The situation with Ronaldo is clear. He is not for sale. I want to work with him and I can't say anything else about this matter because nothing changed since last week. He is training at home and we all know the enormous professional he is. He is going to be fit, that is the last of my worries. I want United to play in a certain way and Ronaldo, being the world-class player he is, can obviously be a part of it. In my view, the players should dictate how a team should play, especially those who score goals because they are extremely valuable for a team and we have to take that into consideration if we want to have success...»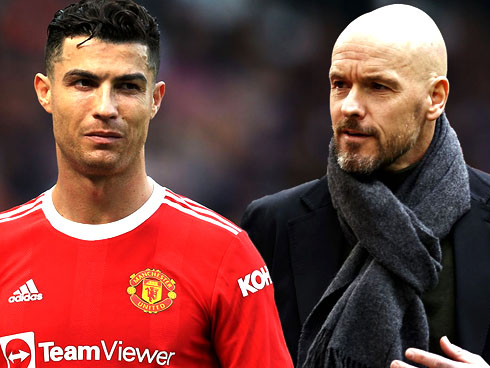 ---

A tense start...
Cristiano Ronaldo returned to training with United around July 29, basically 25 days after his teammates initiated the pre-season works. Just a few days later, he was called up for the match at Old Trafford against Rayo Vallecano and he had the chance to play in the first 45 minutes. The overall display and Ronaldo's performance was naturally far from what we're used to see, but the Portuguese superstar rushed to make a post in his social media where he assured he was happy to be back.
Nevertheless, there were some awkward moments during the match, in particular during a water break where we were able to witness Erik ten Hag interacting with several players. One of them was Ronaldo, who was visibly upset with the instructions he was receiving by his new manager and who ended up being substituted at half-time. This incident alone wouldn't mean much of course, but the whole chain of events and the fact that Ronaldo decided to leave the stadium before the match was over only escalated the situation. ten Hag reacted a couple days later...
«I'm aware several players went home before the end of the match against Rayo Vallecano. I haven't ignored that. Ronaldo was one of them and it's unacceptable. I already had a talk with the players and I told them that we are a team and that we should stick together until the end», commented the Dutch manager in an interview granted to ViaPlay.
What will happen next? Is Ronaldo even going to play against Brighton when Manchester United debuts in the Premier League against Brighton this weekend?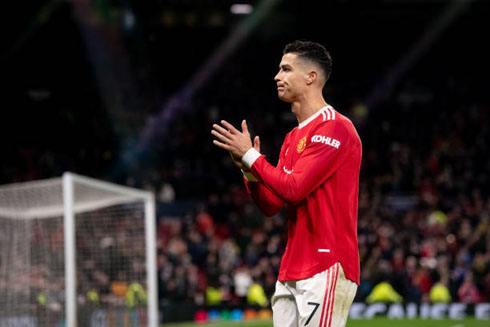 ---
Cristiano Ronaldo next game for Manchester United is on August 7, against Brighton. You can watch Manchester United vs Brighton, Real Madrid vs Eintracht, Juventus vs Atletico, Fulham vs Liverpool, Crystal Palace vs Arsenal, and Eintracht Frankfurt vs Bayern Munich, all matches provided from our soccer streams game pages.
Manchester United next game:
Manchester United vs Brighton Hove Albion kick-off time (07-08-2022):
Beijing (China) | UTC/GMT+8: 21:00
Jakarta (Indonesia) | UTC/GMT+7: 20:00
India (New Delhi) | UTC/GMT+5.30: 18:30
Italy (Turin) | UTC/GMT+2: 15:00
Spain (Madrid) | UTC/GMT+2: 15:00
Portugal and England (Lisbon/London) | UTC/GMT+1: 14:00
Rio de Janeiro (Brazil) | UTC/GMT-3: 10:00
New York (United States) | UTC/GMT-4: 09:00
Los Angeles (United States) | UTC/GMT-7: 06:00
Sources: ronaldo7.net / goal.com / nbcsports.com / marca.com