02.08.2022 » The top 5 richest footballers in the present day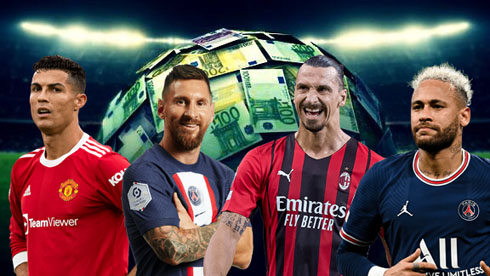 When an industry grows as much as football has grown over the last few decades, it's natural to witness their main players getting richer and richer each year. Nevertheless, it's also important to note that most of these players have already learned how to diversify their income streams...
The money earned by football players, in particular those who are very popular, is consistently a subject of interest for many fans. Numerous players own huge fortunes due to their paychecks with clubs, but also thanks to multiple other revenue sources. This article will acquaint you with the top 5 most extravagant footballers in the present day and at least one or two in this list might come as a surprise to some of you. Of course everyone expects to see names such as Cristiano Ronaldo or Lionel Messi, but none of them is actually on the top of the rankings for the richest footballer in the world.
Ronaldo - How he spends his money:
---

Faiq Bolkiah
When it comes to one of the most extravagant player on the planet, Faiq Bolkiah, there's a lot we can learn about him. This player is the grandson of the Sultan of Brunei - Hassanal Bolkiah. You can find his name on every virtual sports betting website.
His family claims 2,300 cars, including an armada of Bentleys, Ferraris, and Rolls-Royces, 8 Boeing jets, 5 boats, 500 chateaus, and castle structures.
Faiq Jefri Bolkiah, since early on, started playing at AFC Newbury, Southampton, Arsenal, Chelsea, and Leicester City. He has recently joined Maritimo in Portugal, following four years at Leicester.
---

Cristiano Ronaldo
Cristiano Ronaldo is rated by many as the best player on the planet. He currently earns roughly 30 million euros per year from Manchester United, alongside with benefits from business ventures and other type of advertising activities. Cristiano Ronaldo is among the most richest players on the planet.
As a player who has won almost everything he could over the years, it's no surprise to anyone to see Ronaldo earning so much money as he does nowadays. However, most of his income isn't coming directly from his salary, but rather advertising partnerships...
According to Tuttosport, Ronaldo is one of the most wealthy players in the present day and he can earn nearly 1 million euros for a 4-hour publicizing sponsorship contract (250,000 euros each hour). A photograph meeting, five signed shirts, and various online entertainment posts could be more than enough for Ronaldo to become even more rich in a matter of hours.
---

Lionel Messi
Lionel Messi is another name in the sport every fan admires and unsurprisingly he is also one of the players who earns the most when it comes to salaries. His earnings come from his paycheck with PSG, advertising contracts, and of course, other businesses ventures.
Messi's became incredibly popular while playing for FC Barcelona in Spain, where he has managed to collect a total of 6 Ballon d'Ors, something no other player has ever done. The Argentine superstar is said to be earning roughly 30 million euros per year in PSG. Lionel Messi is undoubtedly one of the most popular players on the planet and already cemented a legendary status among fans.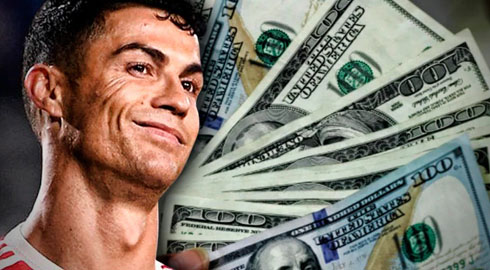 ---

Neymar Jr
Neymar Jr is behind a contract with PSG that is valid until 2025, with a quite impressive salary estimated to be around 40 million euros per year. Just like his teammate Lionel Messi, the Brazilian ace also manages to earn a lot of money from advertising partnerships. Nowadays, Neymar is already entering the last stages of his professional career as a footballer, but his wealth is expected to continue to grow in the years to come...
His yearly income from advertising and endorsements is said to be around 30 million euros.
---

Zlatan Ibrahimovic
Zlatan Ibrahimovic has had a quite long career in football and has had the privilege of playing for some of the biggest clubs in the world. The Swedish footballer has scored more than 500 goals across multiple countries and competitions. Throughout his career, he managed to score 156 goals for PSG, 29 for Manchester United, 92 for AC Milan, 22 for Barcelona, 66 for Inter Milan, 26 for Juventus and 48 for Ajax.
In the last season, Ibrahimovic only scored 8 goals in 27 appearances for AC Milan, which is well justified with injuries and also the fact that Zlatan celebrated his 40th birthday on October 3 of 2021.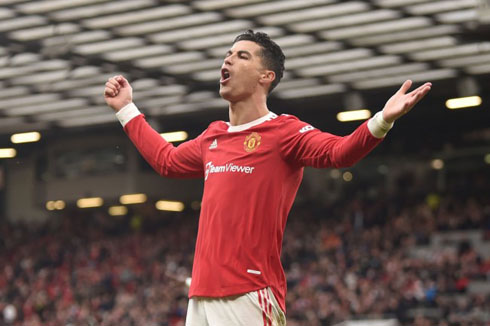 ---
Cristiano Ronaldo next game for Manchester United is on August 7, against Brighton. You can watch Man United vs Brighton, Real Madrid vs Eintracht, Juventus vs Atletico, Fulham vs Liverpool, Crystal Palace vs Arsenal, and Eintracht Frankfurt vs Bayern Munich, all matches provided from our football streams game pages.
Manchester United next game:
Manchester United vs Brighton Hove Albion kick-off time (07-08-2022):
Beijing (China) | UTC/GMT+8: 21:00
Jakarta (Indonesia) | UTC/GMT+7: 20:00
India (New Delhi) | UTC/GMT+5.30: 18:30
Italy (Turin) | UTC/GMT+2: 15:00
Spain (Madrid) | UTC/GMT+2: 15:00
Portugal and England (Lisbon/London) | UTC/GMT+1: 14:00
Rio de Janeiro (Brazil) | UTC/GMT-3: 10:00
New York (United States) | UTC/GMT-4: 09:00
Los Angeles (United States) | UTC/GMT-7: 06:00
Sources: ronaldo7.net / businessinsider.com / si.com