28.06.2022 » Cristiano Ronaldo's scoring trend over the years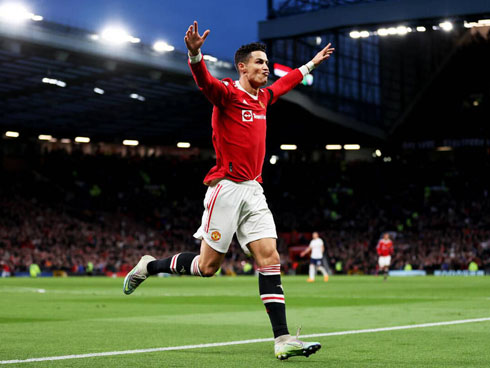 There has not been a single player who has scored more goals than Cristiano Ronaldo in professional football over the last 20 years. The Portuguese superstar has managed to stay on top of his game throughout the past two decades and as a result of that, he has now scored more than 700 goals in all competitions...
Cristiano Ronaldo belongs among the best football shooters in the world as his record counts more than 700 goals throughout more than 900 matches in top tier leagues and cups. Now at the age of 37, you might be interested in the trend of his recent success - does Ronaldo score more now or in previous seasons? We'll take a close look at statistics from the last few years and see if he's on the goals uptrend or downturn. Nevertheless, we all know how obsessed the Portuguese superstar is with scoring goals and we can expect him to keep scoring and beating more records in the years ahead...
Cristiano Ronaldo - All his goals for Man United in 2021-22:
---

Individual seasons
We'll start our research with the 2015/2016 season, when Ronaldo was playing for Real Madrid. He scored a total of 51 goals across 48 appearances with a total playtime of 4,293 minutes. All these goals came from La Liga and Champions League matches.
During the 2016/2017 season, he scored 42 times in 46 appearances in La Liga, Champions League, and Copa del Rey. He'd spent a similar time on the pitch - 4,129 minutes.
The 2017-18 season was his last one with Real Madrid, and Ronaldo has successfully hit the goal 44 times across 44 appearances in various tournaments.
The Ronaldo Italian era began in the 2018-19 season. He managed to debut in the Serie A with 28 goals in 43 matches.
The next Juventus season (2019-20) was a bit better in terms of the amount of goals he scored, as as he netted a total of 37 goals in 46 appearances. This time he'd play over 4,000 minutes in total again. His career continued in Juventus F.C. during the 2020-21 season and Ronaldo celebrated goals for 36 times in 44 appearances. It looked like his good old form was back.
Now let's focus on the season that just ended (2021-22). Ronaldo still played one match in the Serie A as a Juventus player, just before getting transferred to Manchester United. In England, he appeared 39 times on a football pitch and scored 26 goals in total. He'd play 3221 minutes throughout the season.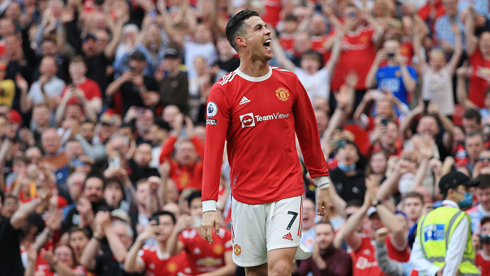 ---

Ronaldo's scoring downtrend
What conclusion can we make out of these numbers and statistics? Even though we've analyzed only the last 7 seasons, we could see a slight downtrend of thea mount of goals scored by Cristiano Ronaldo.
He scored 51 goals in the 15-16 season and during the last season, he managed to score only 26.
The total number of goals won't tell you the whole story though and you have to incorporate stats like the number of appearances or the total playtime over the season to see the complete picture.
But even if we take these stats into the account, there's still an evident slow downtrend. For example, the amount of minutes needed to score a goal went from 84 (in 2015-2016) to 134 (last season).
---

Conclusion
We cannot say what's behind the declining number of goals scored by Ronaldo over the past few years. It might be the increasing defenders' competence or his decreased agility and speed of movements.
If you're a Ronaldo fan, you'd probably love to see some reverse in these stats. We're all curious about his future success and where is his career headed.
If you're fancy betting on Ronaldo scoring a goal, or putting your money on other side bets like First to Score or Correct Score lines, learn about the best crypto football sportsbooks. This way you can use your bitcoins and other cryptocurrencies to put money only at trusted betting sites.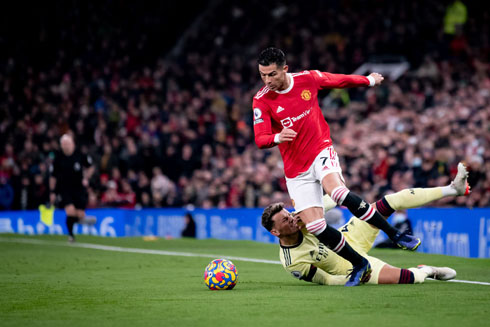 ---
Cristiano Ronaldo next game for Manchester United is on July 12, against Liverpool. You can watch Man United vs Liverpool, Real Madrid vs Barcelona, Olot vs Barcelona, Manchester City vs Club America, Everton vs Arsenal, and Kawasaki vs PSG, all matches provided from our live football game pages.
Manchester United next game:
Manchester United vs Liverpool kick-off time (12-07-2022):
Beijing (China) | UTC/GMT+8: 21:00
Jakarta (Indonesia) | UTC/GMT+7: 20:00
India (New Delhi) | UTC/GMT+5.30: 18:30
Italy (Turin) | UTC/GMT+2: 15:00
Spain (Madrid) | UTC/GMT+2: 15:00
Portugal and England (Lisbon/London) | UTC/GMT+1: 14:00
Rio de Janeiro (Brazil) | UTC/GMT-3: 10:00
New York (United States) | UTC/GMT-4: 09:00
Los Angeles (United States) | UTC/GMT-7: 06:00
Sources: ronaldo7.net / transfermarkt.com / bbc.co.uk