21.06.2022 » Will Qatar 2022 be the last World Cup for Ronaldo and Messi?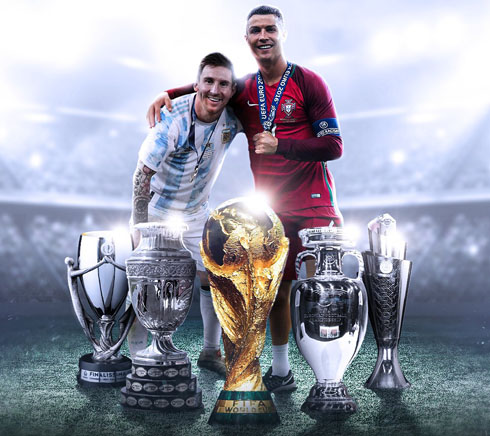 This might very well be the last time we see both Ronaldo and Messi playing in a World Cup event, as both superstars are most likely already preparing their retirement plans. Despite their legendary status, neither of the two have ever lifted a World Cup trophy in their football career...
Over the last 20 or so years, we've been treated to levels of performance that the world has never seen before, as Cristiano Ronaldo and Lionel Messi have gone head to head in the battle to be known as the greatest of all time. Displays have been off the chart both in terms of quality and consistency, but old "Father Time" catches up with us all and that is starting to be the case with this marvelous duo who are now both well into their thirties. With that in mind, we ask the question of whether Qatar 2022 will be the last time we see them take part in the greatest show on Earth and also look at how they rank amongst other G.O.A.T contenders on the global scene. Buckle up and enjoy the reading!
Cristiano Ronaldo - One last chance:
---

How have Ronaldo and Messi performed on the world stage?
Let's make this clear; there is absolutely no denying that these two are known in every corner of the world for their contribution to football over the last couple of decades. At club level, they've both won everything there is to win. Here though we're specifically focusing on how they've performed in the World Cup.
Comparing across eras is a hard thing to do but Pelé and Diego Maradona, who sadly passed away in earlier this year, are the two most common names mentioned alongside Messi and Ronaldo. Both of those players lifted the Jules Rimet trophy. In fact, Pelé did it three times! Neither Ronaldo or Messi is yet to achieve that feat even once - although they have both won silverware with their respective nations, Portugal and Argentina.
When Qatar 2022 rolls around though, both players will be joining an illustrious club of players to have been involved in five different World Cup finals. That will be a shared record with no player having made it to six. For Ronaldo, the best he's achieved is a semi-final appearance, which is something that has happened just once - in 2006. Messi's Argentina meanwhile have gone one better than that with a final appearance. Of course, they ultimately fell short in that game at Brazil 2014 with Germany running out 1-0 winners after extra time courtesy of a Mario Gotze goal. Messi did, however, win the Golden Ball that year.
---

Will they play a big role at Qatar 2022?
Worrying about life after Qatar is perhaps meaningless until you consider how Ronaldo and Messi might feature at the upcoming World Cup. If either struggle for game time in 2022 then the idea of them playing in 2026 is neither here nor there. Of course, in all likelihood, both will be the key ingredient to any success their nations might have.
Messi, who is 34-years-old, has proven his worth to the national team fairly recently as he inspired them to Copa America glory just last year. Currently, Argentina are ranked 6th in the Bovada's odds for the World Cup, while Portugal sits at 8th in the favorites.
Ronaldo – three years Messi's senior – meanwhile remains a goal-getting machine and top-scored for Portugal in qualifying with six goals. How they – and their teams – perform at the tournament is the next big factor to consider.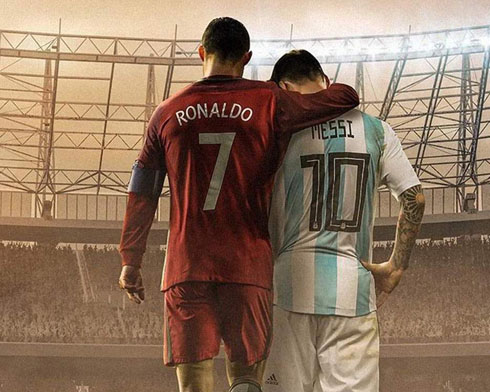 ---

How will the outcome of the World Cup influence the future?
The first thing to get clear here is that neither player will influence the others decision making about a long term future. What we mean is that no matter how well – or poorly – Messi performs, Ronaldo will decide on his future based on his own feelings and vice-versa.
With that made clear, our view is that there are two variables to consider for each player. The individual performance will be critical; if Ronaldo has a woeful tournament and looks short of the levels needed to compete then the national team might deem this the end; the same applies to Messi. The more likely scenario though is that one of the two players sees their nation lift the World Cup. It that happens then there is every chance they opt to go out on the highest of highs.
Of course, the most likely situation for these two is that they'll fall somewhere between those extremes, which would be having reasonable tournaments but ultimately falling short of glory. Then the question of whether Qatar 2022 is the end for Messi and Ronaldo.
---

So, will the Qatar World Cup the end for Messi and Ronaldo?
Ultimately, only the players know the answer to this. Our view from the outside though is slightly different for each player. Messi is rumoured to have a move to Inter Miami lined up for the end of next season; if that's true then the idea of an appearance at the 2026 World Cup looks to be slim – although with the competition being held in the US, a Miami based Messi would be marketing gold.
As for Ronaldo, he's previously stated that he'll play into his forties. Combine that drive with his physical conditioning and ability to adapt his game as he ages and there is every chance he has a role to play in 2026 – even if it will be in a greatly reduced role. It would also see him become the oldest European to feature at a World Cup and, depending on others, the only player to make six finals; we know how Mr CR7 loves a record!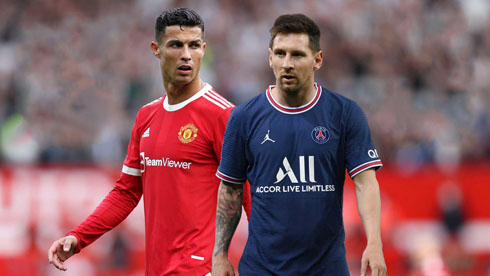 ---
Cristiano Ronaldo next game for Manchester United is on July 12, against Liverpool. You can watch Man United vs Liverpool, Real Madrid vs Barcelona, Olot vs Barça, Man City vs Club America, Everton vs Arsenal, and Kawasaki vs PSG, all matches provided from our streaming football game pages.
Manchester United next game:
Manchester United vs Liverpool kick-off time (12-07-2022):
Beijing (China) | UTC/GMT+8: 21:00
Jakarta (Indonesia) | UTC/GMT+7: 20:00
India (New Delhi) | UTC/GMT+5.30: 18:30
Italy (Turin) | UTC/GMT+2: 15:00
Spain (Madrid) | UTC/GMT+2: 15:00
Portugal and England (Lisbon/London) | UTC/GMT+1: 14:00
Rio de Janeiro (Brazil) | UTC/GMT-3: 10:00
New York (United States) | UTC/GMT-4: 09:00
Los Angeles (United States) | UTC/GMT-7: 06:00
Sources: ronaldo7.net / bbc.co.uk / talksport.com