06.05.2022 » Has this season finally proven Ronaldo's Goat status over Messi?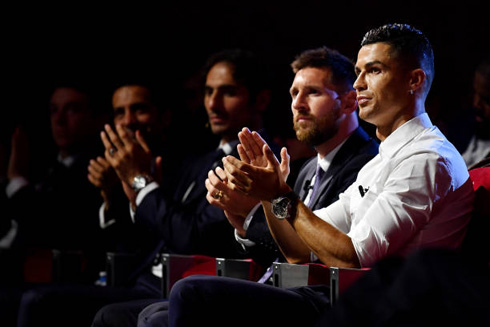 Despite his place in one of the worst Manchester United teams in history, Cristiano Ronaldo has been in fine fettle this season. In fact, he's been scintillating. His goals have helped United overachieve in what is, quite frankly, a complete disaster of a season...
Manchester United on the whole have been a shambles, delivering some of the Premier Leagues' most shocking moments, such as the 4-1 drubbing away at Watford and the 5-0 home mauling at the hands of their archrivals Liverpool. But, while his teammates are wilting under the pressure of performing for the world's biggest football club week-in week-out, the Portuguese superstar has been stepping up and carrying the weight on his shoulders. And in the process, he may have settled one of the greatest sporting debates of the 21st century.
Cristiano Ronaldo and Lionel Messi - The end is near:
---

The rivalry entered a new stage...
The argument itself is well documented. Ever since Paul Scholes' thunderbolt gave Ronaldo's Manchester United a 1-0 victory over Messi's Barcelona, back in the 2008 Champions League semifinal, the discussion has raged about which of the two is the better footballer. The latter appears to be the purists' pick, whereas those who prefer an athletic phenom go with the former. But in the 14 years, 1587 goals, 35 trophies and 12 Ballon d'Or's since that May evening at Old Trafford, there has been nothing to split the pair. That was until this season.
Lionel Messi's arrival in the French capital last summer sparked scenes of pandemonium. He was about to form a third of perhaps the most fearsome strikeforce in football history, alongside his former teammate Neymar, and the apparent chosen one, Kylian Mbappé. And with Ligue 1, for want of a better phrase, the continent's supposed "farmer's league", Argentina's all-time record goalscorer was expecting to continue racking up the numbers with aplomb. What a difference a year makes.
In the months since thousands of Parisians lined the streets trying to catch a glimpse of their newest superstar, Messi's performances have been found wanting. He has managed to muster a measly nine goals in all competitions. In fact, it just takes a small trip on Twitter to see just how much his stock has fallen. The best that his most ardent of supporters can muster up is "but he has the most assists in Ligue 1!!!"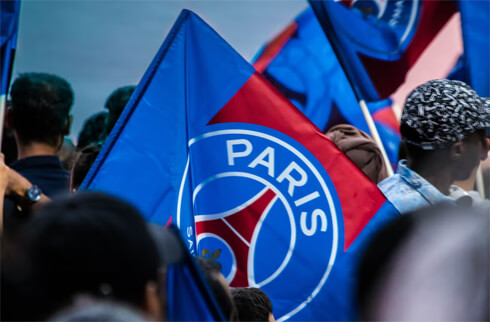 ---

The King returns
Meanwhile, if you were to take a short plane journey north, a different story is being told. The story of a king returning home. Cristiano Ronaldo's return to Manchester United came out of nowhere. Within a whirlwind 48 hours in which the Portugal captain was rumoured to be on the brink of an unthinkable move to Manchester City, only for their city rivals to swoop at the last second to snap up their man, the world had been turned upside down. And how did the iconic CR7 mark his second debut for the Red Devils? With a match-winning brace and his adoring public celebrating — or should I say siuuuu'ing — along with him. And things have only gotten better for him since, despite a set of subpar teammates.
Ronaldo will be the first to tell you that his first season back at Old Trafford has been a disappointment — he didn't return home to barely scrape into the Europa League. But on a personal level, the numbers he has posted have been unbelievable. So far this season, he's managed 24 goals in 38 games. In fact, only Mohammed Salah — in a team that is arguably one of the greatest the world has ever seen — has scored more in the league this season. It makes you wonder, how many goals would the great man bag in that Liverpool team? How many would he have scored in Paris?
Finally, let's not forget the gulf in class between the Premier League and Ligue 1. While some of Messi's domestic goals have come against the mighty Nantes and Lens, Ronaldo has bagged eight goals in seven starts against the "Big Six" alone. And all this is without evening mentioning his exploits for Juventus. Thinking about it, perhaps the debate was settled a long time ago?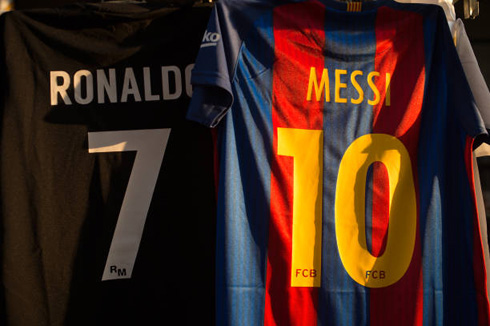 ---
Cristiano Ronaldo next game for Manchester United is on May 7, against Brighton Hove Albion. You can watch Brighton vs Man United, Inter Milan vs Empoli, Betis vs Barça, Chelsea vs Wolves, Liverpool vs Tottenham, and Genoa vs Juventus, all matches provided from our streaming soccer game pages.
Manchester United next game:
Brighton vs Manchester United kick-off time (07-05-2022):
Beijing (China) | UTC/GMT+8: 00:30
Jakarta (Indonesia) | UTC/GMT+7: 23:30
India (New Delhi) | UTC/GMT+5.30: 22:00
Italy (Turin) | UTC/GMT+2: 18:30
Spain (Madrid) | UTC/GMT+2: 18:30
Portugal and England (Lisbon/London) | UTC/GMT+1: 17:30
Rio de Janeiro (Brazil) | UTC/GMT-3: 13:30
New York (United States) | UTC/GMT-4: 12:30
Los Angeles (United States) | UTC/GMT-7: 09:30
Sources: ronaldo7.net / goal.com