11.04.2022 » What do Cristiano Ronaldo's houses look like?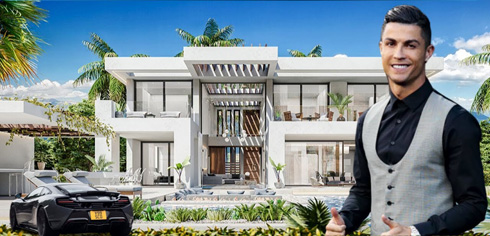 Over the many years Cristiano Ronaldo has played at the highest level, the Portuguese star made a lot of money. Among many of the investments made by the 37-year old, there's one in particular with great relevance which is precisely his property portfolio...
Cristiano Ronaldo is one of the main stars of modern football. During his football career, this Portuguese striker has scored more than seven hundred goals, forever inscribing his own name in the history of sports. Cristiano Ronaldo earns nearly one hundred million euros each year, from his own salary, to endorsements or even multiple business investments. With his wealth growing every year, he spends some of this money on creating comfortable conditions for himself and his family, which basically means acquiring new houses and doing home improvements in many of his properties.
Manchester United - Mansions:
---

Cristiano's iconic house in La Finca
Ronaldo made a name for himself in world football with Manchester United. Having become a real football star, in 2006 the Portuguese football player bought himself a mansion for three million pounds. It was located in the very prestigious area of ​​Alderley Edge, where many of the Red Devils' footballers lived.
Ronaldo had at his disposal five large bedrooms, a huge garden, charming terraces, an indoor pool, a sauna, a jacuzzi, a gym and even a cinema room. Only nine years after leaving Manchester United did Cristiano decide to put the mansion up for sale. The property was previously rented out.
Cristiano Ronaldo moved to Real Madrid in 2009. After such a high-profile transfer, the Portuguese football player has already acquired a more solid home, compared with the one in Manchester. Cristiano spent £4.8 million on the house, which was designed by renowned architect Joaquín Torres. The house was located in the elite area of La Finca.
• This mansion boasts as many as seven bedrooms and eight bathrooms. The total dimensions of the dwelling are 800 square meters, and its approximate cost is estimated at 6.6 million dollars.
• The children's room is made in soothing light colors. The footballer's children spend time in it: Eva, Matthew, and Alana.
• Some of the household items in Ronaldo's mansion are marked with his own name or initials.
• In general, the house is designed in a classic style with hints of modern minimalist trends. To find furniture in such style you can look at Ashley furniture. A perfect example is a decorative table that depicts a portrait of Cristiano's father, who passed away in 2005.
• In the design of the adjacent territories, there was a place for spiritual elements. For example, on one of the lawns, there is a rather large statue of the head of the Buddha.
• Another feature of the interior design is the predominance of smooth lines and marble coverings.
• Here was already much more emphasis on Ronaldo's ability to work on his form. A modern gym with treadmills, a strength section, a stretching area, and even its own football field - all this was at Cristiano's home, not to mention the pools and recreation areas. Interestingly, on the doors of the house, one could see the initials of the Real Madrid star.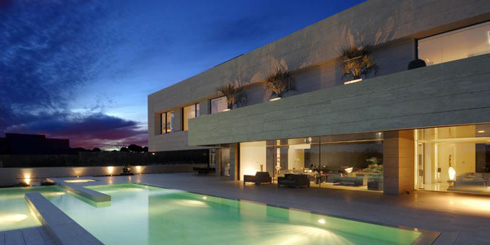 ---

Ronaldo's mansion in Turin
But this is far from the only home of the successful Portuguese footballer. In the northwest of Madrid is his second mansion. At first glance, you can easily guess the notes of futurism due to the unusual curves of the walls and roof.
After ten successful years in Madrid, Ronaldo accepted a new challenge and moved to Juventus. Well, after moving to Juventus, the football player bought a luxurious estate in Turin, in which such club legends as Zinedine Zidane and Fabio Cannavaro previously lived.
The main three-story building has eight bedrooms and a huge swimming pool. The total area of the estate is 1000 square meters. Here the Portuguese chose to stay in two adjacent villas.
They are accessed via a private guarded road. The villas are surrounded by lush gardens and other green spaces.
It's probably not worth talking about the ultra-modern gym in Cristiano's house once again. The forward is constantly training to keep himself in great shape. The main highlight of the Turin home of Ronaldo is the gorgeous view. In relation to the city, the house is located quite high, and Turin is supposedly at the foot of Cristiano's possessions.
The total area of this house is an impressive 1700 square meters. If you will visit such a dwelling for the first time, you can certainly get lost.
The mansions of Cristiano Ronaldo seem to emphasize his extraordinary personality. They may seem like overkill to some, but for a successful football player with a multi-million dollar salary, they are certainly something for granted.
Ronaldo also has a luxury apartment in Lisbon at his disposal. A few years ago, he bought an excellent penthouse on Avenida da Liberdade, the main street of the capital of Portugal. The approximate cost of such apartments is estimated at 2 million dollars.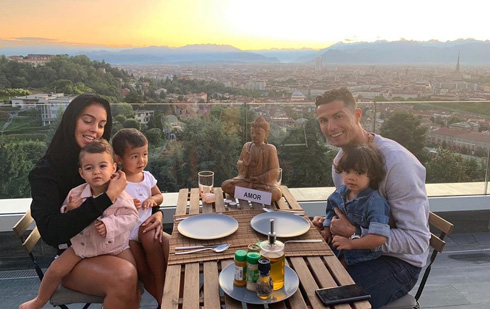 ---
Cristiano Ronaldo next game for Manchester United is on April 16, against Norwich City. You can watch Manchester United vs Norwich City, Real Madrid vs Chelsea, Barcelona vs Eintracht, Atletico Madrid vs Manchester City, Liverpool vs Benfica, and Bayern Munich vs Villarreal, all matches provided from our soccer live streaming game pages.
Manchester United next game:
Manchester United vs Norwich City kick-off time (16-04-2022):
Beijing (China) | UTC/GMT+8: 22:00
Jakarta (Indonesia) | UTC/GMT+7: 21:00
India (New Delhi) | UTC/GMT+5.30: 19:30
Italy (Turin) | UTC/GMT+2: 16:00
Spain (Madrid) | UTC/GMT+2: 16:00
Portugal and England (Lisbon/London) | UTC/GMT+1: 15:00
Rio de Janeiro (Brazil) | UTC/GMT-3: 11:00
New York (United States) | UTC/GMT-4: 10:00
Los Angeles (United States) | UTC/GMT-7: 07:00
Sources: ronaldo7.net / businessinsider.com / thesun.co.uk