18.02.2022 » The odds for Ronaldo to become the Premier League top scorer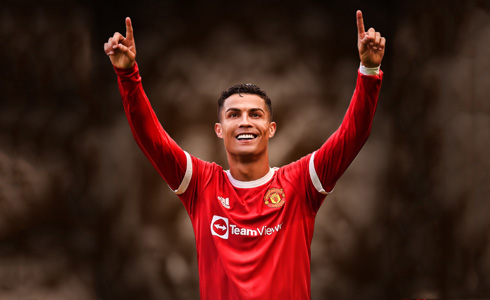 With slightly more than a dozen round of fixtures left to be played in the Premier League, Cristiano Ronaldo still dreams of becoming the competition's top scorer. However and in order to achieve that, Manchester United will also need to improve drastically in the upcoming weeks...
Cristiano Ronaldo is famous for being one of the all-time top scorer in the UEFA Champions League. Last year, Ronaldo finished as the top scorer in the Serie A with 29 goals in 33 appearances for Juventus. There's no doubt that he can once again be the proud owner of the Premier League Golden Boot, despite having multiple players ahead of him at the moment. Many people are wondering how to find no deposit casinos where they can place a wager on the outcome of this year's competition. Needless to say, the competition is truly fierce. If anyone can pull it off, Ronaldo can. However, this year he seems to be falling behind. The fact of the matter is that his late return to Old Trafford may prevent him from snatching the boot once more. Let's see how things stand so far and what are the odds for Ronaldo becoming the Premier League top scorer.
Cristiano Ronaldo - I'm not done:
---

Liverpool in the lead
Liverpool's top scorer and currently the top contender for the Golden Boot, Mohamed Salah, is in the lead with 16 goals so far. Despite taking a month away from Liverpool to participate in the Africa Cup of Nations, this Egyptian superstar will be back on the field this Saturday for Liverpool's match against Norwich City.
Mohamed Salah is looking to improve his lead in the race for the top scorer title. He's closely followed by his teammate Diogo Jota, who scored 12 goals for Liverpool so far. Right next to them is Manchester City's Raheem Sterling with 10 goals. Cristiano Ronaldo is actually ranked 6th so far in the race, with only 9 goals for the Red Devils.
However, upon his return to Manchester United, Ronaldo scored 2 goals in his first match. He may be far down the scoreboard but never underestimate this Portuguese superstar when it comes to scoring a barrage of goals when you least expect him to.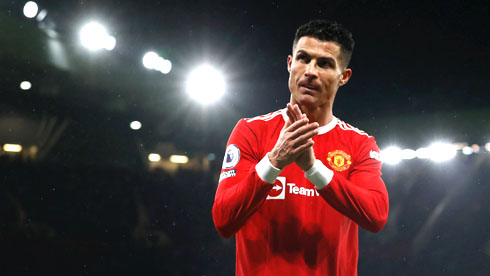 ---

What are the odds
So far, only Lionel Messi has won the golden shoe six times while playing for Barcelona. Cristiano Ronaldo has won the award four times already.
Although he's quite late to return to the Premier League from his time spent in Juventus, there's still a good cache that Ronaldo may actually come on top. Of course, Salah won't sit idly by and watch someone take the lead so we can expect a thrilling competition until the very end.
---

Conclusion
Objectively, Ronaldo's chances of winning the Premier League and thus the Golden Boot or Golden Shoe, if you prefer, are quite slim so far. He's seven goals behind Mohamed Salah and not much time to catch up. However, Ronaldo wouldn't be considered as one of the best football players ever if he wasn't capable of exceeding everyone's expectations.
---
Cristiano Ronaldo next game for Manchester United is on February 20, against Leeds United. You can watch Leeds United vs Manchester United, Porto vs Lazio, Barcelona vs Napoli, Leicester City vs Randers, Juventus vs Torino, and Borussia Dortmund vs Rangers, all matches provided from our live soccer game pages.
Manchester United next game:
Leeds United vs Manchester United kick-off time (20-02-2022):
Beijing (China) | UTC/GMT+8: 03:00
Jakarta (Indonesia) | UTC/GMT+7: 02:00
India (New Delhi) | UTC/GMT+5.30: 00:30
Italy (Turin) | UTC/GMT+2: 21:00
Spain (Madrid) | UTC/GMT+2: 21:00
Portugal and England (Lisbon/London) | UTC/GMT+1: 20:00
Rio de Janeiro (Brazil) | UTC/GMT-3: 16:00
New York (United States) | UTC/GMT-4: 15:00
Los Angeles (United States) | UTC/GMT-7: 12:00
Sources: ronaldo7.net / ndtv.com / liverpoolfc.com