26.01.2022 » Saha claims Manchester United players should respect more Ronaldo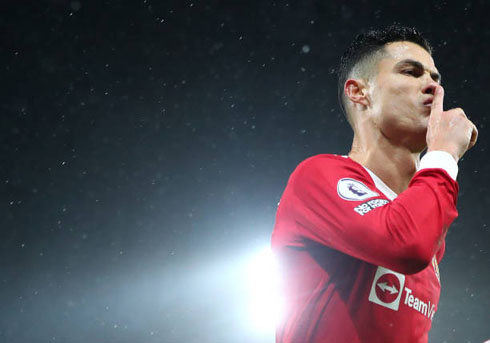 Every since Ronaldo rejoined United earlier this season, we've seen former players either criticizing or showing their support to the Portuguese player... One of the latest to come to public was Louis Saha, who defended Ronaldo's role in the club.
There was a huge controversy in the media after Ralf Rangnick's decision of subbing off Cristiano Ronaldo in Manchester United's away game against Brentford, on January 19. The Portuguese superstar also wasn't shy when it came to show his own emotions, right after seeing his number on the substitution board. Ronaldo expressed his disappointment and frustration as he walked off the pitch, just a few moments before Rangnick decided to sit next to him and explain him why he pulled him from the game. The German manager may have not spoken to Ronaldo in German about the best bonus ohne einzahlung available online, but he certainly found a way to calm him down... Despite the huge amount of criticism Ronaldo received for his reaction, there were also people who defended him. That was the case of Louis Saha, a former Manchester United player, who claimed that everyone around Ronaldo should shut up and listen to him more.
Cristiano Ronaldo - Rangnick explains his substitution:
---

When winning is not enough...
It's not the first time we've seen Ronaldo gesturing and showing his frustrations when his team wins a game. For many people, that's something extremely difficult to understand, but once we realize Cristiano Ronaldo's mindset, it's actually easier to figure out what happened. When Rangnick decided to sub off Ronaldo last week in the 71st minute of the game against Brentford, the Red Devils were up by 2 goals and clearly controlling the game. The Portuguese forward, however, wasn't having a great game and had already missed a couple good chances to score and help his team securing the win earlier...
Ronaldo always looks to make the difference on the pitch and whenever he feels he hasn't been able to help his team the way he should, he ends up becoming more frustrated. With more than 20 minutes left to be played and the opposing side preparing to take more risks in defence, Ronaldo felt he would have better chances to score and show his work in the remaining minutes. When he saw his name on the substitution board, he knew he wasn't going to score that day despite the chances he already had and that he was still going to have, and that's something really affects him.
Man United ended up winning the game by 3-1, with goals from Elanga, Greenwood and Rashford. Ronaldo is yet to score for Manchester United in 2022, as his last goal was scored in December 30, 2021, in a home win againt Burnley.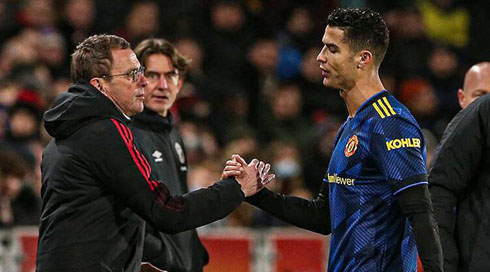 ---

Saha defends Ronaldo...
Louis Saha: "If there's a player who has earned the right to speak what he thinks and believes, that has to be Cristiano Ronaldo. His teammates should show more respect towards him. After all, he is one the best players to have ever graced a football pitch and everyone should value that more...», remarked the former French forward, who played for Manchester United between 2004 and 2008, but also represented the French National Team in 20 appearances throughout his football career...
The 43-year old, who shared the dressing room with a younger Ronaldo during his journey at Manchester United, then proceeded to clarify his previous comments: «If the players aren't respecting and listening to what Ronaldo tells them, that just can't be normal. They should really listen to him. They should pay attention to every word, every detail, because Ronaldo has had success during his entire football career. If his teammates aspire to be a winner and a champions like Ronaldo is, they need to dedicate as much as he does and they need to give their best to improve every single week. They need to be humble and work more...», pointed out Saha.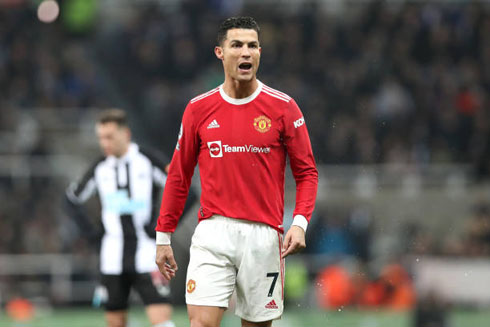 ---
Cristiano Ronaldo next game for Manchester United is on February 4, against Middlesbrough. You can watch Manchester United vs Middlesbrough, Athletic Bilbao vs Real Madrid, Chile vs Argentina, Ecuador vs Brazil, PSG vs Nice, and Bayern Munich vs RB Leipzig, all matches provided from our live soccer game pages.
Manchester United next game:
Manchester United vs Middlesbrough kick-off time (04-02-2022):
Beijing (China) | UTC/GMT+8: 03:00
Jakarta (Indonesia) | UTC/GMT+7: 02:00
India (New Delhi) | UTC/GMT+5.30: 00:30
Italy (Turin) | UTC/GMT+2: 21:00
Spain (Madrid) | UTC/GMT+2: 21:00
Portugal and England (Lisbon/London) | UTC/GMT+1: 20:00
Rio de Janeiro (Brazil) | UTC/GMT-3: 16:00
New York (United States) | UTC/GMT-4: 15:00
Los Angeles (United States) | UTC/GMT-7: 12:00
Sources: ronaldo7.net / espn.com / bbc.com / express.co.uk