28.11.2021 » Why did Ronaldo move to Man United and Messi to PSG?
No one was expecting both Ronaldo and Messi to change clubs in the exact same summer. The odds were small, but like in most events in football, reality surprises us when we least expect it! The Portuguese star ended up moving to Manchester United, while Messi joined PSG.
In 2021, fans from all around the world witnessed the transfer of two of the best football players ever, Cristiano Ronaldo and Lionel Messi. The two have decided to leave their current teams, despite being in the final years of their careers. This change is also likely to contribute to a major shift in the rankings between clubs. Keep watching and betting on them no matter what club they play for, as they always open up a wide range of wagering possibilities. You can access 12Bet to consult all information related to betting odds, analysis and prediction. Now let's take a look at these two transfers...
Cristiano Ronaldo vs Lionel Messi- Debut for United and PSG:
---

Ronaldo officially joined Man United, returning home after 12 years away
Ronaldo's future this summer has turned upside down in a way no one expected. The Portuguese superstar wanted to leave Juventus as soon as possible and the first club making a move for his signing was Man City. The two sides quickly reached an agreement on CR7's future at the Etihad Stadium.
However and while Jorge Mendes was already in Manchester, CR7's agent had a meeting with both Manchester United and Manchester City. In the last minute, Man City confirmed they had left the race for Ronaldo.
Immediately after those news were public, Manchester United rushed to prepare a contract to sign the 36-year-old superstar. Thus, Manchester United agreed to pay Juventus a £20 million transfer fee to bring Ronaldo back to Old Trafford.
Ronaldo signed a two-year contract with an option to extend for a further year. In his return to Man United, Ronaldo will receive a £270,000/ week salary.
In the past, Ronaldo played a total of 6 years for Manchester United and as we remember, he won multitple titles with the Red Devils. Therefore, it's natural to see many Man United fans thrilled with CR7's return after so many years away from home...
Before the signing announcement was made public, the club's manager at the time, Ole Gunnar Solskjaer, also made some vague statements:
«Ronaldo? We've always had a good relationship. Bruno Fernandes has also spoken to him, and Ronaldo knows how we feel about him. So if Ronaldo wants to leave Juventus, remember that we are always here!", Solskjaer said.
"Ronaldo is a legend for this club, the greatest player of all time if you ask me. I feel fortunate to have played with him. I also had time to coach Ronaldo while working. Coach! Let's wait and see what will happen."
Looking back at how everything unfolded, it can be said that the Citizens lacked decisiveness and a sense of urgency in this deal. Meanwhile, Manchester United actively promoted three relationships: Bruno Fernandes, Solsksjaer, and Sir Alex Ferguson in order to bring Ronaldo to Old Trafford. At the end of the day, more than money itself, those contacts probably made all the difference.
In a 2013 interview, Ronaldo confirmed Sir Alex Ferguson was his father in football. This detail is also enough to prove Manchester United's overwhelming advantage in terms of relations on the negotiating table of the Ronaldo deal...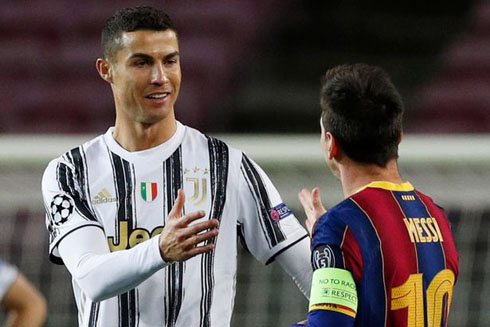 ---

Lionel Messi moves to PSG
Earlier this summer, Messi also completed his move to Paris-Saint Germain, after agreeing on weekly wage of 1 million pounds, in a contract valid for the next two years...
In an interview to PSG's official website, Messi said: "I am very excited to start a new chapter in my career at Paris Saint-Germain. Everything at the club suits my desire to play football. I know how talented both the coaching staff and the players are. What I want is to be able to contribute to making something special for the club and for the fans."
In response, PSG's chairman Nasser Al-Khelaifi said: "I am delighted that Lionel Messi has chosen to join Paris Saint-Germain and we are proud to welcome him and his family to Paris."
He did not hesitate to share his desire to conquer higher milestones and prestigious trophies, which is also the must-have ambition of a club like PSG.
"Leo's contribution to PSG's world-class squad continues to be a huge success for us both strategically and in the player transfer market. With the guidance of a talented coach and a team of associates, I hope the team will together make a historic achievement for fans around the world."
The fact that Messi decided to leave Spain and sign a contract with PSG must have surprised many people. Not only the transfer itself shocked the world, but also the fact that the new contract was signed only 24 hours after Messi left his old club, Barcelona.
During his career, Messi scored 672 goals in 778 appearances for Barcelona. Including 120 goals in the Champions League and a record 474 goals in La Liga. He also helped Barcelona winning 10 La Liga titles, 4 Champions League titles, and 7 Copa del Rey.
Before that, in the evening of August 10, the 34-year-old player left Barcelona with his family (his wife, Antonella Roccuzzo and his three sons). The Argentine star also did not hide his next destination when wearing a shirt with the words "Ici c'est Paris" ready.
Lionel Messi officially joined PSG on a free transfer; Messi is also said to have impressive bonuses included in his contract. First, his salary is determined to be around £53 million per year (equivalent to £1 million per week). Of course, this is the salary in France, which has a personal income tax rate of 45%.
On August 8, Barcelona had a press conference about their star's departure. The club side briefly announced that they had done their best to keep Messi, but financial problems prevented them from renewing the contract. As a result, Messi was forced to leave the club he had been attached to for 21 years.
Meanwhile, the Spanish press confirmed, Barcelona couldn't keep Messi even in the event that the Argentine player had decided not to charge any salary at all. Even without paying Messi's salary, the club's salary fund exceeded La Liga's regulations. Therefore, they made no effort to convince Messi.
---

Conclusion
Was the departure of Ronaldo and Messi good for football? We will get the answer soon...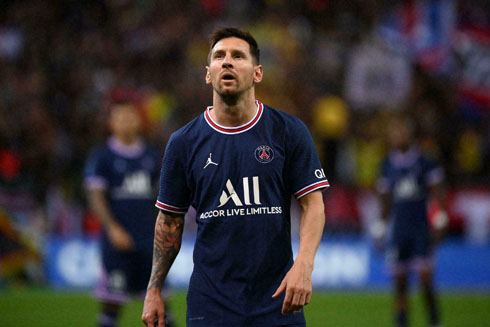 ---
Cristiano Ronaldo next game for Manchester United is on November 28, against Chelsea. You can watch Chelsea vs Man United, Juventus vs Atalanta, Villarreal vs Barcelona, Liverpool vs Southampton, Arsenal vs Newcastle, and Bayern Munich vs Arminia, all matches provided from our football streaming game pages.
Manchester United next game:
Chelsea vs Manchester United kick-off time (28-11-2021):
Beijing (China) | UTC/GMT+8: 00:30
Jakarta (Indonesia) | UTC/GMT+7: 23:30
India (New Delhi) | UTC/GMT+5.30: 22:00
Italy (Turin) | UTC/GMT+1: 17:30
Spain (Madrid) | UTC/GMT+1: 17:30
Portugal and England (Lisbon/London) | UTC/GMT+0: 16:30
Rio de Janeiro (Brazil) | UTC/GMT-3: 13:30
New York (United States) | UTC/GMT-4: 12:30
Los Angeles (United States) | UTC/GMT-7: 09:30
Sources: ronaldo7.net / espn.com / eurosport.com / statista.com