18.11.2021 » Ronaldo's performance against Atalanta won't be forgotten soon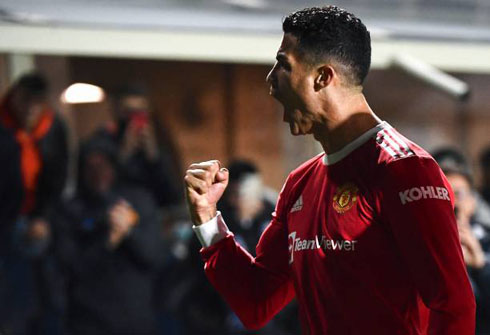 It wasn't the first time and it surely won't be the last time either... Cristiano Ronaldo rescued his team with a late goal in Atalanta and Manchester United's hopes of going through to the Round-of-16 are still alive!
Cristiano Ronaldo managed to keep Manchester United's hopes alive in the Champions League, as he scored two goals in a very difficult trip to Atalanta, rescuing a point that could turn out to be vital to decide who goes through to the next stage of the competition. Ronaldo's first goal was scored still before the half-time break and it allowed United to regroup and approach the second half with legitimate hopes of bringing a positive result back to Manchester. However, Atalanta were determined in beating the Red Devils and if it wasn't for Ronaldo's late goal in the second half, things could have gotten out of hand in respect to qualifying for the knock-out rounds...
Cristiano Ronaldo - Ronaldo rescues crucial point for United against Atalanta:
---

Ronaldo left his mark in Italy... again!
Ronaldo's late equalizer against Atalanta made the headlines in pretty much every corner in the world and for those who doubted him, he once again answered his critics on the pitch, in the best way he does: scoring goals. For those who are fans of Ronaldo and who decided placing a bet on him before the game, they certainly won't regret that call. In fact, anyone who loves football can live a true sports betting experience like this betting site offers and basically bet on his favorite player. As for Ronaldo, even at the age of 36, he doesn't cease to surprise us and scoring goals is almost like a second nature for him...
Looking back at Ronaldo's performance on that night of November 2, it's hard to find a single Manchester United fan who didn't get thrilled for having Ronaldo back in their team. When you have a player of Ronaldo's caliber in your team, that basically means you have more chances of winning. With the Portuguese star on the pitch, you're almost guaranteed you'll score at least once in regular time. In Atalanta, however, CR7 wasn't satisfied with a single goal and he made sure he would score a second to save United from what would have been a loss very difficult to digest in the weeks ahead...
With his two goals in the Champions League matchweek 4, Ronaldo has already scored 5 goals for Manchester United in Europe this season, which puts him behind Bayern Munich's striker, Robert Lewandowski, who already scored a total of 8 goals for the German champions. With two matches left before the group stage comes to an end, can Ronaldo extend his goalscoring record and put some pressure on Lewandowski's lead?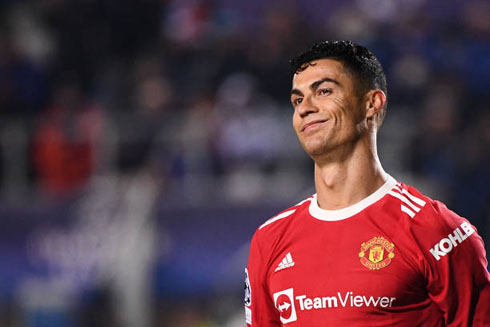 ---

Every point matters!
Manchester United were drawn in a very tough and competitive Champions League group. That was stated by almost every football expert in the market and judging by what we've seen in the first 4 matchweeks played so far, they seem to have gotten it right. Thanks to Ronaldo late equalizer in Atalanta, United managed to rescue one point from that game and avoided that their Italian rivals grabbed a crucial win. Instead of seeing Atalanta clinching the top spot of the group, United kept Atalanta in the third place and are now tied with Villarreal on the top, as both clubs have 7 points each.
The Champions League is basically Ronaldo's territory. The atmosphere around the games is electrifying and Ronaldo seems to feed from it like no one else is capable of in this sport. After the game was over, the Portuguese star spoke a few words to describe what he was feeling at the time. «It was a difficult game, but the team believed in themselves until the end. I am so happy that I helped my team to clinch one point. We will never give up, and we believe until the end that we can get the best result for our team.»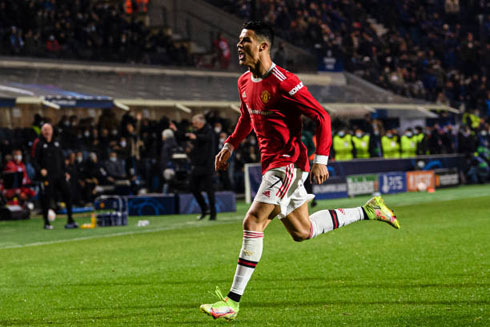 ---
Cristiano Ronaldo next game for Manchester United is on November 20, against Watford. You can watch Watford vs Man United, PSG vs Nantes, Barcelona vs Espanyol, Leicester City vs Chelsea, Liverpool vs Arsenal, and Augsburg vs Bayern Munich, all matches provided from our football streaming game pages.
Manchester United next game:
Watford vs Manchester United kick-off time (20-11-2021):
Beijing (China) | UTC/GMT+8: 22:00
Jakarta (Indonesia) | UTC/GMT+7: 21:00
India (New Delhi) | UTC/GMT+5.30: 19:30
Italy (Turin) | UTC/GMT+1: 16:00
Spain (Madrid) | UTC/GMT+1: 16:00
Portugal and England (Lisbon/London) | UTC/GMT+0: 15:00
Rio de Janeiro (Brazil) | UTC/GMT-3: 12:00
New York (United States) | UTC/GMT-4: 11:00
Los Angeles (United States) | UTC/GMT-7: 08:00
Sources: ronaldo7.net / manutd.com / sports.yahoo.com / uefa.com