11.11.2021 » Ronaldo creeping up on Solskjaer's Manchester United scoring record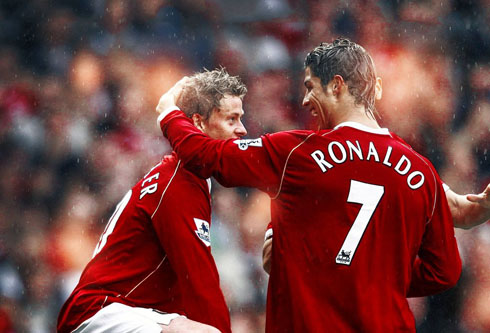 Cristiano Ronaldo will soon surpass Solskjaer's goalscoring record for United, despite the poor league campaign the club has been delivering so far... The Red Devils are 6th in the table, while Cristiano Ronaldo already scored 4 goals in 8 appearances...
As ever, the most recent gameweek in the Premier League was an incredibly eventful one, with a number of great goals, controversial decisions, and results that surprised us. One such game was between West Ham United and Liverpool. Jurgen Klopp's men went into the game as favourites, as they were unbeaten for their previous 25 games. However, David Moyes had come up with a gameplan, which his West Ham team carried out perfectly. Yes, the Liverpool goalkeeper helped them out with a poor performance, but West Ham thoroughly deserved their win and delivered the Reds their first loss of the season in the Premier League.
Cristiano Ronaldo - Saving United:
---

The unpredictability of the Premier League
Another interesting result was at Stamford Bridge, between the league leaders Chelsea and the struggling Burnley. Everything looked to be going as it should be for the side from West London, after Kai Havertz put them ahead in the 33rd minute. However, despite having 25 shots, they did not add to their tally. Burnley, by comparison, only managed 5 shots, but managed to sneak an equaliser through Matej Vydra with 11 minutes left to play. Despite late Chelsea pressure, the game ended 1-1, and Thomas Tuchel will see this as 2 points dropped.
The biggest game of the weekend was also the first one, which saw the two sides from Manchester face off. In the blue corner, Manchester City had been in great form, despite losing their most recent game against Crystal Palace. In the red corner, Manchester United hadn't been doing so well, having only won 2 of their last 6 league games. For people looking at the odds on this game, they would have clearly seen City as the big favourites to win the derby. And that is how it played out, with City dominant from the off, and really should have scored more than the 2 goals they managed. Make sure to take advantage of fanduel sportsbook bonus if you're looking to get in on the action in the future.
It was interesting during the game to watch Cristiano Ronaldo, the big summer signing for United. He seemed starved of service, and when this happens he really doesn't appear to do very much. He can't press defenders, and doesn't really track back to defend. However, he is always a goal threat, so manager Ole Gunnar Solskjaer will usually leave him on the pitch, to see if he can produce any moments of magic.
In his second spell at the club, Ronaldo now has 4 goals in the league, which when combined with his first 6 seasons at the club, puts him on 88 in total. Interestingly enough, that only puts him only 3 league goals behind his manager, who managed 91 in his 11 years at the club. Let's take a look at both Ronaldo's and Solskjaer's United careers and more importantly their goal scoring escapades.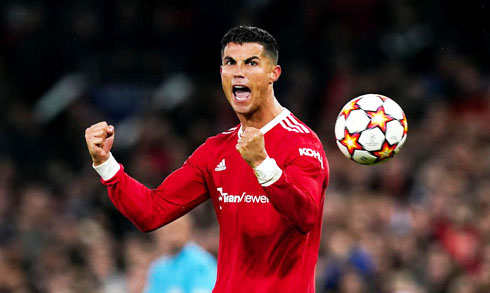 ---

Solskjaer the super sub
Ole Gunnar Solskjaer's blessing and a curse was that he was such an effective player coming off the bench in the last few minutes of games, when the opposition defenders were already tired, and finding small gaps of space to poke him important goals. This was most evident in one of the greatest games of all time, the 1999 Champions League final. United were 1-0 with only extra time left, but Sir Alex Ferguson, the then United manager, brought on Solskjaer and Teddy Sheringham, in an attempt to find a goal from somewhere. The plan worked perfectly, as in the 91st minute Sheringham scored, and just two minutes later Solskjaer grabbed the winner, giving United their first Champions League under Ferguson.
Throughout his time at United, Solskjaer was often third or fourth choice due to the other strikers at the club; Andy Cole, Dwight Yorke, Ruud Van Nistelrooy, etc were all considered as starters, whilst Solskjaer had to be content with late cameos off the bench. If he'd played more often, we imagine he'd have scored far more than 91 league goals.
---

Ronaldo picking up where he left off
It was during his first spell at the club where Ronaldo became the consistent goal scoring machine that we've seen play for the last 15 years. His first few seasons saw him finding his feet, but in 2006/07 he managed 17 goals, then a hugely impressive 31 in the 2007/08 campaign, and still managed 18 the following year.
He then chose to leave United for Real Madrid in the summer of 2009, but had he stayed he would have surely have become United's record goalscorer. Even since his return, at the "old age" of 36, he has a unique ability to be in the right place at the right time, scoring goals that look very simple, but in reality are incredibly hard to pull off.
He will beat Solskjaer's record in a matter of weeks, no doubt about it. Will his goals be enough to keep his old friend in the manager's job, however? That remains to be seen...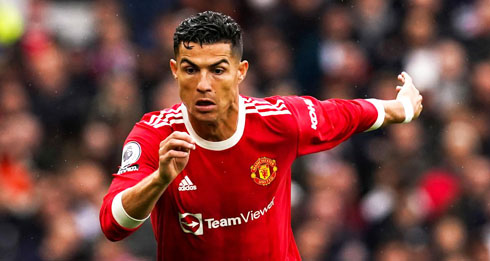 ---
Cristiano Ronaldo next game for Portugal is on November 11, against Ireland. You can watch Ireland vs Portugal, Italy vs Switzerland, Greece vs Spain, England vs Albania, Brazil vs Colombia, and Germany vs Liechtenstein, all matches provided from our streaming football game pages.
Portugal next game:
Ireland vs Portugal kick-off time (11-11-2021):
Beijing (China) | UTC/GMT+8: 03:45
Jakarta (Indonesia) | UTC/GMT+7: 02:45
India (New Delhi) | UTC/GMT+5.30: 01:15
Italy (Turin) | UTC/GMT+1: 20:45
Spain (Madrid) | UTC/GMT+1: 20:45
Portugal and England (Lisbon/London) | UTC/GMT+0: 19:45
Rio de Janeiro (Brazil) | UTC/GMT-3: 16:45
New York (United States) | UTC/GMT-4: 15:45
Los Angeles (United States) | UTC/GMT-7: 12:45
Sources: ronaldo7.net / theguardian.com / skysports.com / espn.co.uk