30.10.2021 » Is Cristiano Ronaldo to blame for Man United's struggles this season?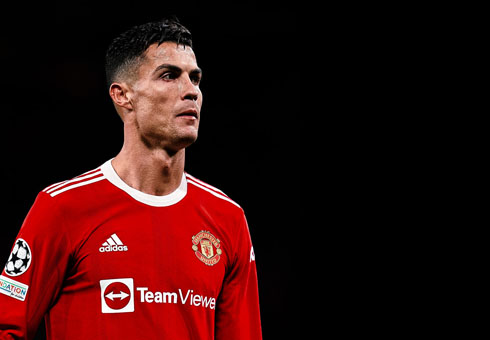 Whenever things don't go the way we expect, it's our natural instinct to find someone or something to put the blame on. It's no different with Manchester United's and as soon as the bad results started piling up, fans and critics rushed to condemn and point their fingers at everyone in the club...
Few things get fans of a sports team excited like a huge transfer. Having a world-class player join the ranks shows a position of power, that your team has the big reputation to be able to sign elite talent, and should be seen as a signal of intent for what they want to achieve in the upcoming season. We can see plenty of examples this summer transfer window from one Premier League club, Manchester United. They started the window off by signing Jadon Sancho from the German team Borussia Dortmund. Sancho had been a transfer target of United's for a few seasons, so fans were incredibly excited to see him finally sign on the dotted line, to join the Red Devils for a reported £73 million...
Cristiano Ronaldo - Legends never die:
---

Big signings lifted the fans' hopes
The deals didn't stop there, as not long after the former Real Madrid defender Raphael Varane also joined Ole Gunnar Solskjaer's side, for £34 million. Varane is a serial winner, having the Spanish La Liga, the Champions League, and the FIFA World Cup to his name. He would improve any defence, and seemed to fit in seamlessly to United's backline, before suffering an injury.
In any normal summer, it would be these two signings that would be the big story. However, one player's transfer trumped them all; Cristiano Ronaldo rejoining Manchester United from Juventus.
Ronaldo is rightly considered to be one of the greatest players in history, scoring goals at an obscene rate throughout his career. He made his name at Manchester United as an 18-year-old, before leaving them 6 years later to join Real Madrid, where he won the Champions League 4 times. Following many trophy-laden years, he then moved to Italy, joining Juventus. He also won the league with the Italian side twice, before returning "home" to United.
So, this move seemed like a match made in heaven, right? That's certainly what many experts would have you believe, one of the top sportsbooks Bookmaker is offering odds on Ronaldo being top scorer and United finally winning the league after 9 seasons without a title. However, it hasn't quite worked out like that, as the Red Devils have been struggling of late. How much of this is down to Ronaldo, or are there problems in other areas of the field, or maybe even off of it? Let's look at this a little closer.
---

Is CR7 at fault here?
On paper, it looks like Ronaldo is performing very well for his new side. In 5 Premier League games, he has scored 3 times, adding a further 3 goals in his 3 Champions League appearances. That's a total of 6 goals in 8 games, which ordinarily looks like a great tally for any player.
While yes, he is doing what he's paid to do, if you watch his overall play at United, he isn't offering much more than scoring goals. In the modern era, pressing opponents high up the pitch, forcing them into making errors or passing the ball to the opposition is one of the main ways to play. However, due to Ronaldo's advancing years, his movement is now limited. He doesn't have the energy that he did when he was younger, so he has to preserve his body for getting in the right positions near the goals. It means then that opposition players can essentially bypass him, giving the midfield of Manchester United more work to do.
Ronaldo will demand to play in as many games as possible, because of his personality and desire to win. This temperament can be very helpful, but it also can be counterproductive. United have many skilled attackers in their squad, such as Marcus Rashford, Mason Greenwood, Anthony Martial and Edison Cavani. As Ronaldo will always start when fit, it means at least two of these players will always have to miss out, limiting their opportunities. Therefore, his presence could actually end up doing more harm than good.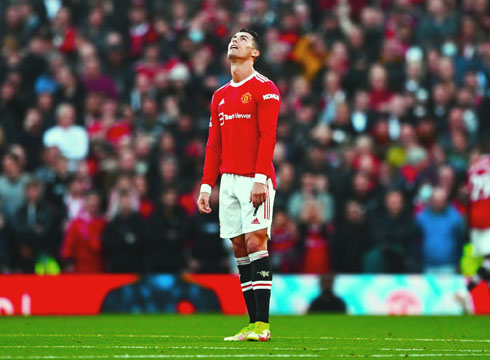 ---

Is it the team's fault?
If Ronaldo is there to score goals, and he's holding up his end of the bargain, then maybe it is the rest of the players' fault for their struggles. Bruno Fernandes has not been quite at his usual standard this season. Paul Pogba started strongly but has struggled in recent weeks. Harry Maguire has had strong games but looked woefully out of form against Leicester last week.
Too often, United go behind and have to force their way back into games. Often, this gives them too much work to do, and Ronaldo simply can't do it all on his own.
---

Or is the manager culpable?
It is fair to say that Solskjaer is not a top-level coach. Too often, he seems to come across as tactically naive, not knowing the best method to get results out of his players. Given how much money he has spent on new players in his 3 years in charge, he really should be doing so much better with the talent at his disposal. If the poor form carries on, we expect him to be relieved of his duties.
So while Ronaldo is certainly at fault for some of United's struggles, he certainly isn't the only issue at Old Trafford. Something will need to change, and soon if they are going to challenge for silverware this season.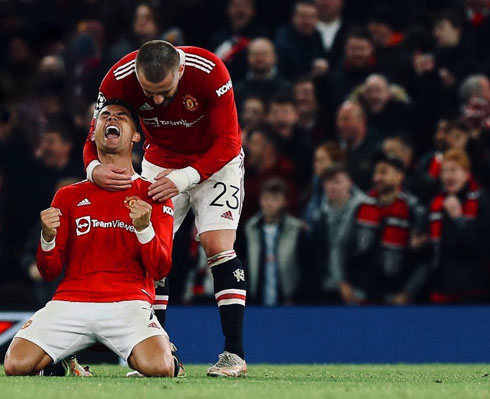 ---
Cristiano Ronaldo next game for Manchester United is on October 30, against Tottenham. You can watch Tottenham vs Manchester United, Elche vs Real Madrid, Rayo Vallecano vs Barça, Man City vs Crystal Palace, Leicester City vs Arsenal, and Newcastle vs Chelsea, all matches provided from our live soccer game pages.
Manchester United next game:
Tottenham vs Manchester United kick-off time (30-10-2021):
Beijing (China) | UTC/GMT+8: 00:30
Jakarta (Indonesia) | UTC/GMT+7: 23:30
India (New Delhi) | UTC/GMT+5.30: 22:00
Italy (Turin) | UTC/GMT+2: 18:30
Spain (Madrid) | UTC/GMT+2: 18:30
Portugal and England (Lisbon/London) | UTC/GMT+1: 17:30
Rio de Janeiro (Brazil) | UTC/GMT-3: 14:30
New York (United States) | UTC/GMT-4: 13:30
Los Angeles (United States) | UTC/GMT-7: 10:30
Sources: ronaldo7.net / nytimes.com / skysports.com / bbc.co.uk