29.10.2021 » Who should be Man United's next manager?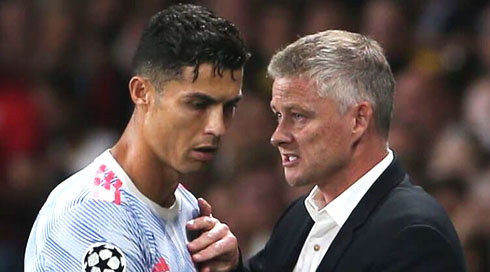 Few people believe Ole Gunnar Solskjaer will be able to keep his job in the upcoming weeks, given the recent results and the upcoming fixtures. With the sacking on the horizon, who should be Manchester United's next manager for the remaining of the season?
The 2021-22 season started in a promising way for the Red Devils, winning 4 of their first 5 Premier League games and signing Cristiano Ronaldo in the very last days of the transfer window. It was almost a dream start and everyone thought things could only improve from that point onwards. However, the United hype train started derailing in the last weeks and it has come to a point where almost everyone sees Solskjaer's dismissal as something inevitable. In their last 4 games in the league, Man United couldn't win a single game and actually lost 3 of them (Aston Villa; Leicester City and Liverpool). Not only that and if you've been paying attention to soccer news, you must have seen the headlines for their last loss, a humiliating 5-0 defeat against rivals Liverpool, at Old Trafford...
Cristiano Ronaldo - Man United's next manager discussion:
---

Solskjaer has no margin for error anymore...
It would take a miracle to save Solskjaer from getting fired in the next few days, as United prepares to face Tottenham (away fixture), Atalanta (away fixture) and Manchester City (home fixture), after having collected 4 losses in their 7 games in all competitions. Judging by the level of play the Red Devils have been presenting lately, it's hard to believe, even for the most optimistic bookmakers and experts from the Nordic Ninja, that United will actually pull something positive out of this sequence of games.
Some analysts even believe that Solskjaer's fate is already sealed and that it is not in his hands anymore. The only reason for him to stay in the job for a couple more weeks is to merely allow the next manager to start his journey with an easier schedule.
Man United are currently sitting 7th in the Premier League table and another loss this weekend against Tottenham would most likely throw the Red Devils to either 9th or 10th. If it turns out that they also lose their match against Atalanta in mid-week, they could drop from the top of their group straight into the 3rd place...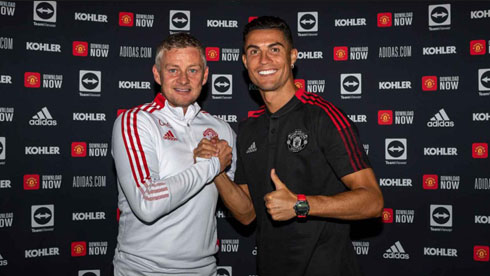 ---

The options on the table!
With Solskjaer's future almost sealed, there are already a few candidates lining up for his job. According to multiple betting experts, the odds favorite to become the next Manchester United manager is Antonio Conte. The Italian manager is currently unemployed and already has experience in the Premier League. He was Chelsea's head coach between 2016 and 2018, a period in which he won the Premier League and the FA Cup. Last season, Antonio Conte won the Serie A title with Inter Milan, but ended up leaving the club following disagreements with the board over upcoming transfers...
One of the most talked names in this discussion has been Zinedine Zidane. The French manager is also unemployed right now and is highly admired and respected by not only his peers, but also by every football player. He was one of the all-time greatest during his professional football career and as a manager, he already won 3 UEFA Champions League titles. Nevertheless, Zidane never coached a different club other than Real Madrid and there is some natural skepticism about his adaptation to the Premier League.
There are also rumors about a potential move for Ajax's head coach, Erik ten Hag. The Dutch manager has been at the helm of Ajax for the past 4 years and won the domestic league in 2018-19 and 2020-21. However, it was in Europe where he has proven his value, especially in a 4-1 win against Real Madrid in 2019. He's known for his attacking tactical systems and for being a fan of positive football.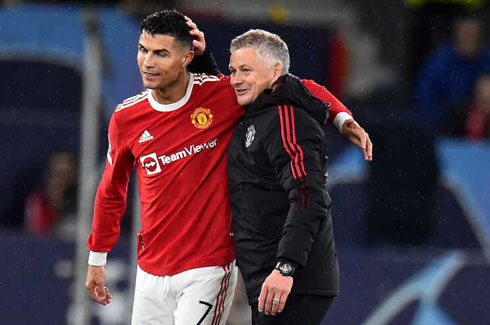 ---
Cristiano Ronaldo next game for Manchester United is on October 30, against Tottenham. You can watch Tottenham vs Manchester United, Elche vs Real Madrid, Rayo Vallecano vs Barcelona, Manchester City vs Crystal Palace, Leicester City vs Arsenal, and PSG vs Lille, all matches provided from our football live game pages.
Manchester United next game:
Tottenham vs Manchester United kick-off time (30-10-2021):
Beijing (China) | UTC/GMT+8: 00:30
Jakarta (Indonesia) | UTC/GMT+7: 23:30
India (New Delhi) | UTC/GMT+5.30: 22:00
Italy (Turin) | UTC/GMT+2: 18:30
Spain (Madrid) | UTC/GMT+2: 18:30
Portugal and England (Lisbon/London) | UTC/GMT+1: 17:30
Rio de Janeiro (Brazil) | UTC/GMT-3: 14:30
New York (United States) | UTC/GMT-4: 13:30
Los Angeles (United States) | UTC/GMT-7: 10:30
Sources: ronaldo7.net / manutd.com / bbc.co.uk / eurosport.com