21.09.2021 » Ronaldo is on pace to beat his best season ever for United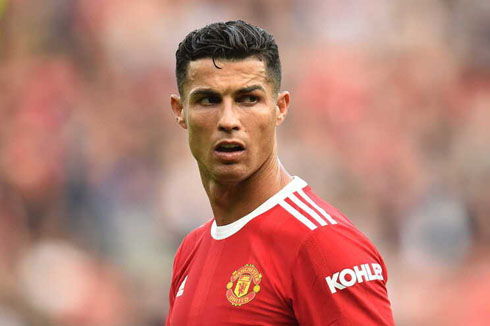 It's been a fantastic start for Ronaldo in his second spell for Manchester United, as the Portuguese superstar has been scoring in every single match so far, collecting 3 wins and 1 loss so far. Can he keep up the pace?
When Ronaldo's signing was announced by Manchester United, few people actually believed the Portuguese superstar would score in his first 3 starts for the club and even score a brace in his debut. It's been roughly over 3 weeks since the former Real Madrid and Juventus forward decided to rejoin the Red Devils and his impact at the club didn't take long to be felt. After scoring a brace against Newcastle just a few days after his quarantine period was over in England, Ronaldo went on to score again in his Champions League debut against Young Boys. As if that wasn't impressive enough, he also scored the equalizer that sparked the comeback against West Ham, this last Sunday. For those who always believed on Ronaldo doing well in his return to England and actually found the best bitcoin casinos on playcrypto.io, this was a golden opportunity to make money! We've already seen Ronaldo scoring 4 goals in his first 3 games this season and judging by how well he has adapted to the team in so litte time, we can surely expect bigger things to come!
Cristiano Ronaldo - All his 42 goals in 2007-08:
---

2007-08: A season to remember...
Cristiano Ronaldo's best season for United took place nearly 15 years ago, by the time Sir Alex Ferguson was still in charge of the Red Devils. When looking back at the squad from that season, we easily acknowledge how talented and strong it was, especially in the attacking front. A deadly trio formed by Cristiano Ronaldo, Wayne Rooney and Carlos Tévez led the club to a glorious run in both the Premier League and the UEFA Champions League, wrapping up the two titles and making a strong statement to all other clubs across Europe, especially after having beaten Pep Guardiola's Barcelona in the semi-finals, a team still ranked by many as one of the best in the century...
In that season, Ronaldo was Manchester United's main threat in pretty much every stadium they walked into. The Portuguese superstar, who would turn 22 during the course of that magical season, was determined to cause havoc in the Premier League and ended up scoring 31 goals in 34 appearances, the second best record ever, just behind Mohamed Salah's 32 goals for Liverpool, in 2017-2018. Manchester United would secure the title that year, in a tight race where they have manage to finish ahead of both Chelsea (-2 points) and Arsenal (-4 points).
In the Champions League, Ronaldo also played a decisive role in Man United's campaign. The Red Devils finished on top of their group after collecting 5 wins in 6 games, with Ronaldo scoring a total of 5 goals. In the decisive stages of the competition, the Portuguese talent added another 3 goals to his record, including a memorable header in the final against Chelsea. Ronaldo finished the season as the Champions League's top scorer and would also win his first Ballon d'Or later that year.
If we take into account his goals in FA Cup rounds that season, Ronaldo ended up scoring a total of 42 goals in 49 appearances for Manchester United. This is a personal record the Portuguese star certainly looks forward to improve in his return to Old Trafford.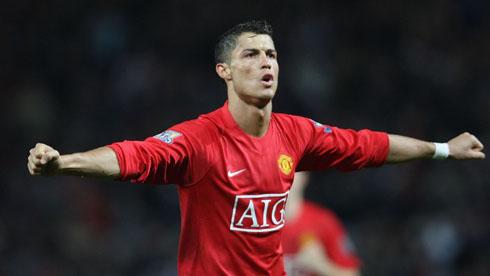 ---

Ronaldo, the finisher!
Scoring 42 goals in a single season might seem too much for most players, even if we're strictly talking about world class forwards. In Ronaldo's case however, it's a mark he has accomplished in 9 different seasons throughout his career. It's true he may have fell short in Juventus in the 3 seasons he played for the Bianconeri (28 goals in 2018-19; 37 goals in 2019-20; 36 goals in 2020-21) and that he's not getting any younger, but if there's anyone who can defy the odds and even the laws of nature, that someone has to be Cristiano Ronaldo.
The Portuguese legend has gone through a significant metamorphosis over the years and the player we're now seeing at Old Trafford is more of a pure centre forward and not a classic winger anymore. Ronaldo no longer runs down the wing to simply showboat or look for space to cross into the box. Nowadays, his actions are mostly oriented to get himself into position to score and if there's anything he has worked a lot to perfect, that's his finishing capabilities.
With 4 goals scored in his first 3 appearances, Ronaldo started his second journey in United on the right foot. If he manages to keep up at this pace in the remaining of the season, not only he'll beat his own personal record of 42 goals in a single season, but he'll also help United in their quest for trophies.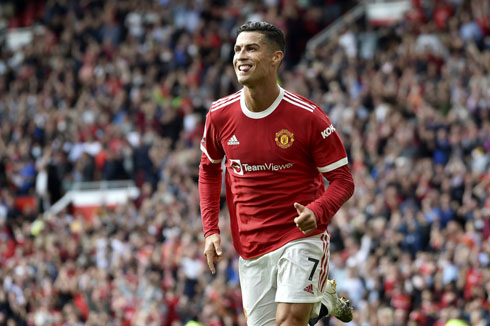 ---
Cristiano Ronaldo next game for Manchester United is on September 22, against West Ham United. You can watch Manchester United vs West Ham, Real Madrid vs Mallorca, Barcelona vs Granada, Manchester City vs Wycombe, Norwich City vs Liverpool, and Fiorentina vs Inter Milan, all matches provided from our football soccer streaming game pages.
Man United next game:
Manchester United vs West Ham kick-off time (22-09-2021):
Beijing (China) | UTC/GMT+8: 02:45
Jakarta (Indonesia) | UTC/GMT+7: 01:45
India (New Delhi) | UTC/GMT+5.30: 00:15
Italy (Turin) | UTC/GMT+2: 20:45
Spain (Madrid) | UTC/GMT+2: 20:45
Portugal and England (Lisbon/London) | UTC/GMT+1: 19:45
Rio de Janeiro (Brazil) | UTC/GMT-3: 15:45
New York (United States) | UTC/GMT-4: 14:45
Los Angeles (United States) | UTC/GMT-7: 11:45
Sources: ronaldo7.net / skysports.com