20.09.2021 » Cristiano Ronaldo's new role at Manchester United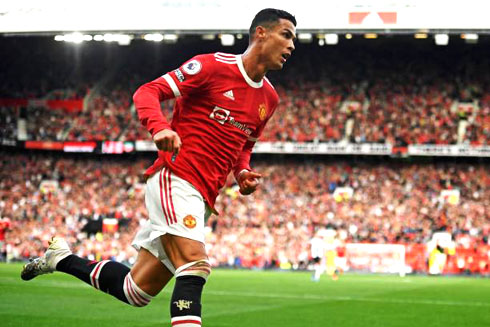 From his first years in Sporting and Manchester playing as a classic winger, to become a world class centre forward in the last stages of his professional career. That's the main difference between the young and the old Ronaldo we're seeing in Old Trafford nowadays...
It doesn't matter if you are a Manchester United supporter or not, you have to admit that watching Ole Gunnar Solskjær's squad is something special. They are sharing first place with mighty Chelsea and Liverpool and they are yet to taste defeat this season in the Premier League. However, the most impressive thing about Manchester United is how Cristiano Ronaldo and other players have adapted to each other. Solskjær has found a new role for the Portuguese and the player is proving to be a Mega Fortune for Manchester United this season. The forward played only 3 games this season, but already managed to score 4 times, as he added his name to scoresheet in every single game he has starred in. How is he still this good, at 36 years of age? It's his new position at the club. Let's explain!
Cristiano Ronaldo - All his 135 goals in the Champions League:
---

Cristiano Ronaldo, the Poacher
In his first spell at the club, Cristiano Ronaldo went from being a skillful boy who knew how to dribble and entertain the crowd, to one of the best wingers in the world of football. He then evolved to become a truly amazing winger and a prolific scorer at Real Madrid and Juventus, but now, at 36 years of age, he has returned to Old Trafford and we've definitely got a different player in our hands. So, what has really changed in Ronaldo besides him being older?
Well, let's start with the obvious: Ronaldo is now an older player and, naturally, he's slowed down. But, Ronaldo wouldn't be Ronaldo if he didn't do something about it. In order to stay on top of his game, the Portuguese superstar had to evolve and work on other aspects of his game. That's something he has been doing since the very beginning of his career and unlike many other top football players, his motivation to keep improving doesn't seem to have been affected as he got older. To be more specific, over the last years he worked a lot on his finishing...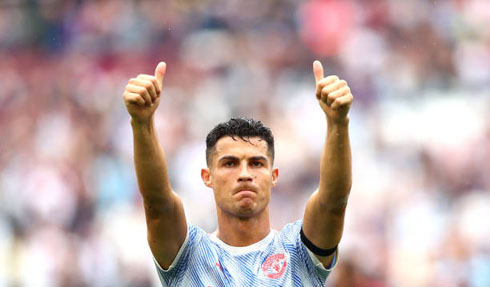 ---

The evolution of a winger...
Cristiano Ronaldo put all his efforts into mastering the art of positioning and finishing and, surprise, surprise, he became an excellent centre forward. He bagged 29 goals last season for Juventus in the Serie A and this is definitely one of the main reasons why Solskjær simply had to bring him home to Old Trafford. Ronaldo will score dozens of goals for United this season, regardless of how well the team performs on the pitch.
In his first three matches in red, Ronaldo scored 4 goals and proved that the Manchester United's board did a good job by trusting in him. Cristiano's teammates have enough creative power to provide him with plenty of chances and he will, without question, bag plenty of goals this season. How many? Well, there's no way of knowing, but it's safe to say that 20 goals is a task this footballing genius will be able to complete without much difficulty. But will it be enough for wrapping up the Premier League title? Chelsea and Liverpool will have a say in that. One thing's for sure though, we're up for an exciting season...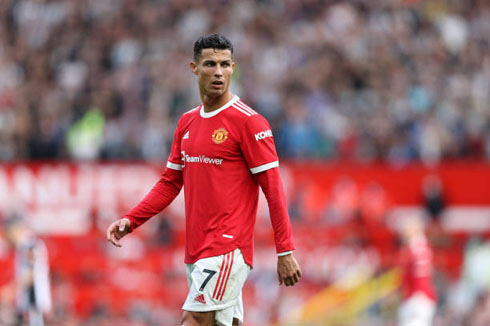 ---
Cristiano Ronaldo next game for Manchester United is on September 22, against West Ham United. You can watch Manchester United vs West Ham, Real Madrid vs Mallorca, Barcelona vs Granada, Manchester City vs Wycombe, Norwich City vs Liverpool, and Fiorentina vs Inter Milan, all matches provided from our football soccer streaming game pages.
Man United next game:
Manchester United vs West Ham kick-off time (22-09-2021):
Beijing (China) | UTC/GMT+8: 02:45
Jakarta (Indonesia) | UTC/GMT+7: 01:45
India (New Delhi) | UTC/GMT+5.30: 00:15
Italy (Turin) | UTC/GMT+2: 20:45
Spain (Madrid) | UTC/GMT+2: 20:45
Portugal and England (Lisbon/London) | UTC/GMT+1: 19:45
Rio de Janeiro (Brazil) | UTC/GMT-3: 15:45
New York (United States) | UTC/GMT-4: 14:45
Los Angeles (United States) | UTC/GMT-7: 11:45
Sources: ronaldo7.net / manutd.com / goal.com / cnn.com