04.09.2021 » A first look at Cristiano Ronaldo's new home in Manchester!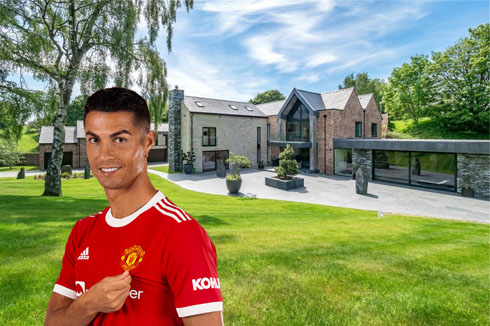 With the surprising transfer move from Juventus to Man United more than confirmed, Cristiano Ronaldo has already chosen his new home for the next 2 to 3 years, as he picked a big mansion in Manchester to live with his girlfriend and sons.

For players like Ronaldo, money is usually not an issue when it comes to select which house you are going to live in when you move to a different country. And with the money factor out of the equation, basically you just worry about location, safety, surroundings, facilities and other life quality aspects a new home can bring you. It's pretty much the same if you are a wealthy German businessman, or just someone who got rich by investing in paynplay betting sites. Nevertheless, this is not the first time Cristiano Ronaldo will live in England and in Manchester in particular, so his choice has certainly taken into consideration more than it meets the eye. Ronaldo's new multi-million pound mansion will offer the player everything he needs to relax and enjoy his time in this second spell in England, especially now that he is a big family to take care of and to look after...
Cristiano Ronaldo - New home in Manchester:
---

Ronaldo will serve a
5-day quarantine
After being released from the Portuguese National Team earlier this week, Cristiano Ronaldo has lost no time with trivialities and has immediately travelled to England, where he's being forced to face a 5-day quarantine, due to local laws regarding any visitors that have been in Portugal and are now trying to enter the country. The Portuguese superstar has landed in Manchester last Thursday night (Sep 2), which means that he will only be able leave the obligatory quarantine next Wednesday (Sep 7).
Ronaldo is expected to visit Manchester United's Carrington training ground somewhere around the 8th of September, just 3 days before the club hosts Newcastle at Old Trafford, for another Premier League fixture. Will it be enough for Solskjaer to put him on the squad and already give him some playing time in front of the home fans? Only time will tell, but everything seems to suggest that's very possible...
One thing we also know is that Ronaldo isn't exactly alone during his mandatory quarantine in Manchester. His girlfriend, Georgina Rodriguez and his sons have already moved in as well, as everyone tries to make the necessary adjustments in order to help Ronaldo feeling more comfortable and prepared for his Manchester United debut.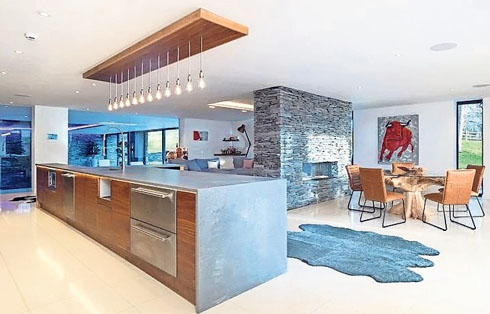 ---

Nothing will miss
in Ronaldo's new home!
Ronaldo's new home in Manchester will have 7 bedrooms, a high tech fitness complex, a swimming pool, a jacuzzi, a home movie theater and a huge green area in his garden outside. Even though we do not know if Ronaldo decided to purchase this property or simply rented it, it's highly likely that the Portuguese start will still make a few adjustments and customizations, just like he did with the controversial marquee he constructed in one of his Lisbon houses.
His girlfriend, Georgina and his sons Cristianinho, Eva, Mateo and Alana have also joined him this past Friday and the Argentina-born instagrammer immediately posted a few photos to her followers on social media.
Georgina Rodriguez, who is followed by more than 27 million fans on Instagram, shared several pictures of her and the kids taking a private jet to England and then also showed the world a welcome gift sent by Manchester United: a Cadbury milk chocolate bar.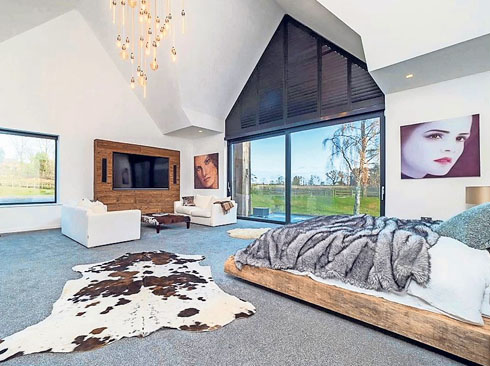 ---
Cristiano Ronaldo next game for Portugal is on September 4, against Qatar. You can watch Portugal vs Qatar, Italy vs Bulgaria, Spain vs Georgia, Hungary vs England, Switzerland vs Italy, and Liechtenstein vs Germany, all matches provided from our streaming football game pages.
Portugal next game:
Portugal vs Qatar kick-off time (04-09-2021):
Beijing (China) | UTC/GMT+8: 00:00
Jakarta (Indonesia) | UTC/GMT+7: 23:00
India (New Delhi) | UTC/GMT+5.30: 21:30
Italy (Turin) | UTC/GMT+2: 18:00
Spain (Madrid) | UTC/GMT+2: 18:00
Portugal and England (Lisbon/London) | UTC/GMT+1: 17:00
Rio de Janeiro (Brazil) | UTC/GMT-3: 13:00
New York (United States) | UTC/GMT-4: 12:00
Los Angeles (United States) | UTC/GMT-7: 09:00
Sources: ronaldo7.net / maneveningnews.co.uk / skysports.com / thesun.co.uk