21.07.2021 » A look at the controversy between Ronaldo and Coca-Cola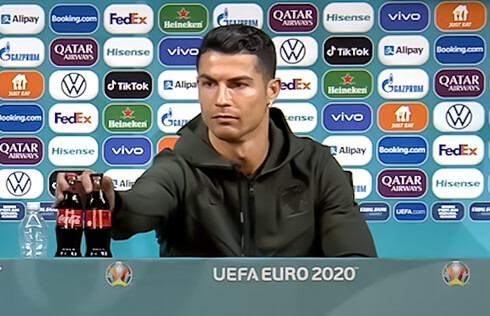 Everything Cristiano Ronaldo does usually leads to a big impact in his own image, but also on brands' value. However, when the Portuguese star decided to move away a bottle of Coca-Cola that he had in front of him during a press conference, few had predicted the turmoil that happened in the hours and days after...

The captain of the Portugal team has caused quite a stir. It would seem that he has turned up his nose at the very popular soft drink, Coca Cola. His disdain for the beverage has caused quite a few talking points for the football competition, but it's time to look into why his actions have been the source of such controversy. Ronaldo has been the star of the European Championships and he has managed to score three goals in the first couple of group matches. This helps to put them in sight of a place in the 16th round. The superstar's exploits on the pitch really have overshadowed a show of contempt, unfortunately. It would seem that he has shunned one of the most popular brands in the world.
Cristiano Ronaldo - Grateful:
---

Sports and Branding
Football players have been linked with brands for quite some time. Neymar is quite closely linked with GGPoker while there are others who are linked with companies such as Nike. That being said, it would seem that Ronaldo is not a fan of this particular brand of fizzy, flavoured sugared water. Ronaldo chose to sit down for the pre-match tournament before Portugal went on to clash with Hungary. He saw that there were two bottles of the beverage right in front of him and he remoted the soft drinks from the camera. He then put a bottle of water on the counter in place of the Coca Cola. He uttered some words of disgust, and then proceeded with the interview. He said agua, which is the Portuguese word for water. This appears to be his way of trying to make people drink water over opting for the fizzy beverage.
---

Has it inspired others?
Manuel Locatelli chose to take the same stance. He did this before Italy's win against the famous Switzerland team in the Group A fixture. He smiled while placing a bottle of water in front of him instead of the two Cola bottles. Paul Pogba has stated that he also plans to take aim against the sponsors of the Euro games. He removed a bottle of Heineken from view at a mass media event. It's said that the Manchester ace is actually a Muslim, and therefore does not drink alcohol. That being said, he has stated that he was unaware that the bottle placed in front of him was actually the 0% option and that it did not contain any alcohol at all. Other players have chosen to try and make light of the situation. Andriy from Ukraine chose to place the Heineken bottles and the Coca Cola bottles in front of him and he asked both of the brands to get in touch with him.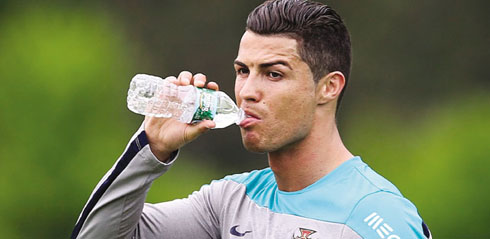 ---

Romelu Lukaku
Romelu Lukaku chose to take his lead, after he came out winning the man of the match award. He did this in a 2-1 triumph against Denmark. He asked Coca Cola to contact the agency that fully handles his imaging rights. Coca Cola's value plummeted by nearly £3 billion after what Ronaldo did but the company has come out to say that everyone is more than entitled to their choice of drink. Some companies are even choosing to capitalise on the incident. Ikea for example have tried to profit on it. They have released a brand-new reusable water bottle and they have done this under the name Cristiano.
Evian, a major water brand, has also chosen to jump on the bandwagon. They have shared a picture of Ronaldo removing the bottles. They have also added a caption, loosely saying that they couldn't have said it better themselves. Of course, brands are known for sponsoring football, but this particular incident could well be a sign of footballers taking a stand.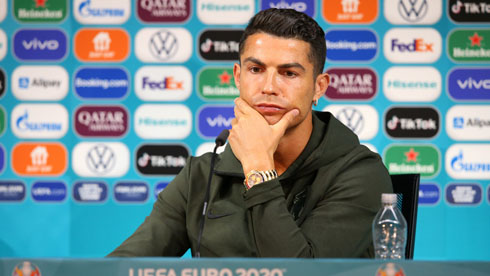 ---
Cristiano Ronaldo next game for Juventus is on July 24, against Cesena. You can watch Juventus vs Cesena, PSG vs Augsburg, Bayern Munchen vs Ajax, Barcelona vs Gimnastic, Colchester vs Tottenham, and PSV vs Galatasaray, all matches provided from our soccer live streaming game pages.
Juventus next game:
Juventus vs Cesena kick-off time (24-07-2021):
Beijing (China) | UTC/GMT+8: 00:00
Jakarta (Indonesia) | UTC/GMT+7: 23:00
India (New Delhi) | UTC/GMT+5.30: 21:30
Italy (Turin) | UTC/GMT+2: 18:00
Spain (Madrid) | UTC/GMT+2: 18:00
Portugal and England (Lisbon/London) | UTC/GMT+1: 17:00
Rio de Janeiro (Brazil) | UTC/GMT-3: 13:00
New York (United States) | UTC/GMT-4: 12:00
Los Angeles (United States) | UTC/GMT-7: 09:00
Sources: ronaldo7.net / uefa.com / footballdatabase.com