27.05.2021 » Ronaldo returns to form in style: Juventus win the Coppa Italia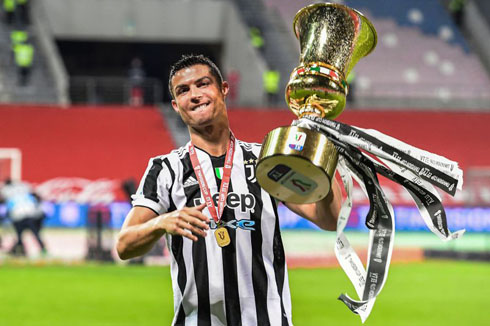 Cristiano Ronaldo and his Juventus teammates have suffered a difficult season, but after securing the Coppa Italia trophy last week, it gave fans something to smile about. And Ronaldo has added yet another prestigious piece of silverware to his long list of footballing achievements.

Juventus defeated Atalanta 2-1 in the Coppa Italia final thanks to Dejan Kulusevski and Federico Chiesa. Juventus victory was also great timing for Andrea Pirlo, as he celebrated his 42nd birthday, and a fantastic night for the legend Ronaldo, who has now collected all significant trophies in Italy, Spain, and England – the first player in history to achieve this accomplishment. Before the cup win, Juventus were faced with the potential of missing out on anything positive this season. They could have lost the Coppa Italia final and failed to secure a position in next season's Champions League, by failing to secure a 4th place position in the Serie A table. But last week has brought on great reasons to celebrate. The Coppa Italia cup was confirmed, and a 4th place finish came after a 4-1 hammering over Bologna during the final matchday of the 2021 domestic season. It was impossible to predict the results of JustBet Review.
Cristiano Ronaldo - Juventus secure their 14th Coppa Italia:
---

There was no other option but to win the Coppa Italia...
Juventus are often dominant in domestic level competition. The Old Lady had successfully won the Serie A title nine consecutive times before Inter Milan ended their streak this season. Manager Andrea Pirlo had received criticism all season, primarily after his team were eliminated from the UCL tournament against Porto.
With the Coppa Italia becoming the first major trophy for Juventus this season and Pirlo as a manager for the club, rumours are still afloat whether the Juventus board of directors are convinced to keep him another season.
The Coppa Italia trophy win did follow with some sad news. It marked the final game for club legend Gianluigi Buffon, the 43-year-old goalkeeper who has made 500 appearances for Juventus and won 15 major trophies. A special time spent in Italy has tipped him as the most fantastic goalkeeper of all time. He notably won his first Coppa Italia cup 22 years ago, playing alongside Enrico Chiesa for Parma. More than twenty years later, he lifts the Coppa Italia trophy playing with Enrico's son, Federico. Buffon will be sadly missed and will go down as the most talented goalkeeper the Serie A had ever witnessed.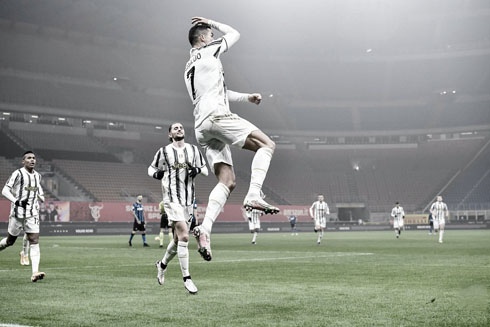 ---

The Significance of
Ronaldo's Presence
Although Ronaldo could not find himself on the scoresheet during last Wednesday's Coppa Italia success, he proved to be a significant player at the Mapei Stadium. At one point during the game, his trademark gravity-defying skills came into play.
This time around, it was not a header that Ronaldo decided to impress us with. Instead, he leapt into the air like a bird taking flight and somehow managed to take control of the ball on his chest.
The slow-motion replay of this maneuverer will give you a jaw-dropping visualisation of how incredible the Portuguese international can be - take a look below.
These kinds of high-flying skills could be viewed as typical for a young strapping 20-year-old up and comer, but Ronaldo is four years short of reaching his 40's! Ronaldo is truly a one in a million player, an extremely talented athlete who never fails to amaze us.
The magic from Ronaldo did not stop with his aerial spectacle; this time, it was the record goal scorer's feet that delivered a monumental moment in football.
During the 60th minute of play, it was a fantastic back-heel pass that Ronaldo put into the path of Chiesa; if the Italian striker laced the ball into the back of the net; It would have easily been the most extraordinary assist of the Serie A campaign. However, Chiesa's strike hit the post, and we were unable to praise Ronaldo for an incredibly timed flamboyant assist. With that said, we can still gaze in amazement at his efforts below.
We were inches away from a potential beauty, but after locking in another trophy and securing Champions League involvement next term, the focus now remains on Ronaldo's future. There have not been talks of the Portuguese man moving home, as he is expressed his love for Italian soil. With that said, Ronaldo is all about winning, and the Juventus board should worry they have not done enough of that this season to keep him interested. No matter where Ronaldo plays in the foreseeable future, we can envision his talents taking him to 40 years old and beyond because no matter how old he gets, his skills remain as strong as ever.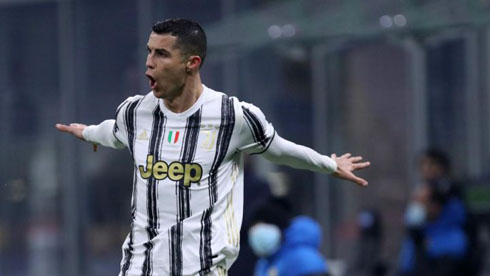 ---
Cristiano Ronaldo next game for Portugalis on June 4, against Spain. You can watch Spain vs Portugal, Italy vs San Marino, Poland vs Russia, Manchester City vs Chelsea, France vs Wales, and Switzerland vs USA, all matches provided from our football live streaming game pages.
Portugal next game:
Spain vs Portugal kick-off time (23-05-2021):
Beijing (China) | UTC/GMT+8: 01:30
Jakarta (Indonesia) | UTC/GMT+7: 00:30
India (New Delhi) | UTC/GMT+5.30: 23:00
Italy (Turin) | UTC/GMT+2: 19:30
Spain (Madrid) | UTC/GMT+2: 19:30
Portugal and England (Lisbon/London) | UTC/GMT+1: 18:30
Rio de Janeiro (Brazil) | UTC/GMT-3: 14:30
New York (United States) | UTC/GMT-4: 13:30
Los Angeles (United States) | UTC/GMT-7: 10:30
Sources: ronaldo7.net / goal.com / uefa.com