29.04.2021 » Cristiano Ronaldo and the roots of football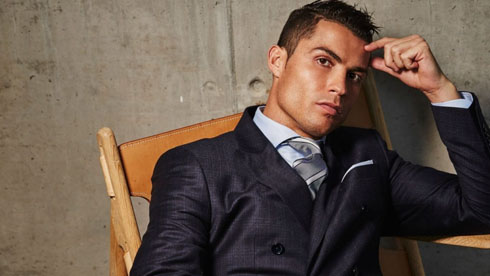 Despite its popularity in the modern era, football, as a sport, had a long road to get where it is today... The way this exciting sport has evolved and grown in the last few decades has also allowed the appearance of true superstars like the Portuguese forward Cristiano Ronaldo...

Every sport has a story to be told, but we believe none of them could be as fascinating as the one football holds. Over the last decades, we've witnessed how it became a global phenomenon in its fullness, and it will most likely continue to thrive in the years to come, as online sports betting platforms and the press help providing a wider coverage and deliver the product to the whole globe.. However, do you know who actually invented football? It looks like the roots of this sport were first found in England, around two centuries ago. On the other hand, some specialists claim Scots invented the game we all know today, while the Chinese may have also played a part in the formation of this popular game. It's not a consensual topic and there are claims that football started being played in Egypt and Rome houndreds of years ago...
Cristiano Ronaldo - Top 5 moments:
---
Football's first steps in Portugal
On Portuguese ground, the sport began to propagate around 200 years ago, mainly due because of local students that were coming back from the UK. The exact person that made the first step towards its popularization is likely to be Guilherme Basto (the saying is that his siblings got the football ball into the country, bringing it from England).
Guilherme was also the one who organized the debut game in Portugal for this sport. The game started becoming more popular, year after year, especially in schools. This popularity led to the founding of football clubs all over the country. By the end of the century, many clubs have already emerged.
A true milestone in the history of this sport in Portuguese soil was the European Championship, which the country organized back in 2004.
And how could we not mention Cristiano Ronaldo, the Portuguese superstar that is no stranger to anyone, even to those who have never watched a football match.
Cristiano Ronaldo total earnings throughout his career already exceeded 1 billion dollars. As reported by Forbes, during 2019 alone, he earned 105 million dollars, which got him to the second place in the ranking of the highest-paid athletes in the world.
Over the years, he already earned more than 500 million dollars from his salaries on Sporting, Manchester United, Real Madrid and Juventus, which helped him surpassing the billion mark once we add his multiple endorsement deals with popular brands...
---
Ronaldo's early life...
Ronaldo is one of the wealthiest players on the globe, but his early life wasn't the same when he was a child. Quite the contrary...
Cristiano Ronaldo came into this world on February 5, 1985. The Portuguese prodigy was given the name of the 40th US President, and he was the 4th child in the family. He has two sisters and an older brother. The footballer fondly recalls his early life, claiming that his parents worked hard so that all their children wouldn't lack anything...
When he was small, the best gift he ever got was a ball, with which he never parted.
When he turned 8 years old, Ronaldo began training with Andorinha, at the workplace of his father. Then, the boy became a member of a local association - "Nacional". Several years after that, he got to play for Sporting, one of the country's most popular clubs. In August 2001, Cristiano played for Sporting for the first time, in a match against Atlético. Playing as a substitute, Ronaldo scored a goal. In parallel, he also made his first appearances in the Portuguese National Team, participating in the European Youth Championship.
During his first years in Sporting, at 15, Cristiano got diagnosed with a serious health problem: tachycardia. In theory, this condition should have put an end to his career in sports. However, Ronaldo underwent surgery, and 3 days after, he was already entering a football field.
Success in football was always with Ronaldo, since his childhood. Even during his first games for Manchester United, Cristiano Ronaldo's goals marveled the fans at Old Trafford, who gave a standing ovation to the young sportsman. His biography suggests that sports truly are this man's lifetime activity - the list of his personal achievements is simply huge!
His technique, agility, and body parameters (height - 185 cm, weight - 80 kg) are still one of his predominant assets in any football game.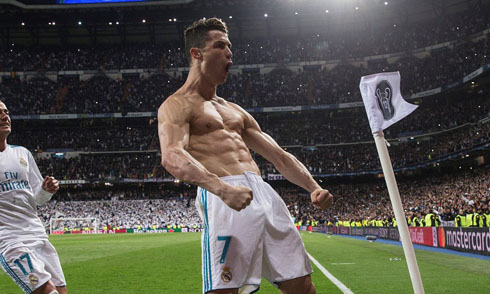 ---
Building a legacy in multiple clubs...
In 2003, Ronaldo switched to another club and moved to Manchester. Back then, the young footballer was immediately handed the famous number 7 shirt. Previously, the number "7" was worn by the recognized geniuses of world football. Realizing what a special honor he was awarded, the young athlete did not let the club down...
The staff of "Manchester United'' were sure they made the correct choice. Promptly, Cristiano was being called the best young footballer of the year. In an interview, the young man emphasized that he does not seek to copy anyone's style of play, but tries to develop his own. The efforts of the Portuguese helped the team win the Premier League in 2007 and 2008.
In 2018, fans were shocked with Cristiano Ronaldo's transfer to Juventus. The decision made the Italian club pay a total sum of 112 million euros, and was the result of a transfer request from Ronaldo himself.
Nowadays, Cristiano Ronaldo is not only a football player, but also a philanthropist, spending millions of euros annually on charity. He helps children with cancer, pays for treatment for victims of forest fires in Portugal, donates a lot to the development of medicine. Cristiano often collaborates with the UNICEF, Save the Children and Red Cross.
But did you know that he not only loves playing football, but he is also a true family man? Having four children, Ronaldo spends a lot of family time in his new home in Turin, Italy. After changing clubs, they had to move to a new place.
These kinds of moving processes surely include a lot of headache, especially in a house with five bedrooms, a game room, a gym and a swimming pool, because one has to set them all up before moving in.
From what we've seen in the press, the family managed to get it all right. The photos from Ronaldo's villa showcase beautiful couches, dressers, chairs and other exquisite pieces of furniture...
---
Ronaldo is also a man with taste...
In general, it is clear that one of the richest football players on the planet can afford a chic design, with the most luxury interior. We all know Ronaldo's love for expensive cars and luxury.
But how can a true football fan get closer to his idol? Is it possible to recreate the beautiful interior of the star in your own home, without being left not only with an empty wallet, but also in debt?
Outlet furniture could be a great solution! For example, homey design store is the perfect place to acquire luxury furniture items that look exactly like the ones you see on Ronaldo's Instagram! And the best part is you don't have to spend all your savings on extremely expensive items.
With NF Outlet, your place can become the exact copy of Ronaldo's home, where you can watch his matches and feel inspired by all the things that surround you, one step closer to your biggest dream!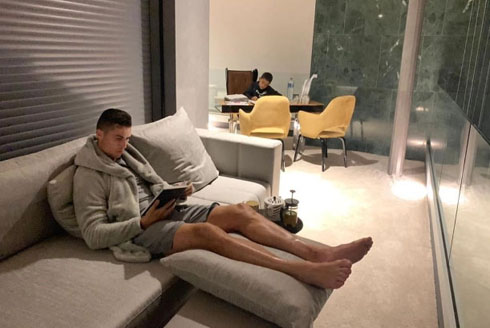 ---
Cristiano Ronaldo next game for Juventus in the Serie A is on May 2, against Udinese. You can watch Udinese vs Juventus, Real Madrid vs Osasuna, Barcelona vs Granada, PSG vs Manchester City, Villarreal vs Arsenal, and Crotone vs Inter, all matches provided from our live soccer game pages.
Juventus next game:
Udinese vs Juventus kick-off time (02-05-2021):
Beijing (China) | UTC/GMT+8: 00:00
Jakarta (Indonesia) | UTC/GMT+7: 23:00
India (New Delhi) | UTC/GMT+5.30: 21:30
Italy (Turin) | UTC/GMT+2: 18:00
Spain (Madrid) | UTC/GMT+2: 18:00
Portugal and England (Lisbon/London) | UTC/GMT+1: 17:00
Rio de Janeiro (Brazil) | UTC/GMT-3: 14:00
New York (United States) | UTC/GMT-4: 13:00
Los Angeles (United States) | UTC/GMT-7: 10:00
Sources: ronaldo7.net / goal.com / espn.com