02.09.2020 » Ronaldo and his most impressive records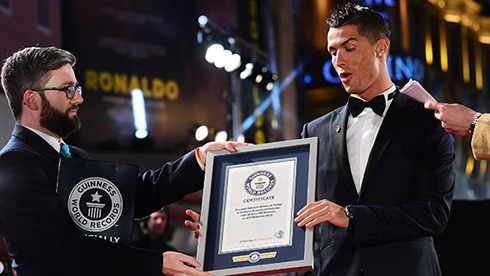 There are some things we do in our daily lives that become so easy that they almost turn into routine at times. That's the same relationship between Ronaldo and records in football...


Football has a huge fan base around the world, as billions of people are always trying to watch every possible match and especially witness what their idols do on the pitch. For such a wide range of interest, football has a lot to offer. Not only thrilling matches, but the biggest superstars can also set football records that only few can dream breaking one day... Cristiano Ronaldo is one of those superstars and he currently holds an incredible series of records that probably won't be broken in the next decades. Cristiano Ronaldo has been able to set new records season after season and it's been fascinating to see his continuous hunger for more...
Cristiano Ronaldo - Champions League records:
---
Won all the noble titles in three different clubs
Growing up from the famous youth academy La Masia and having devoted most of his career to Barcelona, Messi will probably never have a chance to break this record of Ronaldo. Through 3 teams: Man Utd, Real Madrid and Juventus, CR7 won all the highest titles from individuals to team trophies. Specifically, Ronaldo won the domestic championship in England, Spain, Italy, won the Golden Ball, the FIFA World Player Award, the European Golden Boot, the Champions League and the FIFA Club World Cup.
Messi also owns the above titles wearing the Barcelona shirt, but El Pulga can not do this in many different clubs. In the history of football, even legends like Ronaldo Nazário and Zidane can hardly win every title from individual awards to team trophies like Ronaldo, let alone doing this in 3 different teams.
---
Scored at least 50 goals/season in 6 consecutive seasons
Both Ronaldo and Messi are the scariest "scoring machines" of world football in the 21st century, but there are limits that only CR7 can defy, and Messi simply can't. One of them is his "super record" of scoring over 50 goals in 6 consecutive seasons.
Messi has had 5 seasons with over 50 goals but not in a row, that is 2010/11 (53 goals), 2011/12 (73 goals), 2012/13 (60), 2014/15 (58) and the 2016/17 season. CR7 is the only player in the world to do this regularly, scoring more than 50 goals per season from 2010/11 to 2015/16.
---
Win the "top scorer" Champions League for 6 consecutive seasons
There is no doubt that Ronaldo is one of the greatest players in Champions League history. Not only is the striker to score the most goals in the tournament, but the Portuguese superstar also set an "unprecedented" record when he won the "top scorer" in Europe's highest tournament for 6 consecutive seasons, from season 2012/13 to 2017/18.
And yet, Ronaldo has also proved his greatness in the history of the Champions League with other remarkable records, as he managed to become the first player to open fire in three different European Cup finals.
---
Most goals scored in a single European Cup season (17 goals, 2013/14)
It seems ridiculous to score 15 goals in a Champions League season but Ronaldo has done it, even by setting the record at 17. He is one of the few players to have scored 15 or more goals in this prestigious tournament and he has done it in 3 different occasions. He also has netted a total of 4 goals in the final game of the competition.
---
The only player four times in a row (2011-2014) to score more than 60 goals in a year
In the modern era, for most world-class strikers, scoring 60 or more in a year is almost impossible. In fact, only Ronaldo can achieve the feat of reaching such a great milestone for four consecutive years.
---
Maximum distance when winning the Golden Ball (429 points, 2016)
In December 2016, there was no doubt that Ronaldo would win the Ballon d'Or after leading the Portuguese team to the Euro 2016 and carrying Real Madrid to win the Champions League. But beating Messi with a gap of 429 points is truly an achievement.
---
Best goal per game rate in La Liga history (1,065 goals / game)
Messi can score the most goals in La Liga history but he doesn't have the same high average rate as Ronaldo. In total, CR7 has 311 goals and 95 assists in just 292 games.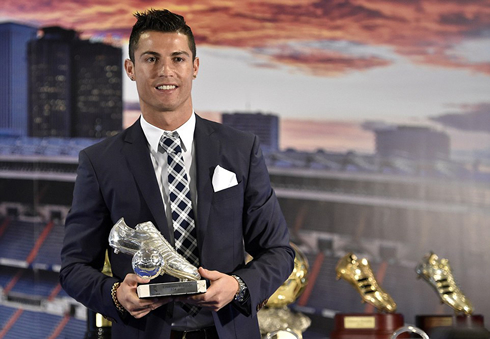 ---
Fastest player to score 350 goals for a club in Europe's top 5 leagues (339 matches)
Famous strikers like Messi and Gerd Muller cannot match Ronaldo's scoring record for Real Madrid in all competitions. Real Madrid used to be sponsored by Bwin and we all know that bookies love to go with big football clubs like Betway, W88, M88.
---
The first player in history to score more than 30 goals in six consecutive seasons
Between 2010/11 and 2015/16, Ronaldo eclipsed the 30-goal mark per season by scoring 234 goals in 207 games. He also scored more than 40 goals in three of those six seasons.
---
Most consecutive away goals scored in the Champions League (12 matches)
Playing away from home in the European Cup often faces many challenges. However, the Ronaldo's mentality and talent have broken all barriers to achieve unbelievable goals.
---
MU player with the most goals scored in a 38-match season (31 goals, 2007/08)
Ronaldo scored 48 goals in La Liga in one season for Real Madrid, but having scored 31 in the toughest league in the world (Premier League) is proof of his ability to conquer and overcome any challenge.
---
Most goals scored in Champions League semi-finals (13 goals)
CR7's most memorable performance in the semi-finals must include a spectacular hat-trick against city rival Atletico, in the 2016/17 season.
---
Fastest La Liga player to reach 200 goals (178 matches)
Ronaldo proves that La Liga is his playground when his numbers show us an impressive average of 1.12 goals per game. He is the only player to have won the the full set of domestic titles, the Champions League, the Club World Cup, the Best Player of the Year, the Golden Boot and the Golden Ball for two different clubs. Ronaldo is the person scoring the most goals in the semi-finals of the European Cup (13). This record previously belonged to another Real Madrid legend, Alfredo Di Stefano, who had the record set at 11 goals. Ronaldo, with 103 shots hitting the back of the net, has scored more Champions League goals than clubs like Atletico Madrid (100), Benfica (98) and AS Roma (98).
Ronaldo's impressive amount of football records really made him a true legend in the game. Few players in this sport can even be compared to him. Even at his current age (35), more records will fall to his feet. If you love Ronaldo and football betting, just register W88 and play at the most popular bookie in Viet Nam. Also don't forget to keep an eye at the upcoming records Ronaldo is about to break. A champions like him is always hungry for more!
Cristiano Ronaldo next game for Portugal in the UEFA Nations League is on September 5, against Croatia. You can watch Portugal vs Croatia, Denmark vs Belgium, Germany vs Spain, Iceland vs England, Italy vs Bosnia, and Netherlands vs Poland, all matches provided from our live soccer game pages.
Portugal next game:
Portugal vs Croatia kick-off time (05-09-2020):
Beijing (China) | UTC/GMT+8: 02:45
Jakarta (Indonesia) | UTC/GMT+7: 01:45
India (New Delhi) | UTC/GMT+5.30: 00:15
Italy (Turin) | UTC/GMT+2: 20:45
Spain (Madrid) | UTC/GMT+2: 20:45
Portugal and England (Lisbon/London) | UTC/GMT+1: 19:45
Rio de Janeiro (Brazil) | UTC/GMT-3: 15:45
New York (United States) | UTC/GMT-4: 14:45
Los Angeles (United States) | UTC/GMT-7: 11:45
Sources: ronaldo7.net / uefa.com / as.com