21.08.2020 » Ronaldo vs Messi: Season 2019-20. Who was better?
The rivalry between Ronaldo and Messi is one of the greatest rivalries in sporting history. The two superstars have been dominating the sport for the past 12 years. Even though they are both past 30 years old, they still manage to net 30+ goals each season. But who was better this season?


All football lovers are aware of the rivalry between Cristiano Ronaldo and Lionel Messi, especially since the Portuguese player decided to leave Manchester United and move to Spain in order to join Real Madrid. Both superstars are now growing older, with Messi being 33 years and Ronaldo 35 years old. However, both of these players are still scoring a huge amount of goals every season, and by doing so, they're still breaking new records almost every month or so. Both players are always trying to get the upper hand, especially when it comes to their individual achievements...
Cristiano Ronaldo vs Messi:
---
Who is the better player?
There is no clear answer as to who is the better player between these two. Many people claim Messi is the better player, while others claim Ronaldo is the better player. The truth of the matter is Messi and Ronaldo both are different players with different roles and bring something different to their respective teams. Messi brings creativity, possession, passing and dribbling to FC Barcelona. On the other hand, Ronaldo's speed, athleticism, and accuracy is incomparable.
---
Ronaldo's 2019/2020 season
Ronaldo had a relatively slower start to his season than normal. He was facing some problems adapting to the new manager Maurizio Sarri, who played him as a left winger instead of as a center forward. At first, he looked frustrated and was finding it hard to get the ball in the net. However, with time, he adapted to his role in the team and soon enough the goals started to come from his feet. Towards the end of the season, when the Serie A started to get tough, Ronaldo was the inspiration for his team. He often single handedly led his team to victory and scored very important goals in tight situations. At the end of the season, it was no surprise that Ronaldo was the leading goal scorer for his club.
Ronaldo played a total of 4,081 minutes in a period of 46 games for his side Juventus. He managed to score 37 goals along with 7 assists. Thus, Ronaldo bagged an average of 0.8 goals per game in all competitions. He managed to get 3 yellow cards during these games. It took him approximately 110 minutes to score a goal. Out of these goals, 14 came from the penalty spot. He scored one hattrick for his side. The Portuguese star had a total of 253 shots, out of which 95 were shots on target. He completed a total of 1,368 passes with a passing accuracy of 86%.
Taking a look at Ronaldo's goal distribution this season, he scored 2 goals from outside the box and 20 from inside the box. This includes 2 headers. The Juventus star player scored 28 goals from his right foot and 7 from his left foot.
During the season, he only scored a single free kick which is poor according to his standards. He also missed 2 penalty kicks.
Cristiano Ronaldo's side managed to win the Serie A title for the 9th consecutive time this year. However, they only managed to win a single trophy this year falling short in the final of the Supercoppa Italiana as well as the Coppa Italia. In the Champions League, they lost in the round of 16 tie against Olympique Lyon and thus, ended their journey for the season.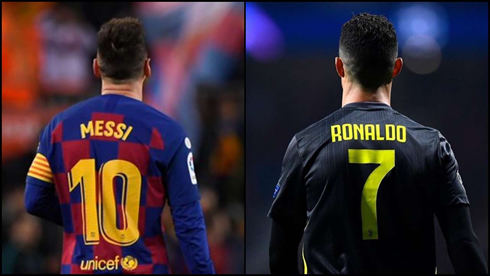 ---
Messi's 2019/2020 season
Lionel Messi started the season with an injury in the first few games. However, after the injury, he had a good start to his season, scoring goals and getting assists on a regular basis. At his club, there was no real help for him, with key players out of form. He managed to win key games without any assistance. Messi managed to take his side to the top of the Spanish League. However, the race was still tight with arch rivals Real Madrid. After the COVID pandemic, the season resumed, and although Messi played well, the team struggled at times. He managed to score key goals at rough times, and get his team back in a relatively good position.
Messi played a total of 3,810 minutes in a period of 44 games for his side FC Barcelona. The little magician scored 31 goals along with 25 assists in all competitions. Thus, he managed to score 0.67 goals per game for his side. The superstar scored 3 hattricks this season. It took the Argentinian forward approximately 131 minutes to score a goal this season. During these games, Messi was shown a total of 7 yellow cards and 1 red card. He had a total of 187 shots, out of which 85 were shots on target. He attempted a total of 2011 passes, with a passing accuracy of 82%.
Taking a look at Messi's goal distribution this season, he scored 4 goals from outside the box and 17 from inside the box. He managed to score 5 free kicks this season. He scored 5 penalties and didn't miss a single penalty for his side. The left footed magician scored 28 goals with his left foot and 3 goals with his right foot.
Messi's side FC Barcelona went trophy less this season. They lost their La Liga title to arch rivals Real Madrid. They didn't manage to make it out of the quarter finals of the Champions League. Thus, apart from his individual brilliance, it was a disappointing season for Lionel Messi.
---
The Messi vs Ronaldo comparison
| | | | | |
| --- | --- | --- | --- | --- |
| Ronaldo | 46 | 37 | 7 | 1 |
| Messi | 44 | 31 | 26 | 0 |
After taking a look at their stats, one can say that both these superstars had a fairly similar season. Both of them managed to score lots of goals and become leading goal scorers for their respective sides. However, Ronaldo led his side to win a trophy, while Messi remained trophy-less. Thus, it can be said that Cristiano Ronaldo had a more successful season when compared to his rival Lionel Messi.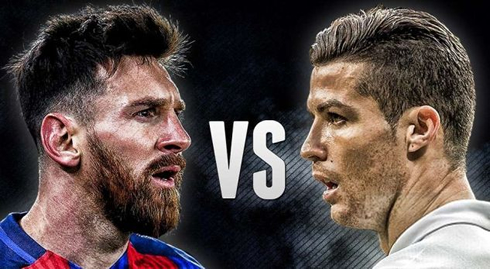 Cristiano Ronaldo next game for Juventus in the Serie A is on September 19, against Torino. You can watch Juventus vs Torino, Colombia vs Uruguai, Sevilla vs Inter, PSG vs Bayern Munich, Brazil vs Venezuela, and Argentina vs Paraguay, all matches provided from our footy and soccer game pages.
Juventus next game:
Juventus vs Torino kick-off time (19-09-2020):
Beijing (China) | UTC/GMT+8: 03:00
Jakarta (Indonesia) | UTC/GMT+7: 02:00
India (New Delhi) | UTC/GMT+5.30: 00:30
Italy (Turin) | UTC/GMT+2: 21:00
Spain (Madrid) | UTC/GMT+2: 21:00
Portugal and England (Lisbon/London) | UTC/GMT+1: 20:00
Rio de Janeiro (Brazil) | UTC/GMT-3: 16:00
New York (United States) | UTC/GMT-4: 15:00
Los Angeles (United States) | UTC/GMT-7: 12:00
Sources: ronaldo7.net / skysports.com / espn.com / dw.com